May Buzz—Bonus Q&A: Mayor Anthony Foxx
Foxx believes the Charlotte in 2012 Convention Host Committee's civic efforts will speak louder than political rhetoric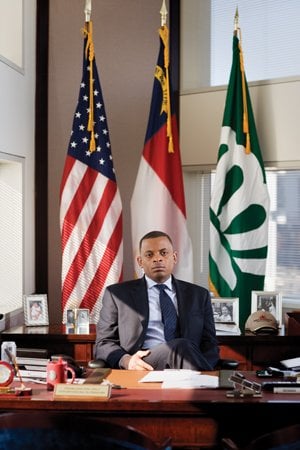 Any writer or reporter will say that when he or she is working on a story, he ends up with a plethora of interview material and research notes, a lot of which doesn't make it into the published piece. You have to talk to the key players to understand what the story is you're trying to tell, and you inevitably end up with more material than you need. Then, whether it is because of space constraints in the print publication or the editing process (usually a combination of the two), you usually don't get to tell the story as fully as you'd like.
One of the things I love about blogging, and web-published stories in general, is the ability to make use of content that would otherwise be relegated to the cutting-room floor. As long as people are willing to scroll down, there's room for additional content.
For the May issue of Charlotte magazine, I wrote an article for the Buzz section comparing the Charlotte in 2012 Convention Host Committee, which was established by the city of Charlotte to fulfill obligations of its contract with the Democratic National Convention Committee, to Organizing for America NC's Charlotte operations, which is President Obama's reelection campaign. Over the next couple of days, I'll share three Q&As from interviews I conducted.
First up is my interview with Mayor Anthony Foxx, who in addition to being the Democratic mayor of this city is also co-chair of the Charlotte in 2012 Convention Host Committee. I talked to him about the nature of the host committee's efforts amidst an increasingly divisive political climate and how he anticipates they will navigate it. These are his responses in their entirety, with only minor editing for clarity.
When the Charlotte in 2012 efforts were in the early stages, you all touted bipartisanship. Has that continued?
It's been overwhelmingly positive there. We have a bipartisan host and a bipartisan steering committee. When I'm moving about our city, invariably, I run into someone who will say, 'Hey, I'm a lifelong Republican but I think this convention is great for the city.' And that is a very consistent theme. Even people who have philosophical differences with the Democratic Party agree that this convention is a huge opportunity for our city.
The North Carolina Primary is approaching and as the November election nears, it's inevitable that the political climate will become more polarizing and divisive.
Our appeal from the beginning to now has been to civic pride. Truthfully, this convention, as special as it will be, could've been an Olympics, or a Super Bowl, or any number of things but the formula is basically the same, which is that when we have opportunities like this as a community, all of us have to step up and do our part to make it successful. And when we do that, it opens up opportunities for our city in the future. That message is a pretty durable message, even with a very loud campaign, kind of out there, I think people will still be drawn to that message. It's been very successful so far and I have no reason to think it won't be successful even with what's coming.
How are the host committee's efforts different from those of the Obama campaign's in Charlotte?
The convention, from our local host committee perspective, is a huge civic opportunity and economic development opportunity, and opportunity to promote the great things that are happening around here. And to try to project to the world the things that we want to have happen in my community long-term, and to use it as a way of drawing the interest of businesses to come to our city, for talented people to think about Charlotte as a place to live. Those are some of the things that the local host committee hopes to achieve through hosting this convention. And we have some very important legacies that we want to have as part of this. Those legacies include economic inclusion and youth engagement.
We have far too many youth out here who don't have a dream. I remember growing up in this community and I had one, and once I had it my teachers could help me get there. But if you lack it, it's hard to make any movement forward as a student or as a citizen. Reducing obesity in our community through healthy family initiatives is something that we hope to launch soon, and also promoting more sustainability in our city. So those are areas where our local host committee is going to be laser focused in the next several months to ensure that the convention isn't just a flash in the pan moment for the city but that there's a lingering impact of the convention long-term. That is very different than the job Obama for America has, which is focused very squarely on the November election. It doesn't bother me that you may find competing events that happen from time to time because what that speaks to is that the mission of the local host committee is really not the same mission as the OFA campaign.
How will you keep civic pride as the focus once the anti-Obama ads start ramping up in this market? This is still, after all, the convention where he'll accept re-nomination.
The host committee's job is to play host to 35,000 visitors to our city, 15,000 journalists from around the world, and delegates. We're also here to make sure the lives of the residents of our cities are impacted as minimally as possible and hopefully that people will feel connected enough to the event to want to participate. To that point, we have the opportunity to do what no other city that's hosted the convention in the past has had the opportunity to do which is to have an entire day to celebrate the local community which will be Monday, September 3.
So we've got tremendous opportunity to promote the city in so many ways that regardless of what's happening on the political front, I still think this community gets the fact that we have to show up and make this a great event because the impression the world gets of our city is going to be drawn largely on the experience people have when they're here. In terms of their support of this convention, I think that will become only more clear as we get closer into this. When you start to see the media descending on here, and you start to read stories about the city in the national papers, I think people are only going to become more tuned to the fact that this is a seminal moment for our city and that we all have to put our shoulder to the wheel to make it successful.
On the political side of the equation, and taking my host committee hat off for a second, I'll tell you that I think the campaign season is going to be a lively campaign season for sure. I sort of live with the expectation that the candidates will be out here talking about either what they've done or expect to do, and hopefully we'll see a lot less focusing on bringing the other person down.
Click here to read part two of the bonus Q&As, my interview with political science Professor Eric Heberlig; click here to read part three, my interview with OFA-NC and Charlotte in 2012 volunteer Amy Chiou.