May Buzz—Bonus Q&A: OFA-NC and Charlotte in 2012 Volunteer Amy Chiou
Political parties and campaigns covet the involvement of young professionals like Chiou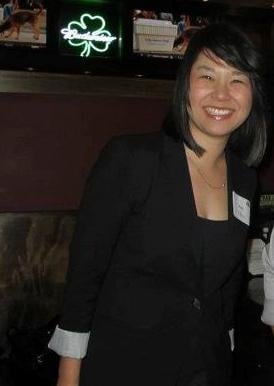 Here's the final part of the three bonus Q&As I'm sharing from interviews I conducted for an article in the May issue of Charlotte magazine. (Click here to read part one, my interview with Mayor Anthony Foxx; click here to read part two, my interview with political science Professor Eric Heberlig).
Around this time in 2008, Amy Chiou was an intern for Hillary Clinton's campaign for presidency and preparing to graduate law school at George Washington University. She moved to Charlotte that May and when Barack Obama became the presumptive Democratic presidential nominee a month later, Chiou supported his campaign with the same enthusiasm and began volunteering here.
Now twenty-eight, Chiou has spent the last few years volunteering or working on the campaign staffs of Charlotte Democrats—from the mayor to city councilmen, and even the governor. She's fired up and ready to go, once again for the 2012 presidential election.
I talked to her about the significance of Charlotte being the only city in the country that's home to both the 2012 Democratic National Convention, which has most of its volunteer and community outreach efforts coordinated through the Charlotte in 2012 Convention Host Committee, and OFA (Organizing for America/Obama for America) field offices, which is President Obama's re-election campaign.
Tell me about your involvement in the 2008 presidential election.
I started out as a research and communications intern for the Hillary Clinton campaign during the primaries in 2008. When Obama got the nomination, I started volunteering in his office here in Charlotte. Then I was hired on as part of a congressional campaign in New York—I did a little Obama campaign coordination in New York, but New York didn't have nearly the presence that Charlotte had as far as the Obama campaign was concerned.
Why would Charlotte have a stronger campaign presence than a much larger populated city like New York?
Charlotte gets an incredibly robust Obama presence because it's in a swing state. They had field offices, yard signs, and all of those materials. If you go to a more conservative state, the Obama campaign may not invest as many resources in it because they don't think it's as likely to turn in their favor. And the same is true for incredibly liberal states; they're comfortable with the margins that they're going to get. So you see more activity in the highly contested states, the traditional ones like Ohio, Pennsylvania—states like that. And you also get a huge presence in North Carolina because it was a brand new targeted swing state and they managed to turn it, even if only by a small margin. It was a huge win. North Carolina had been a red state in presidential elections for forever. And I know this year they're going to have a very big presence again, probably because the convention is here and because they want to hold onto this state.
How are you involved in this year's election?
For the 2012 campaign, I've been recruited to be a part of Gen44. It's the official young professionals fundraising team for the Obama campaign. It's designed to cultivate and empower a new generation of Democratic leaders. I recruit and help fund-raise for the Obama campaign here in Charlotte. I've also participated in some field efforts, you know, phone banks, to help identify callers. And also, they did a tweetup [in November] to connect people on how to effectively use their social media skills to help promote the campaign. They have a very strong digital, social media component. They have digital directors in every state. They're fairly concentrated on how to connect with people on all the different ways you can interact and engage with people.
Obviously, we don't have a primary [this year], and so people are interested and they're watching the Republicans' stuff and what they're talking about… We had our very first Gen44 event [March 1] and the response to that was overwhelming. And it was so clear to me that people are excited about 2012, they're ready, they understand how critical it is. And they were just waiting for something to connect to. So, again, we're going to have a really strong field presence. They're already getting to work, they're already knocking on doors, making sure people are registered to vote. I know all over Charlotte during CIAA weekend I saw people with Obama stickers and voter registration forms. So it's starting to build.
Do you feel people in Charlotte understand the difference between what Charlotte in 2012 is doing for the Democratic National Convention and what OFA-NC's Charlotte office is doing for the presidential campaign?
I think it's pretty clear. If there's unawareness about one or the other, it's pretty much a blanket disconnect with either what's going on politically in Charlotte or politically nationally. There are some people who know the convention is political and it leans to the left because it's the Democratic National Convention, but I don't know how connected to Obama for America that is. Through my volunteer efforts with the host committee, we're really focusing on Charlotte being the focus of all of those efforts. Making sure Charlotte looks good, making sure that we're welcoming as a city. It's important that in those efforts, we engage all of the people who care about Charlotte. I don't care what their political affiliations are; this is something good for all of us. And I'm mindful that a lot of the people who I hope will participate in supporting the convention, will have no interest in supporting any of the things that I do for Obama for America, and I'm okay with that.