Maybe It's Time to Start Listening to Tom Low
Charlotte has been called a "foreclosure hot spot" and one of the nation's worst gas-guzzling cities. Meanwhile, fuel prices continue to climb, single-family home sales continue to dip, and developers still exert undue influence over the planning process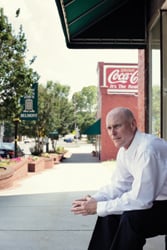 It's just after noon on a sunny, temperate Monday in May in downtown Belmont, a former textile hub that blends vestiges of its twentieth-century industrial heyday with cheerful new shops and restaurants. On Main Street, the general store (where mill workers used to pick up paychecks and provisions) sells bolts and measuring tape, toy trains and garden flags. Awnings shade the entrances of antique stores and pubs, and brightly painted old streetcars sit on the retired railroad tracks overlooking Stowe Park, where a hedged-in fountain pond sprays all summer.
It's hard to imagine that, just fifteen years ago, Belmont's now quaint and lively main strip was a high-speed road, framed by faux aluminum façades and a boarded-up building. The park was unused land—the backyard to a gas station.
One of the people responsible for the town's turnaround is Tom Low, the director of town planning at Duany Plater-Zyberk's Charlotte office. Today, he walks slowly down Main Street, the "historic strolling district," as he calls it. His hands jammed into his pockets and his baseball cap tugged low over probing blue eyes, he stops and lifts his gaze from the sidewalk. He puts his hands, palms out, in front of him.
"What would you say," Low, fifty-four, skinny, and almost entirely bald, begins in his gentle drawl, "is the ratio of the distance between those two buildings"—he spreads his hands to point to two storefronts facing each other across Main Street—"and that one building's height?" He shifts his body toward the right-hand storefront, pointing to its roof. "If the building were to fall forward, where would the roof land?"
Turns out, it's about a three-to-one or two-to-one ratio. Low explains how Michelangelo and Leonardo applied human body scale and proportion to architecture and streets during the Renaissance. Spatial relationships, he continues in a fascinated, reverent tone, are key to creating great neighborhoods. They determine how comfortable people are in their public spaces.
Everywhere he goes, Low is hyperconscious of physical spaces—how he feels in them, how walls, walkways, and landmarks are laid out in relation to one another.
He darts into the local hardware store. "This is the coolest hardware store in the world," he says, giddy. In 1993, when Low and other DPZ architects and planners were invited by Belmont's city planning department to restructure its zoning ordinance, the storefront was empty. This is where the team held its charrettes, or mini-planning sessions.
Low zips and loops through the store, noting out loud how the merchandise layout affects customers and maximizes their spending. He points at the children's toy section to the left of the entrance. "Kids can go there while grown-ups roam the rest of the store." He circles a rack of garden flags, pawing at the pastel fabric ("for the ladies!"). He beelines toward the hardware section, digging his fingers into the display of assorted nuts and bolts ("I love this stuff!"). From one corner to another, up the stairs, down the stairs. Outside, he grabs a push-reel lawn mower and wheels it for a few strides. "The most sustainable kind of lawn mower you can buy," he says.
At the 1993 charrette, restoring Belmont's main street was one of DPZ's primary concerns. The firm also specified that no awning should be no less than six feet across over a sidewalk, that some of the old textile mansions be converted into conference centers, and that new, mixed-income houses and apartments be built alongside old neighborhoods rather than sectioned off.
"They didn't want a series of McMansion subdivisions coming into town," Low says.
Today, Low calls himself a "recovering architect."
Low is, as he says, "averse" to such suburban sprawl. He is a scholar, advocate, practitioner, and proselytizer of new urbanism, a brand of urban planning that values cohesive neighborhoods, downtowns with intimate, walkable streets, mixed-income housing, and development that orients toward neighborhood centers, not away from them. "Smart growth" is the trendier term nowadays, but some just call it good planning.
Whatever its descriptor, Low is one of Charlotte's most vocal advocates for applying new urbanist principles to the city—for transforming traffic-dense spots like Fairview Road or Trade and Tryon into pedestrian-friendly town centers, stopping the construction of walled-off neighborhoods like those in Ballantyne or SouthPark, and retrofitting suburbia to be more connected to its own town center.
Our need for this kind of planning in Charlotte is urgent, he says. The evidence supports him.
Our sprawl is drawing national attention. In February, CNN Money named Charlotte one of the country's top ten "foreclosure hot spots" (the foreclosure rate increased by 37 percent in 2010, with one in fifty homes being repossessed). Forbes named it the second-most gas-guzzling city in the United States, with the average household driving 21,500 miles per year, a figure made all the more daunting when you take into account the nearly $4 we're spending on each gallon of gas.
Danny Pleasant, the city's transportation director, has known Low for almost a decade. "He's absolutely brilliant, great at stimulating thinking, willing to explore abstractions. … I don't know that I've seen that quality of work in an urban design firm in a generation. He's that important to the national and global practice. He is not to be underestimated in his influence."
"Our fundamental system of suburbia is not sustainable," Low says, cold focus erasing his usual boyish enthusiasm. "Surveys say we've overbuilt suburbia across the country. We're going to have such a surplus of suburban dwelling in the next ten to twenty years that we'll have around 40 million single-family homes that no one wants."
Charlotte, he says, is at a huge disadvantage because of its dependence on this suburban model. "A lot of [Charlotte] is not built on good bones. We have estimated that 93 percent of our city is built out in conventional suburban sprawl. In the future, that's not sustainable … the model depends so much on cars."
It's a point he's been making from his new urbanist soapbox for close to two decades, to criticism, applause, and indifference. The American Dream of a quiet, single-family home with a big lawn, he says, has outgrown itself, spilling into distant, inaccessible sprawl. The time to clean up, rebuild, and rethink, he says, is long overdue.
Low grew up in Roanoke, Virginia, one of three children. He comes from eight generations of engineers. He lived in a planned neighborhood, designed in the early twentieth century by John Nolen.
Nolen also designed Myers Park, among 400 other projects, many of which Low recently wrote about in his book Civic By Design: John Nolen's Lessons for New Urbanism, which looks at the work of Nolen and other early-twentieth-century planners, including Earle Sumner Draper and the Olmsteds.
"They were all part of that era of great civic planners and architects. Really great role models," he says admiringly, flipping through his book's colorful pages in DPZ's bright conference room, on the second floor of a two-story colonial mansion with white columns in Myers Park. He lives nearby with his wife and son, a junior at Myers Park High School.
Low came to Charlotte in 1979, right after he graduated from Virginia Tech with a degree in architecture.
"I drove down to Charlotte in a beat-up Mustang and started knocking on doors," he says. "I found a job with a small firm, and over ten years I worked for about four different firms, doing architecture."
Most of his projects, Low remembers, included strip shopping centers, commercial offices, affordable housing complexes, and shopping mall plans. Today, Low calls himself a "recovering architect."
In 1988, he was handed a 1,000-acre development project near what is now Concord Mills and was told to develop a master plan for it.
"I laid it out perfectly according to the rules," he says. "And I looked at it and realized I would hate to live there. It was totally autocentric. During that era, in the late 1970s and eighties, no one thought about architectural design as it related to urbanism. It was all conventional suburban shopping malls and developments. No matter how wonderful the designs that I was creating were, they all ended up sitting up in parking lots. There was no legacy of any value."
It was a turning point for Low. He couldn't stomach the sprawl anymore. He wanted to put his energy into planning that would create lasting neighborhoods.
In 1989, Low moved to Florida with his wife to attend the University of Miami, where he earned a master's in architecture with a concentration in suburb and town design.
The dean of U of M's School of Architecture is Elizabeth Plater-Zyberk, who cofounded the notoriously progressive planning firm Duany Plater-Zyberk & Company and the Congress for the New Urbanism with her husband, Andres Duany. A former condominium developer, Duany is considered the father of new urbanism, and is an often inflammatory international spokesperson for its ideals. In 2007, he told Time magazine that "what is causing global warming is the lifestyle of the American middle class."
"[Duany] is so brilliant, but so vocal in his criticism of conventional suburban design," says Pleasant. "He's probably offended every possible design professional, from architects to traffic engineers. But he's been very effective because he's woken up an industry."
Low spent a few years under DPZ's tutelage in Miami, and, after the success of the Belmont project, eventually opened the firm's Charlotte office in 1995.
"I had wanted to become more of an urban-based designer," he says, "and move back to Charlotte and introduce this way of thinking. … Charlotte was a New South boomtown that was rapidly expanding. The small towns around it were concerned about their quality of life being compromised. So I came back and started stirring the pot."
Actually, new urbanism was already perking ears in Charlotte.
Around the same time that Low moved back to Charlotte, an urban design discussion group was forming. Warren Burgess, then a city planner for the city of Charlotte; Carole Hoefener and Robin Davis, both local architects; John Rogers from the Charlotte-Mecklenburg Planning Commission; and UNCC professor David Walters and his wife, Linda Luise Brown, then the art critic for Creative Loafing, started a monthly breakfast group for people interested in new urbanism and urban planning, called the Charlotte Urban Forum.
Mary Newsom, a former associate editor and columnist at The Charlotte Observer and a longtime follower of local urban planning issues, was also one of the forum's founding members. "They said, 'Let's just all get together, have breakfast, and talk about a new way of looking at cities.' They were very interested in new urbanism," she remembers. "Our mind-set was more of an education thing—why this is good design, why this is bad design."
Low was in the process of relocating to Charlotte, but attended many of the meetings. There was plenty for the group to talk about, too. During the late 1990s, while new skyscrapers and condos were re-forming uptown, a wave of development was sweeping North Mecklenburg towns.
"Belmont became a template for a lot of other towns who wanted to rewrite their zoning codes from suburban models to a code that focused on the physical form of a place," Low says. "It was a template and a confidence builder for Huntersville, Davidson, and Cornelius. It helped them become more proactive."
With new urbanism gaining momentum, Low, DPZ, and the Charlotte Urban Forum frequently found themselves at odds with Charlotte's most prominent developers.
In 1999, Huntersville advocated for a bill in the state Legislature for a pilot program called transfer of development rights (TDR). TDR is complicated—even Low admits he never warmed up to it because of its abstract nature. Essentially, it's a way for a developer to buy building rights from the owner of a patch of land and use those rights to build in a different, preapproved building zone. The idea is to preserve undeveloped land and shift growth toward the center of a city, halting sprawl.
Newsom says the bill failed to pass the N.C. House in large part because of homebuilder lobbying groups like the Real Estate and Building Industry Coalition (REBIC) and the North Carolina Home Builders Association.
"It would have been a voluntary pilot program," Newsom says. "Developers would have the option to do it … but they feared this would probably drive up the cost of land, their raw material … they just stuck a nail in that sucker's heart."
Bill Daleure was, at the time, the president of the land development division at Crosland, arguably Charlotte's most prominent real estate development company ("they developed most of the suburbia in Charlotte over the last fifty years," says Low). He was also active with both REBIC and the N.C. Home Builders Association, which he's now the president of.
"Whenever you say, 'I'm limiting the supply of land,' the cost automatically goes up," he says of Huntersville's TDR vision. "They could never get the legislation done without our support. … I don't remember anybody being miffed other than planners that didn't get their way."
A few years before that, incidentally, DPZ and Crosland briefly joined forces (a "shotgun marriage" as Low calls it), to develop an area of Davidson. The space between downtown Davidson and Lake Davidson was made up of old factories and open land, and the town decided to develop it. Crosland created a gated subdivision, and DPZ was hired to plan a more traditional neighborhood, which Crosland helped build.
"It turned out really successful," says Low. "Crosland said it worked, but that they made more money doing sprawl."
"It was a really tight urban design with rear-loaded garages and alleys," says Daleure, who's now president of Avant Garde Real Estate Consulting. "That's 99 percent of what Tom does. We did the design, and it went OK, but it was on Lake Davidson, and the waterfront was a huge plus [for home sales]. And we learned an awful lot about cost." Daleure says Crosland had to price homes 25 percent higher than it would have for a traditional suburb, mainly because of design challenges and costs.
The head butting and mudslinging between planners and developers continued like this for nearly five years, Low recalls. Editorials in the Observer criticized the development community. Everyone was on the defensive. And in spite of planning successes in Belmont, Davidson, and even Charlotte neighborhoods like Plaza Midwood and Myers Park, the region was, as Low says, "basically on sprawl autopilot until 2008" when the economy crashed.
In 1999, Hoefener died. Soon thereafter, Burgess left Charlotte to become the town planner in Davidson (he died in 2008). The Charlotte Urban Forum fizzled. Low says the group was exhausted and burned out.
It seemed to Low that the debate between new urbanism enthusiasts and the development community had stagnated in Charlotte. But while the city's suburban landscape continued its slow crawl outward, Low ("full of missionary zeal," as Newsom says) couldn't stand by in silence.
Low and Newsom agree on this: in the past ten years, there's been a shift in the housing market that's significantly changing the way some cities are planning their development. It's not just the economy. The coming-of-age Generation Y is seeking out city living, and the boomers are moving out of single-family homes into apartments or even their children's homes.
"It's the larger zeitgeist of what people want," says Newsom. "There'll be a market [for single-family houses], but it won't grow nearly as fast. The growth in the market is going to be in multifamily housing."
"The trend for the twenty-first century and the new economy," says Low, "will be aging baby boomers and the millennial population … [being] interested in moving out of suburbia and into more connected communities."
But even though "the pendulum has swung back," Low says, he's always been doubtful of trusting the building-and-development industry to change itself. Developers are still too content to carve out more suburban sprawl, he says, and defend it as being what the market wants, or as the best way to provide affordable housing.
"The development industry just never really changed their way of doing things," he says. "But they're going to have to change."
So in 2004 he launched Civic By Design, which he hoped would give the design community a stronger voice in what he says has always been a "developer-driven town."
Over the past seven years, CBD has met regularly at Levine Museum of the New South. Attendance varies from three- to five-dozen. They hear speakers invited by Low and discuss initiatives like Civilizing Places, a proposal to design twenty projects in twenty months—a streetcar on Independence Boulevard, for instance, or helping South End's Community School for Girls turn its parking lot into a community garden. Low has an email list of close to 3,500, to which he sends the latest studies or articles on cities and communities, and information on upcoming forum discussions and workshops.
For the most part, the discussion forum has remained just that—a place for planners, architects, and anyone interested in urban design to come and talk about ideas for how to make Charlotte neighborhoods more connected. Some of the ideas have been picked up and put into action—the Community School for Girls' garden, for instance. Most, however, fail to gain traction right away, like Low's pitch to Charlotte Center City Partners to transform Trade and Tryon into a pedestrian-friendly plaza.
"The development industry just never really changed their way of doing things," he says. "But they're going to have to change."
Debra Campbell, the director of city planning for six years since 2005, has been invited as a speaker to the forums. The planning staff, she says, "attends as many as possible.
"The tenets of new urbanism are just the tenets of what most planners learned in planning school. It's just good planning," she says. "But again, when you're planning an entire community, it's challenging, because you have an already-built environment. … Although there is a lot of opposition to the concept of suburbs, they still offer a viable housing option for people who choose that lifestyle. … [For some people] that's their home. We're to say they've made a bad choice for living in the place they're living now?"
Daleure insists that buyers will still steer development.
"You have to develop neighborhoods for all kinds of people," he says. "High-end, low-end, gated, urban communities … the market will tell you what's necessary, not the planners."
Low remains as he was in the mid-1990s: frustrated by what he sees as lingering short-sightedness, but determined to make local leaders and stakeholders at least listen to, if not immediately build, some of his many ideas.
Low is driving through Myers Park, the neighborhood designed by John Nolen that is also home to his office. Slowing to fifteen miles an hour on Kings Drive, Low points to the newest section of the Little Sugar Creek Greenway. It was, he says matter-of-factly, originally conceived by Nolen a century ago. He points out how beautiful it will be when the oak trees lining the path have grown, and how there ought to be crosswalks across Kings Drive to make it more accessible to neighborhoods across the street.
"Good ideas don't die," he says. "Sometimes they just take longer to implement. That's the way I'm thinking about what we do … that's what planners do. We're not quick-fix artists. We take the twenty-five-, to fifty-, to 100-year view. But if we don't plant the seed at some point, it'll never happen."
In northwest Charlotte, just under twenty minutes from uptown, there's a subdivision with wide asphalt streets and 132 vinyl-sided, single-family homes called Windy Ridge. It was built in 2001. In 2008, Low and Christopher Leinberger, a writer for The Atlantic and then a guest speaker at Civic By Design, toured the development, where, at the time, eighty-one of the homes had been foreclosed.
Since 2009, more than 300 crimes, including burglary, vandalism, assault, and armed robbery, have been reported in Windy Ridge. On the homes that aren't empty and marked with foreclosure notices, homeowners have put up glaring No Trespassing or Private Property signs. Wooden boards cover many windows. There isn't a grocery store within walking distance, and only one bus route ventures this far for people who don't own a car. Home values have plummeted by close to 45 percent since 2003, when they were in the mid-$100,000s. Leinberger cited the neighborhood in a piece for The Atlantic titled "The Next Slum? Fundamental changes in American life may turn today's McMansion into tomorrow's tenements."
Admittedly, Windy Ridge is an extreme example of sprawl gone bad, which is why Low takes reporters there. But he says there are other spots, Ballantyne in particular, that will illustrate his point, which is this:
"That was during the golden era of development that blew out suburban sprawl, in the mid-1990s to 2008," Low says, shaking his head. He says we're overbuilt with suburban-style subdivisions, and demand may never come back, particularly for neighborhoods like Windy Ridge that have fallen into disrepair. "Now we're stuck with this stuff, and it's a real shame … even if housing providers come in and stabilize these places, there's so much money and so much effort to prolong and maintain it, it's really just prolonging a collapse" of a flawed model.
Sprawl repair and retrofitting are among the trickiest issues facing urban planners today. Low sighs as he thinks about the hope for places like Windy Ridge, calling their situation "dire."
But being Tom Low, he's also been working vigorously on solutions. He contributed to a book on sprawl repair, exploring green infrastructure as a way to reshape disconnected communities (incorporating trees and other natural elements into parking lots, for instance). It, too, sits on the shelves that line DPZ's studios and conference centers.
"Now we're stuck with this stuff, and it's a real shame."
The office is packed with hundreds of colorful project books that Low and the firm have taken on over the years—developments in Oklahoma, Florida, and even Scotland. But while the shelves are packed, the desks are empty.
With the economy still shaky for both urban planners and developers, DPZ has had a handful of large private-sector projects fall through in the past couple months. During busier times, the office would have "studios"—architects, planners, and consultants coming in to work on projects. When projects fell through, DPZ had to shut down its studios in Charlotte. Low's not out of a job, but says that he will need to focus on seeking out more regional projects for DPZ to take on, rather than working on the international, large-scale projects its main office used to feed to him during more flush times.
The thirty-year-old firm has seen plenty of recessions, Low says, but he admits "this one's worse than any."
Low remains upbeat, though; he's confident he can keep overhead costs low at the office and still find plenty of work. And he's excited about the possibility of spending more time in the Charlotte region.
"The most important thing for me to do in Charlotte is to be an advocate for the right thing. … We have a huge challenge. The odds are against us," he says. "That's why it's so important for us to be proactive about how we do things now and in the future."