Mayor for a Moment: Patsy Kinsey
She may be quiet. She may be in office only for a few months. But Kinsey knows that her name will be etched in Charlotte history as the mayor who followed Pat McCrory and Anthony Foxx. And she doesn't take that lightly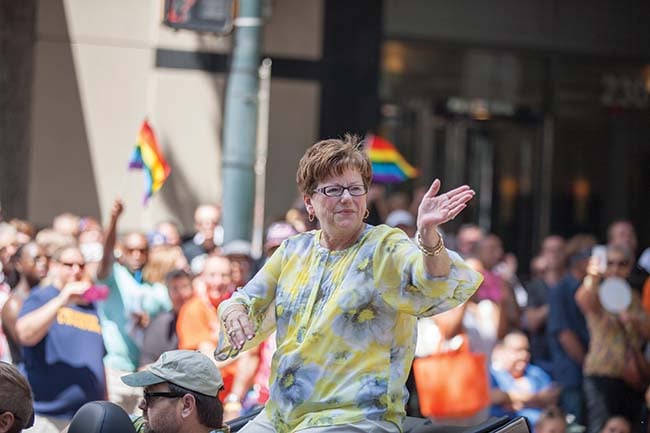 On the top floor of the government center, flanked by panoramic city views, former City Councilwoman Patsy Kinsey is trying to make herself comfortable in one of the leather lounge chairs she recently rearranged in the mayor's office. But the task isn't as easy as it seems. For one thing, her feet pop off the ground every time she tries to settle back, and for another, she's about to be interviewed by a reporter.
For many elected officials, seeking out the press is second nature, but Kinsey clearly doesn't relish the spotlight. During her long career on the Mecklenburg County Board of County Commissioners and then as a representative of District 1, the 72-year-old has been as buttoned-up as her job could possibly allow, preferring to connect with her constituents when cameras aren't around and to hold private powwows with her colleagues.
"She's the kind of person you can huddle up with," District 5 Councilman John Autry says, "to seek solutions to the issues you're facing. District 1 has not continued to elect her because of her speeches on the dais but because of how effective she is."
Of course, Kinsey's understated habits have had to change, for a little while at least, as she completes the daily tasks of her interim position, which today include explaining how she, perhaps the sole shy politician in Charlotte, suddenly became its mayor.
Squirming in her seat, Kinsey laughs softly about the situation with her feet. ("I'm five-one," she says, shrugging.) A tasteful pile of gold and diamond bracelets slides about her arm as she finally finds a satisfactory arrangement. The jewelry on Kinsey's left wrist contrasts with what she's wearing on her right one—a band of rainbow-colored rubber that's stamped with the phrase "Out Is In." A whistle hangs around her neck. This Monday afternoon finds her sporting the more unusual ornamentation, she says, because she had a busy weekend. Kinsey was the celebrity whistle-blower at Saturday night's Charlotte Roller Girls derby tournament. On Sunday, she became the first mayor in city history to ride in the Bank of America Charlotte Pride parade.
Kinsey is clearly a woman of contradiction—an introvert who says she's having an immense amount of fun leading a city. She's a subtle politician.
And she'd rather not dissect the incongruity. "I guess I'd rather my actions speak for me," she explains. "I've always been more comfortable working behind the scenes. Not that it isn't all out in the open," she adds quickly. "I just tend not to grandstand. Oh, don't write that," Kinsey pauses, looking a little frustrated with the effort to phrase this correctly. "I don't mean to imply that my colleagues grandstand. This is just my personality," she says, throwing up her hands. "I get things done, but I don't make a big deal about it. I've always gotten teased for being quiet."
But Kinsey's colleagues obviously respect her methods. A majority of them decided it would do the city good to put her in charge during a rather tumultuous time. When Mayor Anthony Foxx resigned at the end of June to become U.S. Secretary of Transportation, a council that hasn't agreed on much quickly and quietly voted for Kinsey to fill his position, even though it could have waited weeks to mull over more choices.
"The process could have been lengthy, but the majority of us felt it made sense to have someone who could hit the ground running," Mayor Pro Tem Patrick Cannon says. "[Someone] who would understand the issues without missing a beat—that was what propelled her into the mayor's office. And it hasn't been a disappointment."
Kinsey's time at the helm will be brief, ending in December, when a new mayor is sworn in after the fall elections. But it hasn't been easy. These past few months have been complicated. The most pressing challenges are being dealt down from Raleigh. In addition to experience, the problems call for a cool head, she says, a virtue she's known for. Kinsey's demeanor is a definitive departure from the bellicosity Foxx sometimes displayed in the few months before his resignation as he faced off with his own predecessor, Gov. Pat McCrory.
When McCrory, the longtime Charlotte mayor, started running the state last January, many assumed the Queen City would fare well. But McCrory and his new Republican majority in Raleigh quickly created political havoc here, picking on Foxx's pet project, the streetcar, and making a bold, historic move to seize control of the city's most expansive economic engine, Charlotte-Douglas International Airport.
Foxx's disgust was undeniable. His tone turned sarcastic when asked about his relationship with McCrory; at a chamber event, the governor awkwardly attempted to throw an arm around Foxx's shoulder, and Foxx actually grimaced at the cameras capturing the moment.
It wasn't just Foxx, though. McCrory was widely criticized for his failure to support Charlotte when the airport battle began. Yet the day after the state legislature approved a move to strip the city of its control at Charlotte Douglas, McCrory visited his hometown. It was the hottest day of the summer, and emotions over the airport were high. But McCrory didn't have to worry about a run-in with Foxx, who had already moved to Washington. And he certainly did not need to sweat a meeting with Kinsey. Even in her new role as Foxx's replacement, she gave him a pleasant welcome, the two repeatedly referring to each other as "my friend" in their remarks that day at a groundbreaking for the Lynx Blue Line extension.
"Well, we are friends," Kinsey says simply. "My relationship with him goes way back. I knew him before I was on council. He and my grandson have taken a liking to each other."
With that, Kinsey gives her first relaxed smile since sitting down, finally finding a topic she can easily talk about—family. "We've been here since the Revolutionary War," she says, pointing out that a relative, Matthew McClure, signed the Mecklenburg Declaration of Independence. "My grandfather was mayor of Huntersville." Kinsey's eyes crinkle good-naturedly. "And, you know, my grandson is going to be mayor one day. He would be so much better than me," she says. "He's very outgoing…"
Kinsey's grandson, Cooper, is a 17-year-old Myers Park High School student. "He's smart, articulate, and handsome," she says, gushing. She mentions two teenage granddaughters, too, before turning the conversation back to the subject of the governor.
Not long after that sweltering day at the groundbreaking, McCrory threw Charlotte his strongest support of the still-ongoing airport struggle. There were several reasons, but one of them was Kinsey. McCrory told journalists he was having some "productive" conversations with her regarding the matter. Her soft touch with him carried clout.
"I find it very easy to work with him even if we don't always agree with each other," Kinsey says. "And he did start to intercede [over the airport] in the end."
As soft as she may appear, Kinsey won't stand down on the airport. She calmly killed a last-minute attempt at a compromise that was proposed by some senators, treading instead quite confidently toward a clash in the courts, while still proving again that for her, dwelling in dichotomy is normal.
"She is an introvert," Cannon says. "But sometimes less is more."
As soft as she may appear, Kinsey won't stand down on the airport.
It can't be easy, though, squaring her innate inconspicuousness with her drive to serve in public office. Nor can it be easy to fill Foxx's shoes during a time when the city's interests are arguably under attack. But ask Kinsey about that and her answer is breezy. She argues that her role as interim mayor has been "pretty easy [because] I have good staff."
Take Al Killeffer, the press secretary she inherited from Foxx. Stretched on a leather sofa next to Kinsey, Killeffer doesn't leave her side during this entire interview, and when he calls "last question" 38 minutes after we sit down, Kinsey doesn't mind at all. She looks a little relieved that the end of this delve into her personal deliberations is near. When another staff member flings into the room and cries "It's time!" it's clear that she must move on and meet her next mayoral duty.
Melissa Hankins is a reporter with WBTV. She can be reached at mhankins@wbtv.com.