Mayor Foxx's Moment
The DNC could be Anthony Foxx's breakout moment. Here's how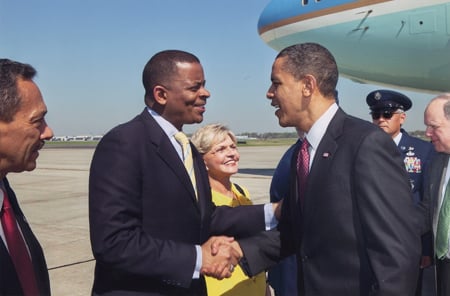 For eighteen months, Anthony Foxx, stretching from his first two-year term mayor into his second, has balanced his mayoral gig with planning for the Democratic National Convention. Before that, he spent a year or more helping to woo the DNC.
The first week of September will be a big one for Charlotte, of course. It could also be the turning point for Foxx's still-nascent political career, and the payoff for all of his efforts. But only if he seizes the moment.
"This opportunity is going to give him the platform to make the connections in the party nationally that he will need," says Michael Bitzer, professor of history and political science at Catawba College. Bitzer watches Charlotte politics closely. "And this is someone who certainly looks as if he aspires to higher office."
We all know the story of the 2004 Democratic National Convention, when Barack Obama, then a little-known state senator in Illinois, wowed the nation with his keynote speech. That won't happen for Foxx. He doesn't have a keynote slot, and he wasn't expected to get one. Ironically, though, another mayor did. Julian Castro, the thirty-seven-year-old mayor of San Antonio, follows Michelle Obama's speech on September 4. Like Foxx, Castro is a young mayor of a midsize city in a Southern state. Like Foxx, Castro has been mayor for three years and was overwhelmingly reelected to a second term. Unlike Foxx, though, Castro is a talented orator.
Foxx is smart and articulate. One on one, he is thoughtful and persuasive. That hasn't always translated to his speeches. He sometimes sounds like he's trying to channel Obama's professor/preacher style, but it doesn't come naturally. He doesn't produce sound bites, which hurts him in the media. For an example, you only have to look to this past June, when Foxx was unable to effectively make his case for the ill-fated budget plan. For three days during the DNC, Foxx will have the chance to observe firsthand some of the country's best public speakers, including Castro. He should take notes.
In 2008, the DNC was in Denver. The city's mayor at the time was Democrat John Hickenlooper, who was in his second term, having been overwhelmingly reelected (sound familiar?). Today, he's governor of Colorado and so popular that, unless he screws up or decides he doesn't want it, he'll hold national office before too long. But, as with Obama in 2004 and Castro this year, Hickenlooper was already considered a rising star by the time the convention rolled around.
Foxx isn't there yet. He is on Obama's radar, and he has been on CNN a few times. But he doesn't have a national profile. While the DNC crowd is here, Foxx has to schmooze, schmooze, schmooze. "The networking is key," Bitzer says. "What he can do is broaden out a fundraising base."
Beyond meeting donors, Foxx has another golden opportunity. Mary Newsom, who works for UNC Charlotte's Urban Institute and is a longtime observer of local politics, points out that there will be a lot of reporters in town, and some of them will want to talk to the mayor. "This will be a way for him to get his story told on a national stage more than it has been," she says.
Of course, Foxx's political career hinges on much more than a good showing at the DNC. "He is a consummate politician. He would not have gotten the DNC and he would not have been reelected like he was without those skills," Bitzer says. "But experience helps."
Newsom and Bitzer both point to the June budget debacle, when Foxx was surprised by four City Council Democrats who voted with the two Republicans to defeat the ambitious capital investment program—and the accompanying tax increase—that he had championed.
"He's just got to be savvier politically," Newsom says. "That's not to say that he's not savvy. But over time people learn to be savvy through scar tissue and observation and mentoring." (Newsom's views are her own and not those of UNCC.)
Foxx won't talk about what the DNC could mean for him. He's too good of a politician for that. This is all I could get out of him: "What excites me most [about the DNC] is what it will do to put our city in a different stratosphere, and that's more important to me than anything else."
Actually, I believe him. But I also believe that he's too good of a politician—or, at least, too potentially good—to settle for being mayor-for-life in Charlotte.
Charlotte, even after the DNC, will remain a midsize city where politics is not an essential element of the civic identity. Whether you like his views or not, Foxx is too young (forty-one), with too good of a pedigree (Davidson undergrad, NYU law, jobs on Capitol Hill, mentors such as Harvey Gantt and Mel Watt) to settle for that. The convention is his chance to start making a move.