McColl Center Starts Music & Film Program (Plus: This Weekend in Charlotte)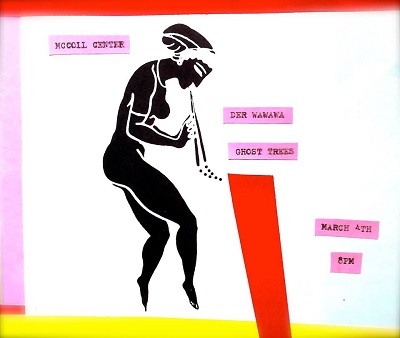 McColl Center for Art + Innovation expands its reach across mediums this spring with New Frequencies, a music and film program that features international artists.
The first New Frequencies event comes March 7, with a night of jazz. Switzerland's Der WaWaWa brings its progressive sounds to the first floor's Dickson Gallery. The trio includes drums, bass, and sax. Special guest Ghost Trees, a Charlotte jazz duo, will open the night.
Later in the month, the film part of the program is fulfilled with Inspired Lunacy: Short Films by Guy Maddin (March 27). Ten shorts will be screened at the ground floor's event space. Maddin is a filmmaker that Newsweek called "Canada's reigning mad genius."
FRIDAY
MANHATTAN TRANSFER
The late Tim Hauser founded Manhattan Transfer in 1969. Though Hauser died in October, members of the harmony group pushed forward with the planned tour. Experience what earned them 10 Grammys.
DONNA THE BUFFALO
"Roots music." That's the simple way to describe this New York outfit. You could also throw in "cajun," "folk," "reggae," or "bluegrass." Or several other genres, if you keep listening long enough.
SATURDAY
SPIDER-GWEN RELEASE PARTY
Heroes Aren't Hard to Find, the Elizabeth comic book shop run by Shelton Drum, hosts the creative team of the anticipated comic Spider-Gwen #1. Two of those creators, scribe Jason Latour and colorist Rico Renzi, are Charlotteans. Artist Robbi Rodriguez joins them for the signing. The party continues at Snug Harbor, where Married With Sea Monsters and Junior Astronomers perform to mark the day.
JOSEPH AND THE TECHNICOLOR DREAMCOAT
Diana DeGarmo and Ace Young portray the roles of The Narrator and Joseph, respectively. The real-life married couple bring a youthful flair to the show Belk Theater, both being veterans of American Idol and the pop music scene.
SUNDAY
STICK FLY
Actor's Theatre of Charlotte offers a family tale as brothers bring girlfriends home to meet their family at Martha's Vineyard. Themes of class and race are explored as the excursion gets complicated.
LOOKING FORWARD/LOOKING BACK
This Levine Museum of the New South exhibit highlights the public art planned for the LYNX Gold Line. New Orleans artist Nancy O'Neil combines documents, photos, and graphic art from the city's past and present. Also: Cotton Fields to Skyscrapers, a permanent exhibit, is an immersive example that uses six "environments" for attendees to enjoy.