McCrorey Heights: The Neighborhood of 'Firsts'
The race to preserve the story of the place where civil rights movements began over dinner tables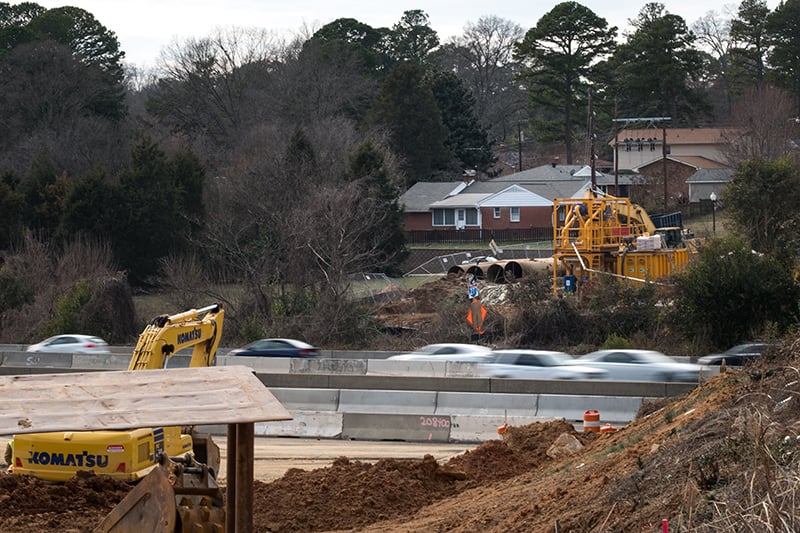 OVER THERE, a house was bombed. Down there is where the girl in the checkered dress who helped desegregate Charlotte's schools lived. And right in front here lived the man who founded a social club for African-Americans where James Brown and Nat King Cole performed.
Natalie Kennedy Beard is in her living room, pointing in every direction toward other houses in McCrorey Heights, the neighborhood of about 200 ranch-style homes in northwest Charlotte where many of the major local civil rights accomplishments were born.
Like other women who grew up here, Kennedy Beard uses two last names, maiden and married. She started doing that when she moved back to the neighborhood in 2008, to help people remember her. Her mother was a schoolteacher and her father was a social worker for the regional office of Veterans Affairs. The Kennedys moved to Washington Avenue in 1966 after being pushed out of another neighborhood they loved, Brooklyn. Imagine that, being a family with a college-educated father and a college-educated mother and two incomes but still being forced to leave just because you were a black family in a black neighborhood and the city needed to expand a highway.
Happened in Charlotte all the time.
Kennedy Beard was a teenager then, when her family moved into this mid-century neighborhood in the nook where Beatties Ford Road crosses Brookshire Freeway. Less than a year later, she went to college in Atlanta, then to graduate school in Missouri. She stayed there for nearly 40 years while building a long career as a university professor and administrator at Harris-Stowe State University. But a few years after her mother died in 2002, she moved back to Charlotte and into their home. Now she's president of the McCrorey Heights Neighborhood Association, and one of several longtime residents racing to preserve what happened here.
The homes in McCrorey Heights were made from bricks, which are formed from clay, which is dug from the ground we share, all of us. Inside them, people formed ideas, and those ideas became movements, and those movements changed a region. The residents were educated, employed, and tired of hiding those truths. They were the "firsts"—the first black people to demand to eat in the restaurant at Charlotte's airport, the first to become a top administrator in the school system, the first to fight to tee off on an all-white golf course.
Inside these houses made of earth, they made the city open to everybody. In doing so, they made a community that remains as tight as any in Charlotte.
H.L. McCrorey, president of Johnson C. Smith University from 1907 to 1947, secured the land and sold parcels to staff and administrators on "The Campus," as JCSU is still known among older black communities. He wanted to create a neighborhood where smart, affluent black people could own homes and live without feeling like they were defying stereotypes. The land was hidden from the main road by a Charlotte water treatment plant that still stands today.
"It was literally dangerous to be too prosperous if you were African-American," says local historian Tom Hanchett, who has spent the past two years collecting oral histories and anecdotes from the neighborhood. "The houses look humble, but the intellectual firepower and civic energy were outstanding and still are.
"People invested in making a better city rather than making a grand house."
***
THEIR NAMES COME FAST.
On a walk from east to west on Patton Avenue, you'll pass three straight houses on the right, starting with 1604 Patton. That's the former home of the Rev. Herman Counts and his wife, Olethea, whose daughter, Dorothy, gained national attention after she was the first black student to walk into all-white Harding High on September 4, 1957. Next door, Jeanne M. Brayboy still lives in the house she and her late husband, Jack, built. Jack was the athletic director on The Campus; JCSU's gymnasium is named for him. Next door to the Brayboy house is the former home of Libby Randolph, the first black woman to rise to a top administrative position in Charlotte-Mecklenburg Schools. She retired as associate superintendent in 1982.
From the yard of the Randolph house you can look right one block and see the back driveway of the former home of Jimmie and Minnie McKee. In 1944 the McKees opened the Excelsior Club, a nightclub for African-Americans on Beatties Ford Road that hosted some of the biggest names in music. Two doors down from the Randolph house, at 1632 Patton, is a two-story home with columns built for E.E. Waddell, who was recruited to Charlotte to be the principal at all-black Second Ward High School. Next to the Waddell house, at the corner of Patton and Clifton Street, is one of the first houses designed by Harvey Gantt, an architect who, by the way, became Charlotte's first black mayor.
From the front yard of the Gantt house, you can see down the block to the corner of Clifton and Madison Avenue. The home with the carport is 1703 Madison, where dentist and activist Reginald Hawkins lived. Hawkins, the first black person to run for North Carolina governor, was a plaintiff in a case aimed at pressuring Charlotte-Mecklenburg Schools to speed up integration in 1965. One night, some folks who opposed integration exploded sticks of dynamite in his yard. This winter, the Charlotte-Mecklenburg Historic Landmarks Commission recommended that the Hawkins house be designated an official Charlotte-Mecklenburg historic landmark.
On the northern edge of the neighborhood, in a two-story home on Oaklawn Avenue, physician Robert H. Greene thought it was absurd that he and the city's black residents paid taxes for parks but couldn't use some of them. He went a couple of blocks down Oaklawn to visit his friend Thomas Wyche. Wyche, a lawyer, filed a lawsuit with Greene as a plaintiff. A few years later, they were playing golf on the formerly all-white public course at Revolution Park, a course that today is named for the late Charlie Sifford, a Charlotte native who was the first black member of the PGA Tour.
McCrorey Heights was so popular among people who fought for desegregation that civil rights leaders from other areas retired here.
That's what the Rev. J.A. DeLaine did, anyway. In the 1940s, DeLaine was living in Summerton, South Carolina, when he became president of the local NAACP. He learned that his black neighbors' kids were walking as many as nine miles to school. In a county with 33 school buses for white kids, DeLaine asked for one for black kids. The superintendent denied the request, so DeLaine and the NAACP funded a case that became known as Briggs v. Elliott. It was the first of five cases that would be rolled together in the Supreme Court case Brown v. Board of Education, which led to the end of formal segregation in America's schools.
White supremacists set fire to DeLaine's South Carolina home and church, and then set fire to his next home, too. After that, he and his wife, Mattie, fled. They went to New York, where Mattie finished up a 43-year teaching career. In their final years, they built a one-story brick home in McCrorey Heights, near where Mattie's family lived. J.A. DeLaine, one of the architects of the formal desegregation of schools in America, was living at 1706 Washington Avenue when he died in 1974.
***
THE MOVEMENTS that started in McCrorey Heights living rooms in the 1960s still ripple into new "firsts" today.
Take one home in the 1900 block of Patton Avenue. That's where 95-year-old Romeo Alexander lives. Before he and his family moved here in 1965, they lived in a neighborhood known as Greenville, the heart of which was ripped apart in the early 1970s during urban renewal. Greenville stood where Brookshire Freeway meets Interstate 77. Next time you're in traffic there, look north and imagine a sign for a restaurant known as Razades. Romeo Alexander started Razades on September 25, 1957. He announced the opening with a small ad in The Charlotte Observer, which called the place "Charlotte's Most Modern and New Colored Restaurant." He served 65-cent "meat, starch, and vegetable" plates.
Alexander's restaurant was one of the last businesses asked to move from Greenville. That was fortunate, because he was more fairly compensated for his losses than those who were displaced earlier in the urban renewal process. He invested that money in real estate and philanthropy.
Romeo and Frances Alexander's son, Wayne, was in high school when the family moved to McCrorey Heights. Wayne earned a law degree from UNC and came home to work in the city attorney's office. He then became a lawyer in private practice, and one of his clients was Hawkins, the dentist and activist whose home was bombed. In 1978, Wayne Alexander married a woman named Viola Taylor. Wayne died in 1989, and his widow later remarried a man whose last name was Lyles.
Many years later, on a Tuesday in November 2017, the people of this neighborhood flooded precinct 54, Oaklawn Language Academy, to vote. And by a 565-29 margin, the McCrorey Heights precinct favored Vi Alexander Lyles, helping her become the first black woman elected as Charlotte's mayor.
Michael Graff is a writer and editor in Charlotte. Reach him at michaelngraff@gmail.com. For more information on the McCrorey Heights history project, check Hanchett's website, historysouth.org. The stories should appear there soon. The oral history videos for the project were funded by the Arts & Science Council.