McCrory's Prison Deal: a Whiff of Genuine Corruption
A classic this-for-that in exchange for a prison contract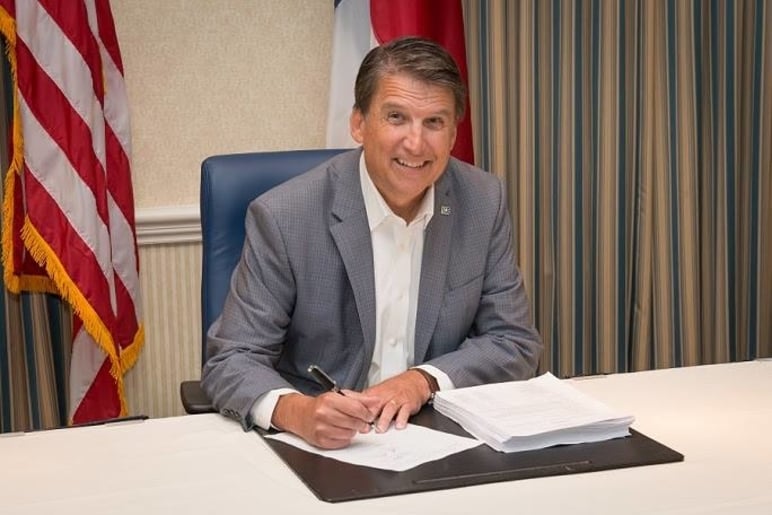 To this point, Pat McCrory's misdeeds as North Carolina's governor have been objectionable, insensitive, or legally and ethically questionable.
Here, finally, is the distinct smell of genuine quid-pro-quo corruption, unearthed by investigative reporters at the Observer and the N&O:
Last fall, Gov. Pat McCrory personally intervened on behalf of a friend and major political donor who wanted to renew $3 million in private prison contracts over the objections of McCrory's top prison officials, records and interviews show.
Graeme Keith Sr., a Charlotte developer and retired banker once known as "Billy Graham's banker," has aggressively pursued private maintenance contracts in state prisons since 1999. Keith's contracts at two prisons were set to expire Dec. 31, 2014; a third would have ended four months later.
The governor convened an October 2014 meeting in Charlotte, where, according to a Department of Public Safety memo, Keith told prison officials and McCrory that "he had been working on this project 'private prison maintenance' for over ten (10) years and during that time had given a lot of money to candidates running for public office and it was now time for him to get something in return."
McCrory told the reporters he believes Keith said that while he "was in a side conversation. I did not hear it." Either way, Keith got his something-in-return: State Budget Director Lee Roberts worked out a strained extension on Dec. 30, one day before the contract was to expire—over the strenuous objections of Frank Perry, the state secretary of public safety.
Perry texted this to Roberts after midnight on the 31st: "Very bad decision. Sorry, but this will soil our Gov as the legal route is to present to Gov Ops who may not meet until mid Jan. I will meet with legal and (assistant budget director Chloe Gossage) and others to get this through if that is my marching order. Again, not in our Governor's interest or that of good governance."
Of course, "good governance," or governance of any kind not owned wholesale by the corporate sector, has never been much of a concern for this administration. An arrangement this blatant would be an outrage regardless of what it was for. But this was over the privatization of prison maintenance, part of a growing movement to turn a crucial matter of public safety over to corporations.
The punch line in this case is that privatizing prison maintenance in North Carolina hasn't benefitted taxpayers. David Guice, a Republican and former legislator whom McCrory appointed to run the prisons, reported to the General Assembly last May that privatized prison maintenance wouldn't save much money—the main justification—and would present a host of security risks, including control over contraband, inmate interactions, and "a loss of expertise with the disparate character of prison facilities"—essentially, replacing a staff that knows every corner of every prison with private contractors who know next to nothing.
It's a mess. The FBI is already reviewing documents and has interviewed several state employees. This promises to drag on for months with an uncertain conclusion that, regardless of what it is or Frank Perry's warnings, will "soil our Gov," and everyone who took part in this, and a state government that already carries a healthy coating of dirt.