Meatless with a Mission: Sanctuary Bistro in Piper Glen
This West Coast couple brought their eat-healthy-and-do-good ethos from California to south Charlotte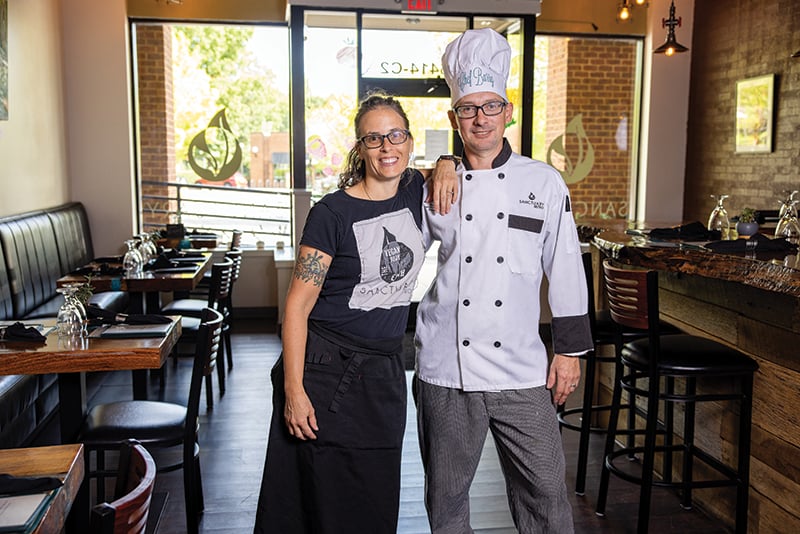 Sanctuary Bistro opened in February 2020. As of August, only one customer had snuck out after a glance at the vegan, gluten-free menu.
Fifteen years ago, Executive Chef Barry Horton might have made it a pair. He grew up in a small Kansas town, in a "meat and potatoes" family of avid hunters—unlike his spouse and business partner, Jennifer, whose love of animals and repulsion toward factory farming halted her meat consumption in her teens. Barry ate and drank at will and did other things he says he'd rather not discuss.
In 2008, at age 30, he sat at a bar and had his last cigarette, drink, and bacon cheeseburger. "I was the typical late-night chef, going out after work, and all the debauchery," Barry says. "I got caught up in too much trouble, and I knew I had to clean myself up."
Five years later, with two young children and startup money from an angel investor and a Kickstarter campaign, the Hortons realized a longtime dream that combined their love of vegan cuisine and urge to, as Jennifer says, "do the right thing for the world." It was a fine dining vegan restaurant with a casual atmosphere in Berkeley, California, that they named Sanctuary Bistro.
Sanctuary was a hit in a town that celebrates an approach to both cuisine and life that matched its owners'. VegNews magazine nominated Sanctuary for best restaurant for three consecutive years. But could the concept work in the Carolinas?
As their family grew, the Hortons decided they wanted to move closer to Jennifer's parents in Beaufort, South Carolina. They chose Charlotte because it was an established city with a large, international airport. They also assumed it would be cheaper than Berkeley. They quickly discovered it was not.
After some initial panic, the Hortons rented space from The Shops at Piper Glen on Rea Road—where the cost is at least comparable to Berkeley's—and opened for business with a staff of seven. They were busy right away. But five weeks in: COVID. They survived the first year on takeout orders. As restrictions eased, Sanctuary began to host private dinners where couples could have a six-course meal for $260. As of summer, operations were back to normal.
The menu is all vegan, gluten-free, and organic. Barry Horton earned his culinary degree from the prestigious Le Cordon Bleu program at the Western Culinary Institute in Portland, Oregon, which emphasizes meat and animal fat-rich French dishes. He reconciles the two by using ingredients like soy, tofu, mushrooms, and nuts, which in the right hands can mimic the richness and texture of the dishes he learned to prepare in school.
For example, the Charcuterie Plate includes smoky cashew cheddar, lemon peppercorn cashew chevre, and black-eyed pea sausage. For the King Trumpet Scallops, he swaps in seared trumpet mushrooms for scallops; the Jackfruit Filet is a flakey jackfruit "fish" served with sweet and spicy Brussels sprouts. The dessert lineup includes a Cashew Cheesecake with a pecan and almond crust and a Crème Brûlée with vanilla coconut custard.
The inventiveness of the food is only part of the draw, though. The Hortons try to make the experience of dining at Sanctuary as pleasant and inclusive—as reflective of the restaurant's name—as they can. It's what they've chosen to base their lives on. They met in 2006 at The Ravens Restaurant at Stanford Inn, a vegetarian restaurant in Mendocino, California, where both worked and lived in on-site rooms. Barry was serving an internship he needed to graduate from culinary school, and Jennifer had landed a place to stay and a job as the owner's assistant after her car had broken down across the street; she'd spent months beforehand road-tripping in Canada and California.
Barry eventually became the restaurant's executive chef. Jennifer worked as a special education teacher for middle and high school students coming out of juvenile hall. But she repeatedly got in trouble for trying to support students' families and decided to join Barry in his dream restaurant venture, a place that would serve healthy food and do community good as well.
They operate the Charlotte version of Sanctuary under the same philosophy. The Hortons include a list of local vegan restaurants in their check presenters to customers. On Wednesday nights, the restaurant donates 15% of its profits to a series of local nonprofits; as of August, the Hortons had donated to Roof Above, Sustain Charlotte, and Families Forward Charlotte, among others. They display work by a rotation of local artists; instead of the standard practice of taking a percentage of sales, they ask artists to donate 10% to a Charlotte nonprofit of their choice.
"I love our mission," Jennifer says. "I love that I don't have to compromise on my ideals. Raising two young children and running a restaurant, I sometimes get asked how I do it all. All I can say is this: Don't look at my house."