Mecktoberfest, Festival in the Park, Peeltoberfest, National Beer Mile and More, Sept. 24 to Sept. 27
Fall is here, Charlotte. And with autumn comes a flood of festivals, including the annual Festival in the Park and a pizza spot's first soiree into the Oktoberfest craze.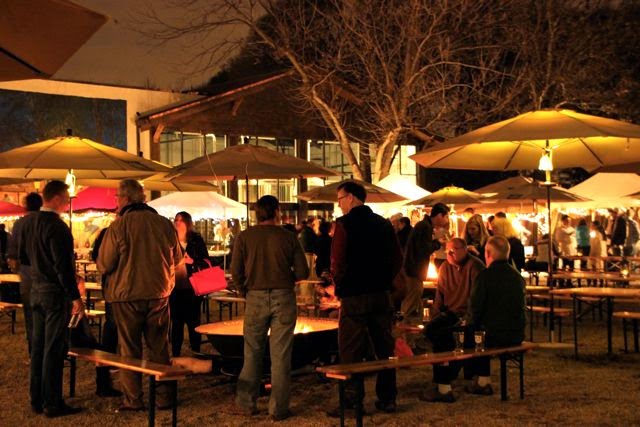 Fall is here, football is in full swing and the Oktoberfests are still raging. This weekend also features a range of weekend festivals, so let's hope the weather holds out. It looks like another great one, Charlotte. See y'all out there!
Thursday, Sept. 24
Sabor Latino
Spice up your evening with a taste of authentic Latin American cuisine. The Latin American Women's Association and the Levine Museum of the New South host this evening with a live cooking demonstration followed by food sampling tonight at 7. Tickets are $35, and you can buy them here. The event is at 200 E. Seventh St.
Friday, Sept. 25
Mecktoberfest
Olde Mecklenburg Brewery welcomes fall this weekend with its annual three-day festival. Starting today and lasting until Sunday evening, this free festival includes German beer, food and live German music. The fun is from 11 a.m. until 11 p.m. each day at 4150 Yancey Road.
Festival in the Park
You know it. You love it. The annual three-day festival that brings, well, art to the park is this weekend. This year marks the 51st installment of the huge event that takes over Freedom Park, 1409 East Blvd. The event is free, but times vary. Get more information here.
Night of NUEVOlution
Preview the Levin Center of the New South's newest collection on Latinos in the South tonight at this one-night-only event. The sneak-peek event is free for museum members and $10 for non-members. Aside from getting a glimpse of the new collection, the evening also features DJs, food, signature cocktails and giveaways. The event starts at 8 p.m. at 200 E. Seventh St. Buy tickets here.
Queen City's Largest Networking Event
The name says it all. Come out after work tonight from 6 until 9 with more than a few of your fellow Charlotteans and get to know like-minded professionals. The event also features drinks, giveaways and activities. Tickets start at $10. The networking event to end all networking events is at 610 E. Seventh St. Buy your ticket here.
Fall Cocktail Spectacular
If you haven't jumped on the pumpkin-flavored bandwagon, we'll give you another reason to hop on. Bubble is serving up five signature fall cocktails tonight to welcome the new season. Tickets are $30 for the event that begins at 8:30 p.m. at 210 E. Trade St. Buy your tickets here.
Saturday, Sept. 26
National Beer Mile
Most races start with good, long stretches. For this race, though, you might want to see if you can stretch out your liver. While this race is only a mile, you stop at each quarter mile for a cold beer. After you've downed a third of a 12-pack and run (OK, let's be honest, stumbled) your way through the mile, VGBG hosts the after party with live music and bar games. There are two waves for the races, between 11 a.m. and 1 p.m. and between 1 p.m. and 3 p.m. Tickets start at $45 and include admission to the race and after party and, of course, four beers. Meet at your desired time at 1000 NC Music Factory Blvd. Buy tickets here.
Peeltoberfest
Not wanting to get left out of the Oktoberfest craze upon us, The Pizza Peel is throwing its own version. Along with its usual offerings of pizza, garlic knots and the like, Peeltoberfest also features a Sierra Nevada beer tent, German food, music, games and ticket giveaways to Charlotte Oktoberfest and Sierra Nevada's Oktoberfest next month. The free event at 1600 Central Ave. is from 3 p.m. until 10 p.m.
The Great Chili Cookoff
With a first-place prize of $2,500 for the day's best chili, this event means serious chili business. Along with the heaps of chili to warm you up s fall rolls in, the event also features music, games, a kid zone and beer and wine. Admission is $10 to the event that begins at 4 p.m. in the Mooresville town square, 125 Town Square Circle. Buy tickets here.
Annie T. Doe Memorial Foundation Benefit Gala
The red carpet's being rolled out for this one. Throw on your fancy shoes and prepare yourself for an elegant evening of fashion, food and fun. Last year, the gala raised, according to the event organizer, about $30,000, which helped fun education for 75 Liberian children. The evening starts at 7 at the Embassy Suites Charlotte, 5400 John Q. Hammons Drive N.W., in Concord. Tickets start at $50, and you can buy them here, you fancy pants, you.
Throwin' Back to the '70s
Local meteorologist Larry Sprinkle emcees this groovy event. Come dressed in your bellbottoms, peace signs and tie-dye and get ready to dance to the funkiest, most disco evening in town. Tickets are $40 and include access to a silent auction, a low-country boil and craft beer. The event starts at 7 p.m. at Loaves and Fishes,648 Griffith Road. Buy tickets here.
Sunday, Sept. 27
Community Celebracion
They gave you a sneak peek into the new exhibit, but the Levine Museum of the New South's newest collection on Latinos in the South officially opens today, and the museum is hoping you come celebrate. The museum is free today and also features live performances, music, art and other family activities from noon until 4 p.m. The museum is at 200 E. Seventh St.
Carolina Panthers vs. New Orleans Saints
The Panthers take on the Saints today at 1 p.m. You can watch them in person at Bank of America Stadium by buying tickets here. Ticket prices vary, naturally. Or, if you feel like avoiding the crowds, check out one of these bars with great drink specials and plenty of spaces to watch the game.
Draught
Only minutes away from the stadium, this bar also features a killer Sunday brunch with a make-your-own mimosa bar. Draught is at 601 S. Cedar St., and it opens at 10 a.m.
All-American Pub
The drink specials are so good at this bar, that you could get a mimosa, a Bud Light and a Bloody Mary for less than $9. We're not sure how that'd end up, but, you know, it's something to think about. All-American Pub is at 200 E Bland St., and it opens at 11 a.m.
Verify dates, times, prices, and other info at the web addresses listed for each event.
Be sure to bookmark www.charlottemagazine.com/Blogs/Dusk-Till-Dawn to stay plugged into Charlotte's nightlife and social scene. Click here to sign up to receive the weekly Dusk Till Dawn e-newsletter.
Want your event featured in Dusk Till Dawn? Follow me on Twitter @Jared_misner and let me know about your event, or send me an email at dusktilldawnblog@gmail.com.
Send Jared an email at DuskTillDawnblog@gmail.com, or send him a tweet @Jared_Misner.

Also by Jared Misner:

→This Weekend's Social Events
→Bowling For Books, First Friday Fort Mill, Electric Luau Party, Soulmatic Carolina Music Fest and More, Aug. 6 to Aug. 9
→The Moon Walk, Candy Fest, Silly String Party, Booze Cruise and More, July 30 to Aug. 2
→Christmas in July, More Christmas in July, National Dance Day, National Tequila Day and More, July 23 to July 26