Media, Protesters, and Twitter—A Day with the DNC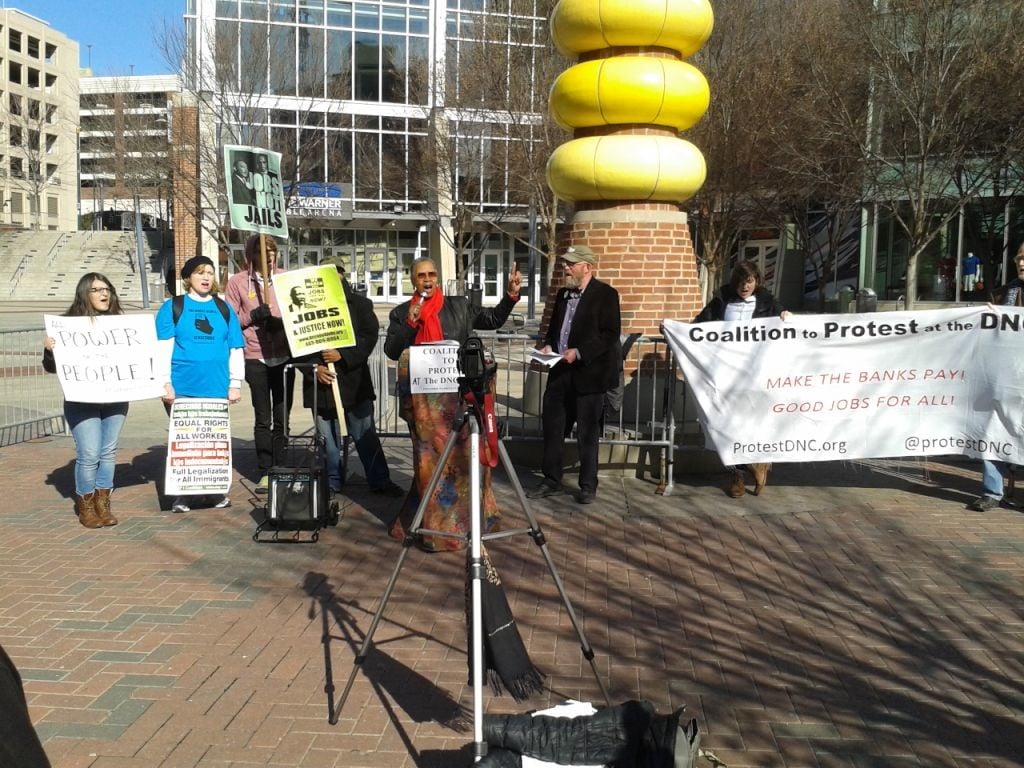 Even though I—and Charlotte magazine's editor, Richard Thurmond—were among the 500 journalists who attended today's Democratic National Convention Winter Media Walkthrough, there isn't much news to actually report from the roughly six-hour-long event.
Media from Charlotte and around the state, national outlets from around the country, and international press from countries such as Qatar, Canada, England, Japan, and France were given tours of Time Warner Cable Arena, where the first two days of the September convention will be held; Charlotte Convention Center, where media will set up workspace during convention week; and Bank of America Stadium, where the final night of the convention will take place, highlighted by President Barack Obama's acceptance speech. The purpose of the walkthrough was for DNCC staffers and vendors (such as AT&T and Hargrove Inc.) to provide logistical information to help media outlets with their planning for the convention.
So, one of the reasons there isn't much to report is because while the information we learned is helpful to we as journalists to have our publishers and newsrooms decide how much staff to send in September and how much space to rent, that's not very interesting to you. The other reason there isn't much to report is because after about the first 30 minutes of a handful of DNCC staffers speaking to attendees from a stage on the stripped-down floor of Time Warner Cable Arena, we were instructed that the remainder of the day's proceedings would be off the record. That didn't sit well with a lot of journalists, including The Charlotte Observer's Mark Washburn immediately assuming the role of media spokesperson and asking if this is supposed to be the "most open and accessible convention in history," a mantra DNC officials say almost daily, then why is the media event off the record? (He also published a column about it tonight.) The topic quickly became a hot issue locally on Twitter—you know journalists gon' tweet.
I understand the DNCC's reasoning: they didn't want news outlets quoting and disseminating much of the logistical information that was being said and given because a lot of it is still in the planning stages and is certainly subject to change. However, I feel they would've been better served to say just that: "please don't quote us on specifics…" Journalists are fairly intelligent people and I'm sure this credentialed group wouldn't have had a problem abiding. It's just never good practice for a large political organization to tell a group of 500 journalists who are about to spend the next six hours with them that the remainder of the proceedings is off the record.
Okay, so, that was a lot of reporting on nothing to report.
The other notable event of the day was the 1 p.m. press conference the Coalition to Protest at the DNC held in front of Time Warner Cable Arena. This event, obviously, was not a part of the DNCC's programming and we were at the convention center at this time finishing up lunch. But I dropped by the protesters' press conference briefly.
The coalition spoke out about the proposed restrictions protesters could face during the convention, but they also rallied and carried signs to showcase their stances on lack of jobs, excessive home foreclosures, the broken health care system, immigration, and other social issues. They claim to have endorsements from more than thirty organizations, ranging from the Charlotte Action Center for Justice to the Michigan Emergency Council Against War and Injustice to the Wisconsin Bail Out the People Movement. Several speakers took turns at the podium. There appeared to be just as many television news crews and CMPD officers as there were protesters and onlookers.
Also, speaking of protesters, The Charlotte Observer created a new Twitter account today, @DNCprotests, which will be dedicated to "Coverage of protests and protesters at the 2012 Democratic National Convention in Charlotte." I thought that seemed a little like overkill, especially considering the Observer launched a main DNC news Twitter page, @DNC2012clt, a few days earlier.
And finally, here's an interesting Yahoo! Sports article, published today, that asks: "Can Obama Court Fans in NASCAR Country with Convention?" The article addresses yesterday's announcement by the DNCC that the Monday of convention week will feature a public event at Charlotte Motor Speedway.