Meet Caroline Harmon, the Design Forecaster at Lowe's
From holiday trends to patio furniture, she guides rooms from "fine" to "mine"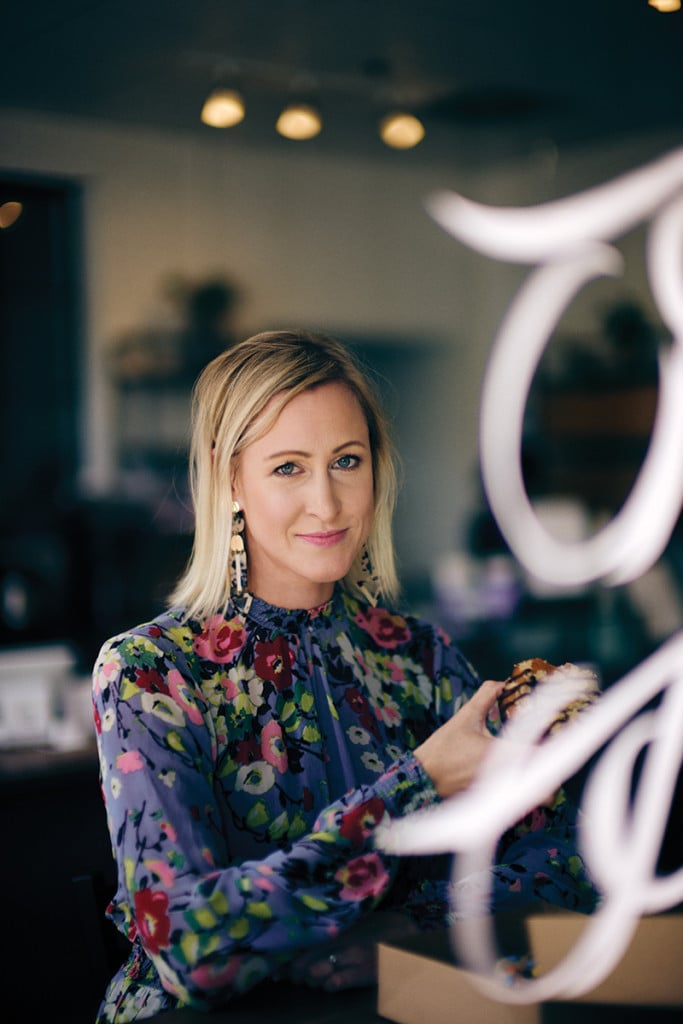 TWENTY-NINETEEN IS SO LAST YEAR for Caroline Harmon; at this moment, in fact, she's thinking about the pillows you'll want for pool chairs in 2021. Color, texture, design? She's on it. As senior brand analyst for trend and style at Lowe's, one of the largest retailers in the United States, she's constantly juggling ideas and making decisions about the future. Part science and part instinct, the process involves plenty of research.
"It's almost like being a weather forecaster," Harmon says of her role at the company's Mooresville headquarters. She pores over industry journals, attends trade shows, studies sales figures, follows bloggers like Brittany Jepsen of The House That Lars Built, keeps an eye on Instagram users—a favorite is self-described "human rainbow" Amina Mucciolo (@studiomucci)—and reads magazines like Domino and Apartment Therapy. From all those, she comes up with ideas for outdoor living, kitchen and bath, home décor, and holiday decorating. "It's connecting the dots and seeing things, and then bringing back what I feel would be best for the Lowe's customer—and what our customers will be inspired by," she says. Those customers, just in the United States and Canada, total 18 million each week.
There's that word again, the one that appears regularly in Harmon's lexicon: inspire. She wants customers to find the "zing" that elevates a space from "fine" to "mine" by introducing the unexpected. In one of this year's holiday collections, she brightened a traditional red and white palette with high shine and a trio of pink, teal, and yellow. A sloth replaces last year's llama, and the tassel trend gives way to oversized pom-poms. There's even wallpaper from Jonathan and Drew Scott of HGTV's Property Brothers.
Pleasing everyone can be a challenge when you design for stores from the East Coast to the West, and from Canada to Mexico. Seasons and lifestyles are different, and in the case of outdoor living, some things don't translate well; for example, calm blues and greens sell well in coastal regions, and deep, rich colors in the Southwest.
Harmon, who has a degree in clothing design from UNC Greensboro, understands the importance of tying things together with a story. It's an approach merchandisers use to unify a group of objects—Ralph Lauren, for example, transformed his Madison Avenue flagship into a Parisian restaurant in February to show off his latest collection. Harmon knows an interesting story will find an audience, no matter where a store is. "If we didn't have that, it would just be a bunch of product," she says. "It gives the customer a guide on how it all goes together." You might be shopping for a lamp, but you'll realize it looks even better with a coordinating pillow.
Because she covers everything from kitchen and bath to outdoors, Harmon sees how houses are changing. One room that's taking an unexpected hit: the kitchen. Harmon says a big kitchen is a waning interest for millennials, who are living in smaller spaces and socializing more outside the home. "The bathroom is actually a growing area of interest. (It's) an area where you can chill out, that zen space," she says.
A millennial herself, Harmon, 36, has a stash of her own decorating projects in mind. Not long ago, she put up peel-and-stick wallpaper in her kitchen, swathing a wall in florals. "I am constantly redecorating my house," she says. But like many millennials, she has a higher priority: "I have a two-year-old who takes up most of my time."