Meet Charlotte Instagram Star The Ever Hopeful Gardener
In both gardening and on Instagram, The Ever Hopeful Gardener Amanda Nadeau plays the long game.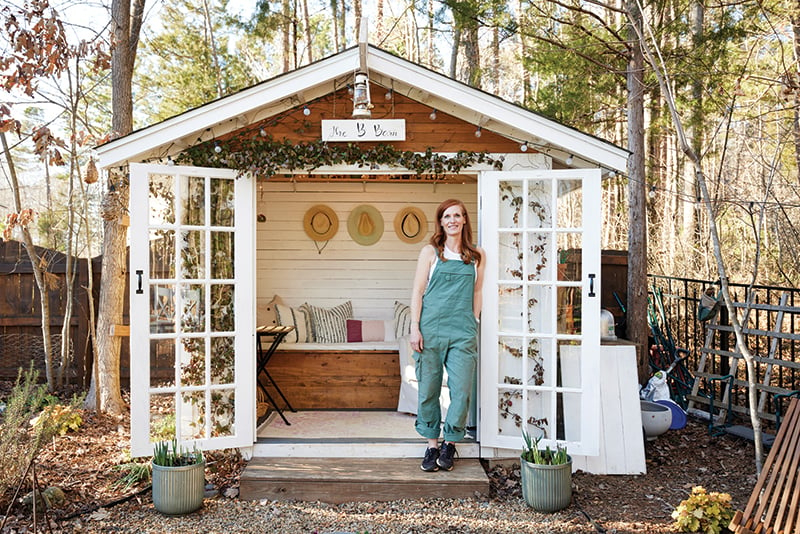 During the early months of the pandemic, Amanda Nadeau had plenty of company as a newly inspired backyard gardener. "Everyone was bored, and everyone in the world started gardening," she laughs. "I was very unoriginal!"
But few people turned their pandemic hobby into a personal quest.
Gardening wasn't new to Nadeau in 2020 but regenerative gardening was. Before that, she was a casual gardener, grabbing whatever looked good at the hardware store for her backyard garden in Mint Hill. But three years ago, she embarked on a paradigm shift: What if, instead of treating pests and diseases, she worked to create soil so healthy that nature would help her take on those tasks? Nadeau used her Instagram account, The Ever Hopeful Gardener, to document her journey into regenerative gardening and befriend others who were doing it.
"There's this whole revolution that we're on the cusp of, where we realize we've been doing it wrong for a long time. Mother Nature knows best," Nadeau says. "There were plants that were thriving way before we came around and said, 'We're going to spray all this stuff on you.'"
For a serious endeavor, The Ever Hopeful Gardener is a silly account. Between videos of planting and composting, Nadeau hams it up with mini skits to keep the mood fun. Once, she danced around her garden while playing a cowbell to inspire her growing plants. Another time, she posted a video of herself dejectedly trashing her failed cilantro greens set to Cutting Crew's "(I Just) Died in Your Arms Tonight."
Now, with more than 100,000 followers, Nadeau is the Instagram gardener people look to. But she's not a typical influencer. She turns down paid partnerships and refuses to promote brands in exchange for free stuff. Nadeau knows quick money has nothing on a lasting reputation.
"I'm very protective of (my account). I don't want to ruin it," she says. "If you go for the quick money, I guarantee you your followers are not going to trust you."
Nadeau isn't just making her followers ever-hopeful about regenerative gardening. She's pulling off a bigger feat: She's making them ever-hopeful about social media.
Organic agriculture resists synthetic fertilizers and pesticides to grow healthy foods, but regenerative agriculture goes further: It aims to improve the soil's health, too, through methods like cover crops and compost. Biodiverse soil creates stronger plants that are more resistant to disease and pests, produces more nutritious foods, and draws more carbon from the air. In short: Healthier soil equals healthier gardens, healthier humans, and a healthier planet.
Nadeau doesn't claim to be an expert; she's a hobby gardener who's still learning. She's joined a community of Instagram gardeners who share as they learn, too.
"When's the conversation going to start if we're all waiting to be experts? It's OK to talk about it and maybe make some mistakes," she says. "There's a shift happening on Instagram to show the real, the unfiltered, the non-staged garden shots. So much of gardening is failing and learning."
Nadeau's Instagram persona may be silly at times, but in person, she speaks earnestly of the environmental stakes of regenerative gardening, an effort that starts in her home. Her family of four has a zero-waste kitchen thanks to bokashi composting, a method that composts even dairy and meat. This keeps food waste out of landfills, where it would produce methane and contribute to climate change. In her compost bins, it produces fertilizer that she uses in her garden.
When Lisa Dallman moved from California to North Carolina, she had to learn zone 7b gardening. A search led her to The Ever Hopeful Gardener. Nadeau answered her questions and inspired her to have fun experimenting with regenerative techniques. Dallman began bokashi composting and took chances on new plants, like loofah and strawflower.
"After following her, I've added so many different varieties of flowers and vegetables and things I didn't used to pay much attention to," Dallman says. "And now my pollinators are amazing! It's well worth it."
Nadeau is becoming an influencer in the true sense of the word. She's taking a soil advocacy course to teach others about the importance of soil, and she's focusing on refining her composting methods as she encourages others to compost. Nadeau's influence is going offline, too: She's teaching composting at Gaston County Public Library as part of a master gardener class.
And now, with a six-figure Instagram following, Nadeau's got a new challenge: putting her phone away.
"I used to go out and just frolic in my garden and tinker around. Now, if I don't bring my phone, I see something and think, 'That would make a good post!'" she says. "So now I'm like, 'No, stop, get that out of your head. Just be here, be present, and disassociate social media from being in the garden.'"