Meet Charlotte Magazine's New Publisher
Garrett Heaberlin has big plans for Charlotte's city magazine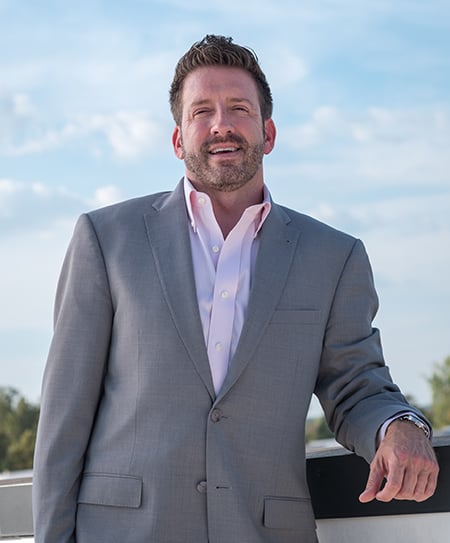 Garrett Heaberlin hadn't moved into his new home in Charlotte—hadn't even officially started as Charlotte magazine's new publisher—before he began setting up meetings with potential partners. He's not the kind of guy who wastes time.
Heaberlin, 44, succeeds Richard Thurmond, who left the magazine after 21 years, including the last three as publisher, to take a new role at Charlotte Center City Partners. Heaberlin joins the masthead from Atlanta magazine, where he was the advertising director. He sat down with Charlotte magazine editors Adam Rhew and Kristen Wile for a quick chat about his impressions of Charlotte and his plans for the city magazine.
Adam Rhew: So what's your deal?
Garrett Heaberlin: I'm a dad. I'm a work-obsessed guy. I'm a guitar player, a poker player, a gambler. A sports enthusiast. … I just love to be in an environment where hopefully I can help my teammates be better around me. That's my deal, every day, whether it's at home or in the workplace or doing anything civic-oriented.
AR: You're also an Atlantan. Charlotte has always resented Atlanta; why shouldn't we resent you?
GH: (Laughs.) Because I don't even understand the comparison between Charlotte and Atlanta. Being here for now one week, I see more of a comparison to Denver than to Atlanta. That's a good thing because I see intentional growth, more concentric growth in terms of infrastructure, this energy that it's about to take things to the next level.
I haven't given anyone a reason to resent me or not resent me yet—other than the fact that I'm a huge Falcons, Braves, and Hawks fan.
AR: No chance of converting you to a Panthers or Hornets fan?
GH: No, no chance ever of converting me.
Kristen Wile: What should our readers expect from you?
GH: I just really hope to endear myself to the community and be an ambassador for Charlotte magazine. … It's our 50th year coming up in the next two years. As we start getting prepared for that, I think we've got an incredible history and legacy of a 50-year brand. … That's exciting to me. To know that I've got the best staff, the best talent, that I'm coming in and all the groundwork was laid by Rick over the last few years to get the right folks in place. I think it's my charge to take what he has built and carry that forward.
KW: What's your favorite Charlotte magazine story you've read so far?
GH: It would have to be from October, the story about the transgender man, just the heartbreaking story ("The Many Layers of Mr. Mitchell," by Jared Misner). It was so well written … I felt just an immediate empathy for this guy. But at the end of the story, there's a silver lining. For me, that kind of parallels where we've been in Charlotte recently. While there's a lot of conflict and there are a lot of topics that need to be discussed right now, this city's resilience gives me hope.