Meet Charlotte Native and WWE Wrestler Cedric Alexander
Ahead of Sunday's Wrestlemania, we spoke to the locally-trained cruiserweight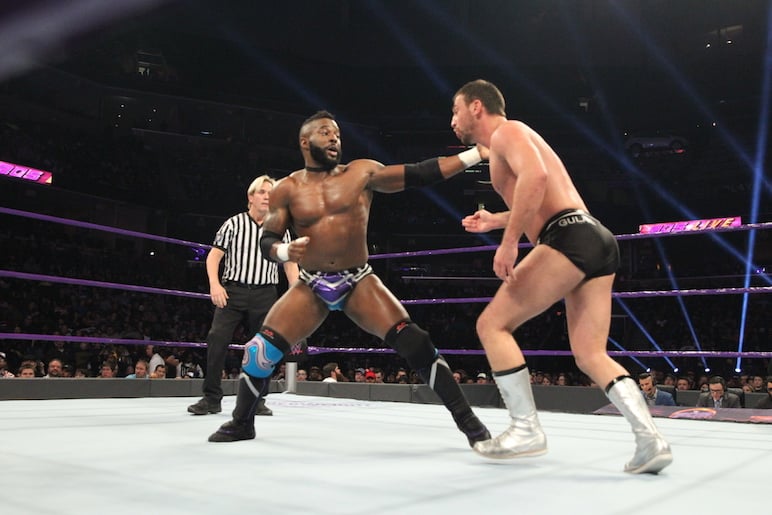 When Cedric Alexander Johnson was eight or nine years old, he sat down at a barbershop in Grier Heights and looked to his left. He knew the person sitting there. He stared at the man for a while, until the man finally looked down at him.
"Hey, how you doin'?" the man asked the child.
"I'm good," Johnson said. "Are you Muggsy Bogues?"
"Yes," Bogues responded.
As far as Johnson can recall, the barbershop didn't have a name, it simply had a sign that read "barbershop." But he vividly remembers the moment when he told the Charlotte Hornets legend he was really good at basketball.
"It was an experience that stuck with me," he says. "That was probably my first celebrity I ever met."
Today, Johnson is a celebrity in his own right. The WWE wrestler competes as Cedric Alexander in the company's Cruiserweight Division, which premiered last year, on Monday Night Raw and on the WWE Network's 205 Live. Johnson lost weight to hit the 205-pound mark, the maximum weight allowed.
"Before I actually was labeled a cruiserweight I weighed probably a good 230, 240 pounds—I was a big boy," he says. "It was not the best looking 230, 240. It was not a lot of muscle. I was very dedicated to the wrestling, but not as much dedicated to the gym. So it wasn't until I got my tryout I realized, hey, everyone around here is really, really jacked and I'm really, really not."
He lost the 25 pounds, making him feel better physically and giving him an advantage in the ring: he's currently the biggest guy in the division.
The Charlotte native currently lives in Orlando, Florida, where he moved late last year to be closer to WWE's training facility. Johnson learned to wrestle at Charlotte's George South Pro Wrestling School, where fellow WWE wrestler and Charlotte native R. Truth also trained.
As an awkward, asthma-ridden kid, Johnson wasn't allowed to partake in any sports. He couldn't even play tag. He couldn't play football like his brothers, the older of whom played on Independence High School's team during their five-year undefeated streak. When he got to high school and outgrew his asthma, he decided to give wrestling a try.
"When I initially signed up to be on the wrestling team, I thought I was going to be signing up for like, pro wrestling," he says. "So me walking into the wrestling room was like, 'Oh, hey, where's the ring? Where's the ropes?' And it was something that I had never really seen before. Once I started getting used to it after about a year or so, I really fell in love with it."
When he graduated from Phillip O. Berry Academy of Technology in 2007, he promised his mom he would attend at least two years of college. So he did, studying sports medicine for two years before returning to Charlotte and training with South.
His parents, who still live in town, saw him wrestle in a WWE ring for the first time last November, when Monday Night Raw came to the Spectrum Center. His character had recently broken things off with female wrestler Alicia Fox, while real-life Johnson was happily engaged.
"It's funny, because I had joked around for years that if I were to ever have a fake romance with one of the ladies on the roster it would've been Alicia Fox," he says. "It was a joke. I didn't think much of it … And yeah, it happened. It was awkward for a while, but we eventually came to understanding that it's work, it's not real, we're not really dating."
When he's not traveling, Johnson is a homebody, spending time with family—he has an almost four-year-old—and playing video games. He plays WWE2K17, laughing as he shares that he plays as fellow Raw wrestler A.J. Styles, known as "The Phenomenal One."
"If you watch my wrestling you will see that a lot of what I do is kind of after A.J., so I'm a huge AJ fan," Johnson says. "He's one of the guys that really got me into professional wrestling as a career and not just a pastime."
He's also, of course, a fan of the Carolina Panthers and the Charlotte Hornets. You can see that on his in-ring gear, which is based off of the old Charlotte Hornets logo, with the crown and the Charlotte Hornets' CH replaced by CA, the initials of Johnson's in-ring name, Cedric Alexander. Even though he doesn't live here anymore, he still wants to show his pride for his hometown.
"I remember growing up as a kid and seeing Charlotte and thinking it was the biggest greatest city ever," Johnson says. "And once I started growing up a little bit more and traveling more, I went to New York a few times, and LA a couple of times, and I was like, 'Oh, man, Charlotte's got nothing on these places.' But recently, Charlotte has really, really, really, grown, and now that I'm well-traveled, I've been overseas and seen a lot of different cities, Charlotte is leaps and bounds above many places that I've been and I don't think Charlotte gets enough credit for how it's been developing in the last five or 10 years."