Meet Charlotte's Official Toastmaster for the St. Patrick's Day Pub Crawl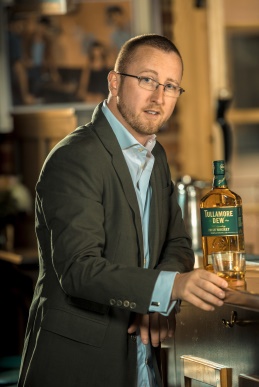 TIM HERLIHY IS in Los Angeles, talking about his love for Connolly's On Fifth, the Irish pub he says is Charlotte's best.
But because of his thick, charming Irish brogue, "love" comes out sounding like "luf," and listening to him talk – about Connolly's, about whiskey or even about the decidedly un-charming name of his hometown of Termonfeckin, Ireland – is a sport in itself.
It's fitting, then, that Rich Saner and Jeff Bennett, the Rich and Bennett duo behind Saturday's 17th-annual St. Patrick's Day pub crawl, have anointed Herlihy as the crawl's "Official Toastmaster."
As 20,000 expected revelers swarm Uptown this Saturday for the annual pub crawl billed as "The World's Largest," Herlihy will purr into the microphone for a 1 p.m. welcome toast and a 3 p.m. send-off toast at the "Pub Crawl Party Lot" at College and Eighth streets to the thousands of green-wearing Charlotteans before they begin their day of pub crawling.
It's the first time the pub crawl will feature an "Official Toastmaster."
"I've an idea in my head," Herlihy said about his toast. "I think St. Patrick's Day is a holy day to a certain degree. I think we should do something like a whiskey prayer."
Herlihy laughs as he's reminded it's perhaps not the whiskey that needs prayers but, rather, those hoisting the glasses.
"It's a twisted take on the 'Our Father' that revolves around barrels, that revolves around whiskey," he said, "and divine intervention of a different sorts."
Herlihy is the Irish whiskey Tullamore D.E.W.'s U.S. brand ambassador, a job that brought him to Charlotte last year in a quest to find America's best Irish pubs.
Here, he found Connolly's on Fifth as well as Bennett and Saner, who told Herlihy about their annual pub crawl.
"It's something I wanted to go to for many years, and the stars aligned this year," Herlihy said about Saturday's pub crawl.
The stars will bring Herlihy back to Charlotte on Friday, where he says he'll partake in a "pre-crawl" before the actual crawl.
"The most unnecessary couple of drinks ever needed," Herlihy called the pre-crawl drinks.
But what does a native Irish son think of America's pub crawl-crazed culture, the green wigs and emerald beers? Is it all too tacky for a whiskey-drinking man from Termonfeckin? "The idea of celebrating St. Patrick's Day with a parade or pub crawl, it's not an Irish thing. It's an American idea," Herlihy said.
Indeed, Herlihy's right.
Colonists in New York began celebrating the day in the mid-eighteenth century, while Irish parades didn't exist before the 1960s. In fact, Herlihy said, because of St. Patrick's Day's national holiday status in Ireland, pubs weren't even open on the day until the '60s.
"America does a phenomenal job of celebrating St. Patrick's Day," Herlihy said.
But Herlihy points to the larger celebration of Irish culture, of Irish pubs and, of course, to Irish beers and whiskey as a greater example of Ireland's impact throughout the year.
"The celebration of pubs in America is brilliant," he said. "It's like a little Irish embassy on every corner. Why isn't it the English pub, the German beer hall, the Mexican cantina? The Irish pub, there's generally one in every town in America, and I think the reason that is, you and I can go to RiRa and we can have a business meeting and have good food, then we can go and belly up at the bar and have a couple pints. It's a friendly atmosphere, it's a friendly bartender, it's Irish whiskey, its Irish beer. If you gotta sum it up in one word, it's gotta be 'friendly.'"
That bring him to Connolly's, where Herlihy said he'll spend a bit of time at Friday night.
"We all know how dark Connolly's is. It's possibly the darkest pub," Herlihy said with a laugh. "A hallmark of really great Irish pubs – the anti-sports bar if you will – the sport of an Irish pub is conversation."
The best pubs, Herlihy continued, are narrow, small, cozy. But what makes Connolly's the city's best, and why he's looking forward to returning, is the conversation.
"The classy thing about an Irish pub is you can't avoid conversation; you're gonna get it. You get to know everyone. They become the epicenter, the craic, the fun."
But the St. Patrick's Day pub crawl's Official Toastmaster, who's been to Charlotte only on one other occasion, rattles off the names of other superb pubs: The Belfast Mill, RiRa, Workman's Friend.
The Official Toastmaster to Charlotte's St. Patrick's Day pub crawl wants Charlotteans to know while he'll hoist a glass high to them on Saturday with his whiskey prayer, they have the chance to do the same throughout the year.
"You're quite spoiled here in Charlotte for good pubs," he said.
The St. Patrick's Day Pub Crawl is Saturday. Registration is from noon until 3 p.m. Find more information here.