Meet Dr. Maria Baimas-George, the Dumbledore of CMC
A surgery resident wrote a series of children's books and created a special kind of medical magic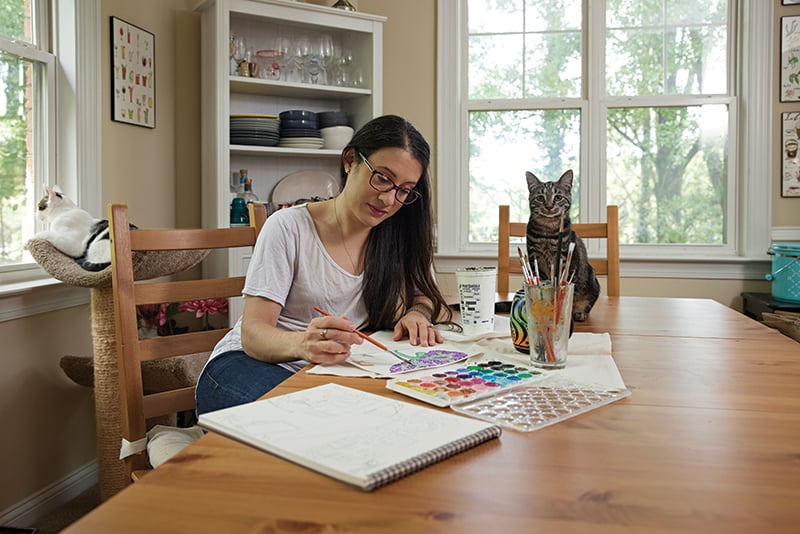 Mac Konitzer had always been a healthy kid. No hospital visits, no injuries, no big sicknesses.
But at 17, Mac's appendix ruptured. As an athlete, he figured he'd just torn a muscle, so he lived with the pain for several days last November, even taking the SAT. When the pain grew more severe, his mom, Laura, took him to the emergency department, where doctors diagnosed sepsis—a life-threatening condition.
"Mac's never been sick. This was our first hospital experience," Laura says. "I felt helpless."
Dr. Maria Baimas-George, a third-year resident in the General Surgery Department at Atrium Health Carolinas Medical Center, spent time with the family to explain the situation and prepare them for Mac's next steps. She offered them a book on appendicitis as a resource.
It wasn't a typical medical book. Ruptured Appendicitis: My Worm Exploded! is about a girl whose day gets rudely interrupted by a worm in her stomach. Usually the worm—a piece of intestine, actually—doesn't do much ("It usually lives a very boring life like a cat. It has no job."), but sometimes it gets blocked. That's when the worm gets angry and red and wages war. (Here, the worm wields an axe and mace.) Sometimes it explodes. Using the worm analogy, the story explains the cause of appendicitis, the surgery to fix it, and what recovery feels like. At the end are sections on "Doctor Words" (glossary of terms) and "After Surgery" (what to expect when).
"It lessened the stress," Mac says. "When I started to read the book, it helped me understand what was going on. The pictures, especially. I didn't even know what an appendix looked like at first."
It lessened Laura's stress, too. When Mac's pain increased, she referenced the story to remind him what would happen next and how he would get better. As she relayed updates to relatives, Laura consulted the book to explain Mac's situation. She also cherished it as a gift to a worried mom.
"It absolutely was a type of medicine," Laura says. "It was about (doctors) showing that little extra care and concern, acknowledging, 'This is your child, this is traumatic, and we're going to try to make it a less anxious experience for you.'"
***
The surgeon who gave Mac and Laura the book is also its author: Baimas-George. The 32-year-old surgical resident has written stories since she was a kid in the Boston area. Her Montessori school teachers gave her a desk for story writing at playtime while other kids played with toys. ("I was a weird child," she says.) Even as science and medicine captured her attention in college at Colgate, she continued to take English classes. Today, she's a surgical resident who works 80-hour weeks, and she's still writing.
During her pediatric surgery rotation, Baimas-George saw how nervous children and their parents became in the hospital—understandably—and worried how it would affect their care. Anxious caregivers and patients can have trouble remembering what doctors say or thinking of the right question to ask at the right moment. Even for children who are stable with good prognoses, uncertainty compounds fear. Baimas-George, a big Harry Potter fan, thought of a Dumbledore quote: "It's the unknown we fear when we look upon death and darkness, nothing more."
She wanted to shine light on the darkness. Like Dumbledore, she wanted to talk to kids in a way that respected their curiosity and honored their resilience. "The inspiration was to create a road map," she says, "a way to instill comfort and hope and supplement our medical conversations in a very non-scary way."
Baimas-George has written 16 children's books devoted to common conditions that lead to surgery or emergency department visits, such as concussion, inflammatory bowel disease, and umbilical hernia. The stories teach kids basic anatomy, prepare them for procedures and recoveries, and introduce them to the types of doctors they'll meet. Her hunch was that more medical information would help, not scare, pediatric patients and their caregivers.
Her hunch was correct: Data show that the books help in powerful ways that can improve how well patients do in and beyond the hospital. Her books have created a bit of magic.
Baimas-George has, in a way, become the Dumbledore of CMC.
***
When Baimas-George first told her surgical colleagues about her appendicitis book project, they were more than personally supportive—they were professionally curious. Could these books improve the hospital experience for pediatric patients and their caregivers?
Atrium's surgeon-in-chief, Dr. Brent Matthews, encouraged her to apply for a grant through the hospital's academic enrichment fund. The goal was to study how her books affect the caregivers of pediatric surgical patients. One group of caregivers received a Baimas-George book, and another didn't. Caregivers who received the book reported significantly higher levels of satisfaction and comprehension and reduced levels of apprehension during patients' hospital stays.
Less worry and greater understanding aren't just feel-good measures in health care. They are health care. Studies show, again and again, that easing anxiety and increasing caregiver comprehension help patients recover faster and with fewer complications. When kids' caregivers are calm and understand what is going on and why, they'll know when to provide pain medication, when to call a doctor, and when to wait. When kids see confident and calm caregivers, they feel less anxious.
Professional interest in Baimas-George's books continues: She was chosen to present her findings at the American Pediatric Surgical Association conference in May.
Sometimes, medicine doesn't look like medicine. Sometimes it looks like an axe-wielding worm.
"Treating patients' fear and stress and anxiety is part of being a doctor—it's not just treating a ruptured appendix," she says. "It's about acknowledging, 'This is scary,' and helping them feel comfort and hope. That's a form of medicine we need to practice as well."
***
Baimas-George isn't just the author of these books—she's the illustrator, too. Patients at CMC might spot familiar faces: The characters are her colleagues. When Dr. Daniel Bambini—an Atrium Health surgeon as well as Baimas-George's mentor and a big supporter of her books—first entered Mac's room, Mac and Laura exchanged smiles. They instantly recognized him from the appendicitis book.
Her illustrations represent the diversity of CMC doctors to offer another lesson to young readers.
"I really wanted every kind of human to be represented. I want any kid to look at (the surgeons) and think, 'I could do this, this could be me,'" Baimas-George says. "Medicine has lagged in terms of diversity—and we're improving, and surgery in particular is definitely improving—but there's still a lag. I think having a book that shows the diversity that we strive for will show that this is possible, and kids will believe in giving themselves a chance."
***
This isn't Baimas-George's first foray into blending children's lit with medicine. Last year, the Dumbledore of CMC published "The Sorting Hat of Medicine: Why Hufflepuffs Wear Stethoscopes and Slytherins Carry Scalpels," which correlated personality types (evaluated through the houses of Harry Potter) and medical specialties. It became the most-downloaded paper published in The Journal of Surgical Education in the past three years. Baimas-George ("a definite Gryffindor," obviously) has discovered a sweet spot in the Venn diagram between children's literature and children's health care that's become a hit with patients, parents, and physicians.
So far, however, the books haven't been a hit with publishers. "They were like, 'We don't know what to do with this. This is weird, we've never seen books like this, and we don't know how to market them,'" she says. "It didn't work out great." So she prints the books on her own. She and Atrium's pediatric gastroenterology department distribute them to patients, and she sells them through a website, strengthofmyscars.com.
Meanwhile, she writes, draws, and researches. The data from her study were compelling enough for Baimas-George to win another grant from the academic enrichment fund to study her next books: a series for caregivers in the neonatal intensive care unit.
"The Department of Surgery gave me this incredible opportunity," she says. "And now, knowing that (the books) did impact people, it's motivated me and pushed me ever further to keep going and make the most of this opportunity."
Her words recall those of the other Dumbledore: "Words are, in my not so humble opinion, our most inexhaustible source of magic, capable of both influencing injury, and remedying it."
Jen Tota McGivney is a Charlotte writer who's written for SUCCESS Magazine, Our State, and Southern Living. She also writes for Atrium Health's communications department. You can reach her at jennifer.mcgivney@gmail.com or on Twitter, @jen_mcgivney.