Meet Freshwaters' Namesake Couple
With charming conversation and family recipes, the Freshwaters earned their restaurant a following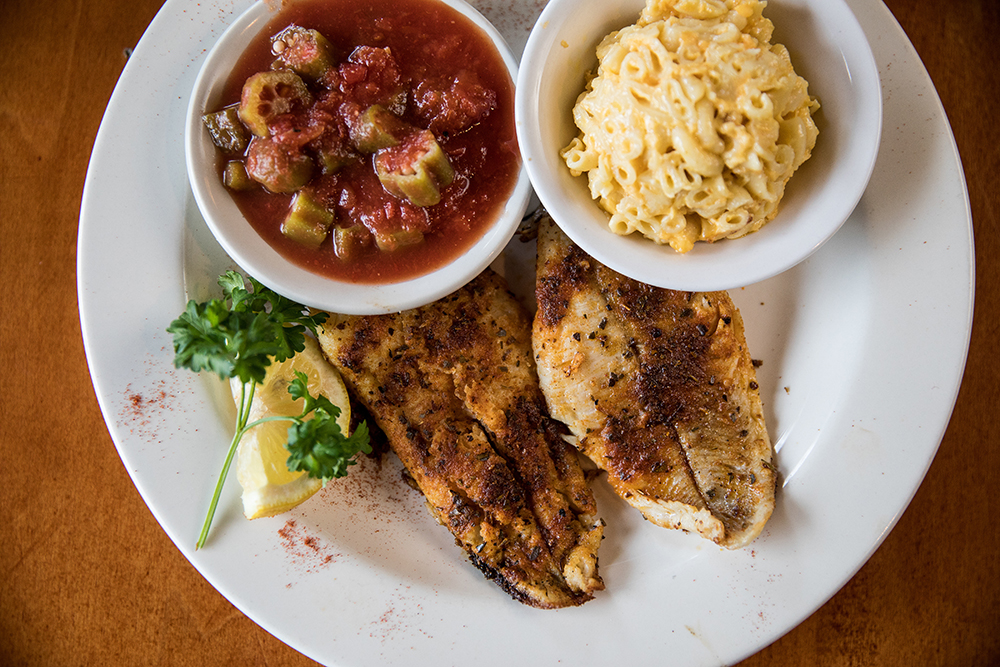 IT WAS 1986 when Sharon and Cliff Freshwater, without any restaurant experience, decided to open a Southern food joint in New Jersey, about 15 miles west of Newark. There were only three seats inside the dim, wood-paneled place, about the size of a shack.
In a photograph, Cliff stands against a wall in the tiny restaurant, smiling, with an afro and a full mustache. He's holding the restaurant's first sign—Southern Style Sensation, with one extra-large "S" for all three words, printed in bold red lettering.
They used this first location as a trial run, serving strictly Southern food. Cliff peeped over the shoulders of the chefs he hired, picking up techniques but tossing out countless burnt dishes as he learned to cook. Sharon's mother shared recipes for okra and tomatoes and potato salad, while Cliff's family, originally from the North Carolina coastal town of Elizabeth City, passed on their preparation of fresh-cut collard greens. Sharon worked at her 9-to-5 job at Johnson & Johnson, then managed the front of the restaurant in the evenings.
"I didn't know what the heck I was doing," Cliff says with a laugh, resting his foot on the bottom of Sharon's chair, her hand draped over his knee.
Three years passed and Southern Style Sensation didn't go under. Instead, it morphed into Freshwaters. Cliff and Sharon moved their business into a free-standing house-turned-restaurant that became less of a carryout joint and more of a date night destination. "When we left that first location and went to the second location, I became the man," Cliff boasts jokingly.
From then on, Cliff was the head chef, adding some Cajun flavors to the Southern menu in 2006. He was confident enough in his skills to put his last name on the restaurant—and there it stayed, even as they moved the business 600 miles south. After relocating to Charlotte in 2012, Cliff and Sharon opened a new Freshwaters in 2015 as a full-service restaurant in a Fourth Ward strip mall.
***
When the couple started the new restaurant in Charlotte, Sharon intended to take a step back and refrain from her formal introductions. Spend a minute talking to the stylish, gregarious Mrs. Freshwater and you'll understand why that never panned out.
In Cliff's words: "She's literally the face of the place."
Cliff and Sharon decided it was time to relocate the restaurant before they even settled on a new city; they were just ready for a change. Charlotte was closer to Cliff's family and came recommended by friends as a city on the rise. So they rehabbed the Graham Street spot, painting the walls a rosy caramel color and building a sleek bar in the front room. When they opened their restaurant, the Freshwaters were surprised to find that many of their customers were transplants from New Jersey. The news  spread that Freshwaters was in town and folks ran in, craving the same grilled crab cakes and cornbread they tasted up North.
I similarly crave the crab cakes (appetizer $9, entrée $19). They're not as crispy as most crab cakes I've had, but that's because there's little breading in each patty. Each bite, dipped in a sweet remoulade, vanishes from my plate way too quickly.
The crab cakes are tough to top, but I decide to try another Freshwaters best seller—the blackened and Cajun catfish ($18). On the menu, there are five options for preparing the catfish: blackened, Cajun, fried, grilled, and pecan crusted. I'm indecisive and end up going half and half, letting the Cajun spices balance out the more neutral blackened seasoning.
Food keeps coming—cornbread, collard greens, and vibrant orange yams. When I can't eat anymore, I walk around, listening to the hum of a saxophone over the speakers and looking at the autographed portraits lining the entryway. There's one with Bill Clinton, one with actress Raven-Symoné, and one with gospel singer Pastor John P. Kee, all addressed to the Freshwater family, with love.
***
She is strong-willed compared to Cliff's subdued personality; they clashed in the beginning. But eventually Cliff and Sharon struck a balance and fell in love. "I just knew, if she was on my arm, they're going to think I'm the best thing since sliced bread," he says, his gray hat tipping forward as he rumbles with laughter.
They're a couple that constantly laughs, and it's infectious. "He's my best friend," she says, blushing. "And with the restaurant, we've become real partners."
The two prioritize spending time with each other. When Sharon surprised Cliff with a trip to New Orleans for his 50th birthday to hone his Cajun cooking skills, they chose to take a 30-hour train ride instead of fly. They spent three weeks in New Orleans, studying the food and walking the city's streets slowly and purposely, taking in the jazz, the culture, the sun.
They're both in their early 60s now and thinking about the next steps for Freshwaters. Cliff has big dreams to franchise the brand across the country and Sharon hopes for a free-standing restaurant once again. But what's most important to them is finding someone who has that same passion to take over the business one day.
So far, they're not sure what's in Freshwater's future—maybe their son, Clifton Lee, will step in. But just like the 30-hour train ride and the years Cliff spent learning how to cook the perfect crab cake and the lengthy conversations "Mrs. Freshwater" shares with each customer that walks through the restaurant's door, good things take time. Cliff and Sharon are in no rush.