Meet Little Mama's Pasta Magician and Mozzarella Charmer
Chef Tom Dyrness has helped craft the sister concept to Mama Ricotta's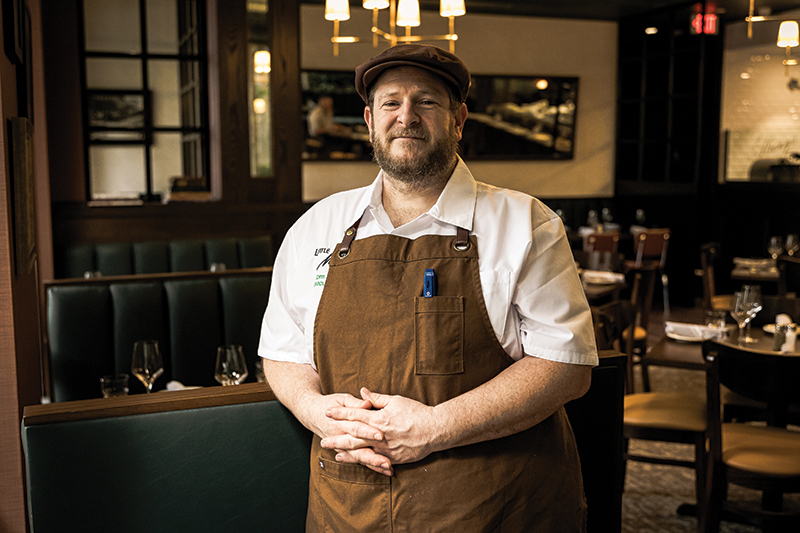 Age: 43
Relationship status: Married for 15 years with two boys, ages 12 and 9
Hometown: Middlesex, New Jersey
Currently lives: Tega Cay, South Carolina
Favorite sports team: New York Giants
Where does your love of cooking come from? I've been in this industry for almost 30 years. I started working at steak houses when I was 18. When I moved to Las Vegas and worked for Wolfgang Puck, that's when the passion really came out. It was more of a job before that, not a passion or a career.
How long was Little Mama's in the works, and what made you join Frank Scibelli's new FS Food Group? I'd been with Frank for several years—Mama Ricotta's was my first stint with him—but opening a restaurant wasn't in my repertoire yet. I really wanted a chance to be there at ground level, develop the recipes, lay out the kitchen, and pull all the parts together.
How did you earn the title of a pasta magician and a mozzarella charmer? I've been making fresh mozzarella with Frank for 10 years, and just like anything, you start out, and you get much better at it. The more you learn, the more you want to learn. I grew up in New Jersey, where there's a lot of Italians, so pasta's always been in my wheelhouse. One of my early sous chefs said, "Your Italian grandmother must be really proud," and I said, "No, I have two grandmothers. One's Norwegian, and one's Irish.' And let's face it, Italian's a little more approachable than Irish cooking.
What's the hardest part about opening a restaurant in the year of COVID? The new normal and pivot quickly—I'm so tired of those phrases (laughs). Takeout is a different revenue stream. There's a different cost of goods, and you need copious amounts of to-go supplies. And the mozzarella bar is a showpiece and meant to be interactive, so curbside has been rough on that.
Tell us more about made-to-order mozzarella. What we use is essentially a coffee maker on steroids. You have a continuous hot water stream that comes out at the perfect temperature. Historically, we boil pots of water to get the right temperature, so it's a balance of heating and cooling because you don't want curd to be too warm, and if it's not hot enough, it won't stretch properly. We shock it in cold water for a minute to set, so once you cut in, it oozes right out.
What's one ingredient you always have on hand in your kitchen? Calabrian chili paste. It's a southern Italian specialty. It's got a sweet, smoky, spicy thing going. It adds just the right amount of everything to a dish.
What's the most unexpected ingredient in your arsenal? I love fennel. It's a little unusual, but very Italian. It takes you by surprise because it adds an aromatic punch.
What's one dish you nail every single time? Our penne alla vodka. It's inarguably the best pasta dish in Charlotte. Chefs from other restaurants come to eat that dish at Mama Ricotta's.
What's your favorite thing to cook? I usually fall back
on spaghetti and meatballs
because I have kids. It's always
a crowd-pleaser.
What's one recipe you'd still like to master? Cioppino, a seafood stew. My wife and I met in San Francisco and had dates on Fisherman's Wharf, where we'd eat it. I'd really like to bring it to Charlotte and knock it out of
the park.
What shoes do you wear in the kitchen? I wear Crocs. I got three pairs for $80 six years ago, and I still have one pair left.
What's your favorite restaurant in Charlotte, other than your own? Upstream was one of my favorites, just because I've known so many guys personally who worked there. I was sad to see it go.
What's your favorite adult beverage? A Big O IPA from Sugar Creek. It's been my go-to. I've been crushing some bourbon during quarantine, too.
What's your guiltiest pleasure? Ben & Jerry's peanut butter cup ice cream. I don't think anybody can stop at a half a pint.
What's next for Little Mama's when you're open at full capacity? We'd really like our big ribeye to take hold when it's larger group dining; we're not getting those larger groups of six or seven right now. I want to get people into fresh pasta and distinguish ourselves from Mama Ricotta's, not just an offshoot but a viable, standalone concept as well.
THE TOUGH STUFF
Coffee or tea? Coffee.
Beer or wine? Beer.
Pasta or pizza? Pizza.
Cannoli or gelato? Gelato.
Baked or fried? Fried.
Appetizer or dessert? Yes.
Street Eats or sit-down? Street eats.
More money or more free time? Free time.
Spaghetti and meatballs or spicy noodles? Spicy noodles.
Lobster roll or egg roll? Egg roll.
French fries or French onion soup? French
onion soup.