Meet New Restaurant O-Ku's Executive Chef
Michael Chanthavong has worked in kitchens since he was a kid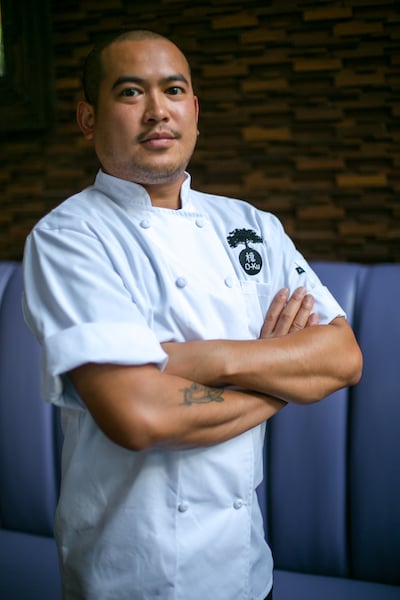 Michael Chanthavong, executive chef at new sushi spot O-Ku, says he's been in restaurant kitchens since he was a "little rascal, asking, 'What's this? What's that?' "
His family owned several Thai restaurants, and when he was 14, Chanthavong's mom asked him if he was serious about cooking. He said yes, and she started teaching him. He cooked for his parents' restaurant in Winston-Salem, but as soon as he turned 18, he moved to Charlotte, working at the airport Phillips' Seafood.
He began to realize cooking was a career path he was passionate about, learning from chefs around the city. He worked in restaurants such as McCormick and Shmick's and the now-closed Lulu, a beloved French spot in Plaza Midwood.
When his father passed away in 2000, Chanthavong took on the burden of running the family's restaurant, Thai Basil, in Pinehurst. He learned quickly that he wasn't ready to take on all of the restaurant.
"It wasn't just about cooking," he says. "It was running a business. I was doing something I was very passionate about and had been passionate about for a long time, which is cooking. But the other side of it was hard."
The restaurant closed, and it was a learning experience for Chanthavong. He's since spent time in Athens, Georgia, and Los Angeles, but always wanted to come back to Charlotte. When his cousin—the executive chef at the original O-Ku in Charleston—told him the restaurant was expanding to Charlotte, Chanthavong knew it was the right job for him.
"I was just waiting for something in Charlotte to pop up," he says. "I was like, I just need a shot to get back into the food scene in Charlotte."
He sat down at Amelie's for an interview, and not long after, the job at O-Ku was his.
The Atherton Mill restaurant's menu will be similar to O-Ku's other locations in Charleston and Atlanta, but Chanthavong will put his own spin on a few staples, as well as serve up his own creations as specials. He plans to infuse cooking traditions and techniques from Laos.
The seafood will be fresh—nothing sits in the cooler for more than 48 hours. Chanthavong says his favorite dish is the yellowtail carpaccio, which is topped with ponzu, cilantro, Serrano peppers, and a mango cube.
"I can eat that every day," he jokes.
On top of the restaurant's opening last week, Chanthavong has another big event planned. He'll marry his girlfriend of 10 years, Noy, on October 1 in Fort Mill—an event planned long before Chanthavong knew he'd be opening a restaurant at the same time. The honeymoon to Southeast Asia understandably will have to wait a few months.