Meet Robin Anthony, the Certified Sake Adviser Behind Prime Fish in Ballantyne
The owner and head chef expertly pairs the Japanese rice drink with sushi and tapas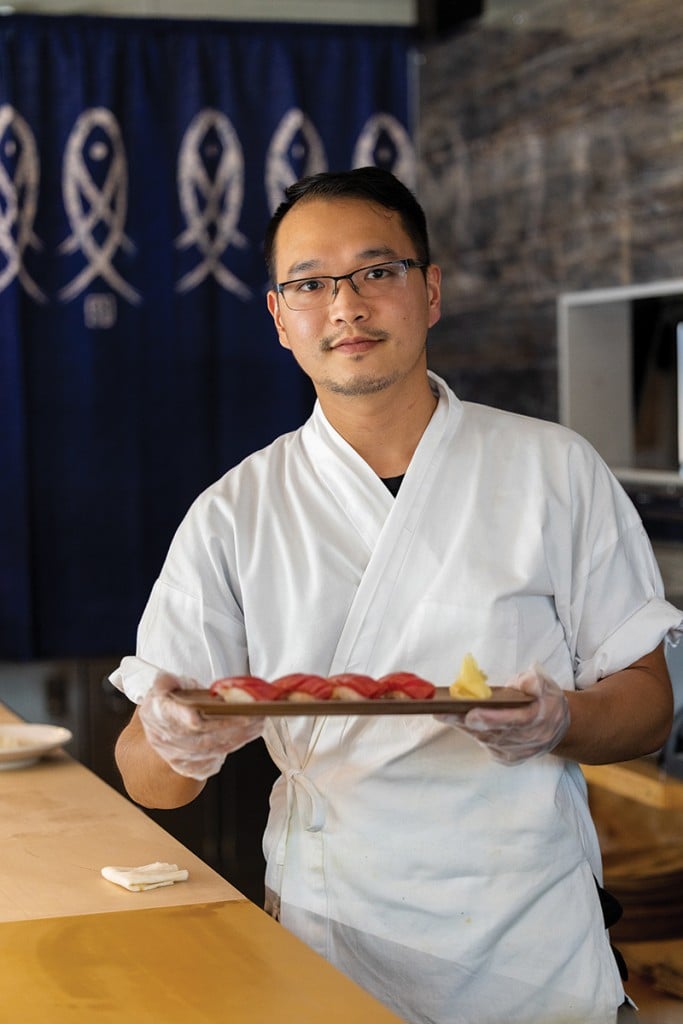 Age: 30
You might know him from: Red Sake and YAMA Waverly, where he used to be head sushi chef
Family status: Married with two children, ages 10 and 4
Favorite sports team: Real Madrid CF
Currently reading: The Seafood Industry by George Flick and Roy Martin
Favorite sports team: Panthers
Where does your love of food come from? Since I was a kid, I've loved to be in the kitchen cooking for my family. I'm mostly self-taught; I watch a lot of cooking instructional videos.
What inspired you to open Prime Fish? The owner of YAMA introduced me to Edomae-style sushi, then I helped the owner of Red Sake open it and create the menu. I was there for one year to get it all set up, then went out on my own. I want to serve what people are getting in LA and New York and expand the palate of Charlotteans.
How would you describe your approach to sushi? I do Edomae-style, which is Tokyo-style sushi. You must have really good knife skills and lots of experience with fish. It's the traditional way sushi is made. There are precise measurements of slicing the fish. It's about the art of sushi. The way sashimi and nigiri is done in the U.S. isn't how it's supposed to be.
How can we tell the difference? American-style sushi rolls are usually fried and sauced. You know your nigiri has been cut perfectly when it fits in your mouth in one bite. It means you have the right amount of rice with the correct cut of fish.   
Tell me about developing an Asian raw bar menu. Edomae-style sushi is the foundation—we just combined it with Southern European and French flavors, like carpaccio and crudo. Carpaccio isn't sushi, but it's raw—so we're combining several raw foods from different countries. Ninety percent of this menu is raw, and at least 95% is seafood-based. The French use a lot of microgreens and edible flowers; we get all of ours from a local farmer in Charlotte.
What is a certified sake adviser, and how does one earn this title? Japan has a Sake Service Institute, where I got my certification. I studied and did a lot of prep on my own, so the course didn't take too long. They have professors that come to Atlanta, California, and New York once a year to give the exam. I took mine in Atlanta. I passed on the first try, but if you fail, you have to wait do it again the next year.
What's an example of a great fish and sake pairing? Sashimi is good with a floral sake. Nigiri is better with a dry sake. Our menu pairs it for you. It took me about four years to research it. I have been drinking sake a long time (laughs).
What's your favorite food and sake pairing? I love beef with Cowboy Yamahai sake. If you eat beef, it has to be this one. For sashimi, I drink Immortal Wing, a very fragrant sake with a honeydew aroma.
Anything else we should know about sake? Sake's profile changes when you drink it cold versus hot. The aroma and taste will all be different. So for an appetizer, you might start with a hot one, and for your meal, I'll give you a cold one.  
Is there one recipe you'd still love to master? Edomae-style sushi (laughs). You're always learning.
Do your kids eat sushi? My oldest one does—she eats sushi like Cheetos.
What's your favorite food city? New York. I eat a variety of Asian cuisines, and I like Italian food. 
Any rules to live by in the kitchen? Follow your head chef, and always come on time.
THE TOUGH STUFF
Sake or wine? Sake
Ramen bowl or poke bowl? Ramen bowl
Calamari or oysters? Oysters
Shrimp tempura or shrimp cocktail? Shrimp cocktail
Lobster roll or egg roll? Lobster roll
Comedy or drama? Drama
More money or more free time?I want both
Street eats or sit-down? Both. I'm a foodie
Facebook or Instagram? Instagram