Meet the Episcopal Minister Who Has Led Hundreds of Funerals with Grace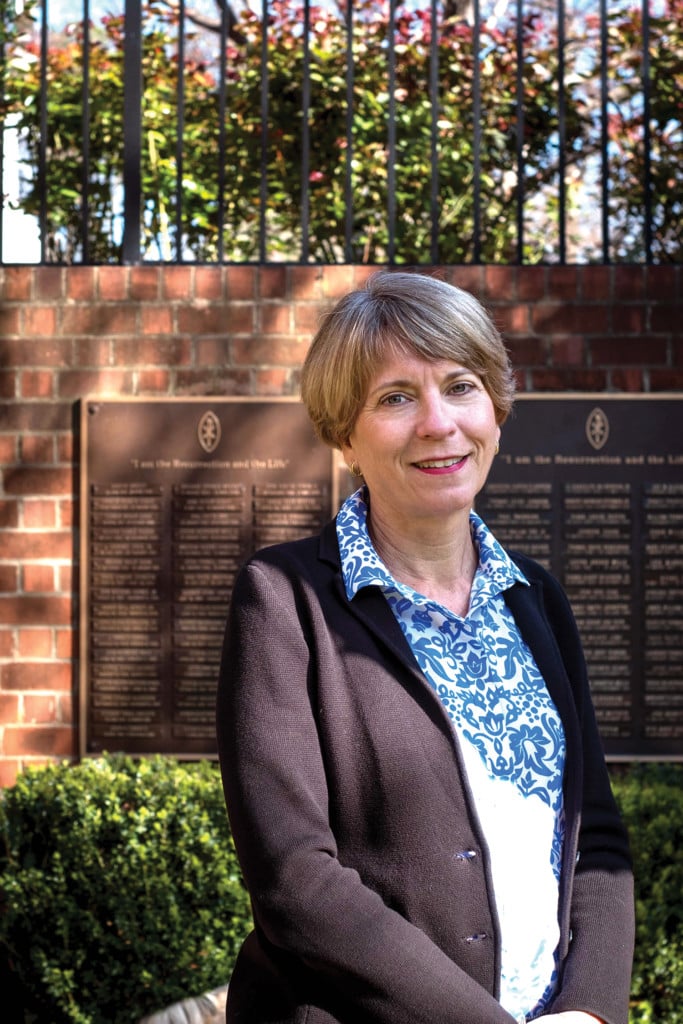 THIS WAS 35 YEARS AGO, but Rev. Lisa Saunders still remembers the day a mourner had to run up to the lectern and hand her a handkerchief. It was during the funeral of the church secretary she had worked with in Virginia. The woman was just 52 when she died. Saunders was 24, new to the business of burying the dead. As Saunders read aloud a poem that the deceased, Lois Mawyer, had written, her tears began to flow. And flow. It wasn't until the handkerchief arrived that she could finally stifle her sobs.
At the time, Saunders felt like a fool and a failure. But she has performed more than 300 funerals since then and lost her poise only once. It's not that her heart doesn't ache for every person she sends off to whatever awaits. It's just that she has the dying to honor, the bereaved to comfort, and about 10 minutes per homily to help the rest of us appreciate our own mortality. Her life's work, she has come to learn, is far too important to be washed away in tears.
As an associate rector at Christ Episcopal Church for the past 30 years, Saunders has baptized babies, preached sermons, married couples, and done most everything a servant of God can do. Yet it's the funerals that have come to shape her ministry (and life), from babies who never took a breath outside the womb to Ruth Rightmire, who died at 100, having fulfilled one of her lifelong goals: She rode in a hot air balloon at 90.
Saunders, 59, acknowledges that she is reserved by nature, able to keep her emotions in check. "I can go months without crying," she says. Parishioners at Christ Church appreciate that side of her: Anne Dooley describes Saunders as quietly intuitive, with an innate sense for knowing what you're feeling. "It's her gift," Dooley says. "Understanding isn't a strong enough word." Saunders performed the funeral for Dooley's mother, Anne Horne, in 2005. Ann Davant Crehore says Saunders is the right blend of empathy and strength, "without sappy sentimentalism." Saunders performed the funeral for Crehore's father, Gene, in 2006. "Lisa was a rock," Crehore says, "and she nailed the homily."
God, at least in this case, does work in mysterious ways. In funerals, Saunders has found a platform to pour out her heart, if not her tears. Now, in a memoir, she has found a platform to stir the rest of us to think about how we use our time on earth. There's a lot of death in Even at the Grave. But there are a lot of life lessons, too. The thought of that last "Amen" sounding forth at our own funeral makes us think, doesn't it?
***
I'VE KNOWN SAUNDERS for years, from my days covering religion for the Observer. But it wasn't until we discovered our common calling that the connection deepened. She performs funerals. I write obituaries, believing the last word should focus more on your legacy than the jobs you've held and awards you've won.
"You wrote a memoir about what?" I asked Saunders one morning over coffee.
She wrote about being there for people who need us, surely the greatest gift we can give. Steve Mitchener was dying of cancer at home, his hospital bed beside a big picture window. One Sunday afternoon in February 2015, he looked out to see 100 friends and neighbors, all there for him. They walked around the house so he could see each one of them. They recited the Lord's Prayer and sang "Amazing Grace." He responded by blowing them kisses. He did not live to see another Sunday. A year after Steve's funeral, his wife, Sally, told Saunders, "Not many get to attend their own memorial service. Steve did."
Saunders wrote about bearing another's burden. When Matt and Grace Savage lost their 12-week-old son, Ford, they turned to Saunders and asked, "How do you bury a child and continue to live?" Saunders answered not in words but in deed. She recruited other church members who had lost a child to sit together at Ford's funeral. They filled two pews. "They come here to love you, to help you to know that you are not alone and that it is possible to be comforted, to put one foot in front of another, to laugh, to live," Saunders preached. "They know, as you know, that there is no miraculous way to avoid your pain; the miracle God gives us is when we find hope and life again on the other side of our pain."
She wrote about walking with the grief-stricken, whatever the nature of their loss. A group of young girls, including some from Christ Church, were reeling from the death of eight horses in a barn fire. At the horses' burial in a pasture near the barn, Saunders sought to comfort the girls who had ridden these animals, cared for them, forged a bond that they might not have forged elsewhere in their young lives. Saunders prayed for each animal by name. "I spoke about how the horses were ambassadors of God's beauty and grace, how they taught the vocabulary of trust and unconditional love without speaking a word, how they showed the girls that strength is revealed more in control than in force, and how simple encouragement can spur us to new heights."
She wrote about humor being able to lighten life's load. A year before she died at age 82, Nona Butterworth answered a survey that Saunders had circulated, asking long-married couples to explain the secret to their marital success. Nona was the only one who listed sex as a contributing factor. At the funeral, Saunders gave Mr. Butterworth a thumbs up.
***
THIS IS ALL a privilege to Saunders, but a daunting responsibility, too. She thinks about the funeral she conducted for John Lowe, who hid his depression behind a smile. In his 50s, he took his own life, leaving behind a family and friends wondering in their anguish how this could have happened. Empowered by Lowe's family, Saunders spoke of his invisible struggle. How so many of us limp—not on the outside, but on the inside. How death doesn't have to have the last word. "The peace and healing that eluded him here," she preached, "he is now free to receive and trust." The response she received after the funeral was overwhelming. Some told her of suicides in their families. One man said it was time to quit hiding his depression and tell friends. At every service, no matter the nature of the death, she thinks about the people in the pews. She wrestles with what words she'd want to hear if she was in their place. And so she chooses each one carefully, hoping to provide healing, rejecting the tired phrases that give religion a bad name—"They're in a better place" or "This is part of God's plan."
"That is not a God who I believe in," she says about the phrases.
Instead, she'll gently remind the bereaved that they have not lost this person completely, that the dead live on within us but also more fully beyond us, and that now, even through misty eyes, we perhaps can see life more clearly. "On the worst and most painful days of your life," she tells me, "you actually realize what's most important, what makes your life joyful, what gives your life meaning. It's all distilled in that loss."
You see, Saunders doesn't have time to cry. Someone has died. It's time to go to work.
---
A EULOGY EXCERPT
"Ouisie, who died on All Saints Day, was a tiny yet towering saint herself. In her short life she softened hearts and opened eyes to what matters most. But we would rather be oblivious and less sensitive, and her parents still holding their bright, beautiful baby girl. No good thing justifies her death, and we would deepen pain to suggest that. But goodness can surround her death." – From the homily Saunders preached at the funeral for Caroline Eloise "Ouisie" McMahan, who died at 19 days old
---
LISA SAUNDERS
Job
Associate Rector, Christ Episcopal Church
Family
Husband, Tim, a pediatric and neuro-ophthalmologist. Three adult children: Caroline, Julia Gray, and Rob.
Her Favorite Bible Verse for a Funeral
Isaiah 55:12-13, "For you shall go out in joy, and be led back in peace …"
It Runs In The Family
Saunders' uncle-in-law, Rev. Louis Saunders, performed the funeral for Lee Harvey Oswald when no one else would. As she shares in her book, he offered this eulogy on Nov. 25, 1963, at a cemetery in Fort Worth: "Mrs. Oswald tells me that her son, Lee Harvey, was a good boy and that she loved him. And today, Lord, we commit his spirit to your divine care."
Oddest Request for a Funeral Hymn
"Goodnight, Irene," from a guy who was as unique in life as he was in death—he built a roller coaster in his backyard. They compromised on an organ-and-harmonica duet of "Amazing Grace."
Her Book
Even at the Grave, self-published, is available for $15 in the GoodNews Shop at Christ Episcopal Church (1412 Providence Rd.). The book is also available at Park Road Books, 3 French Hens gift shop, and through Amazon. From book sales at the GoodNews Shop, proceeds after expenses go to ministries for women and children.