Meet the N.C. Teen Paddler Making Olympics History
Evy Leibfarth has been called the "future of American canoe/kayak," and the U.S. National Whitewater Center has helped catapult her to the biggest stages in sports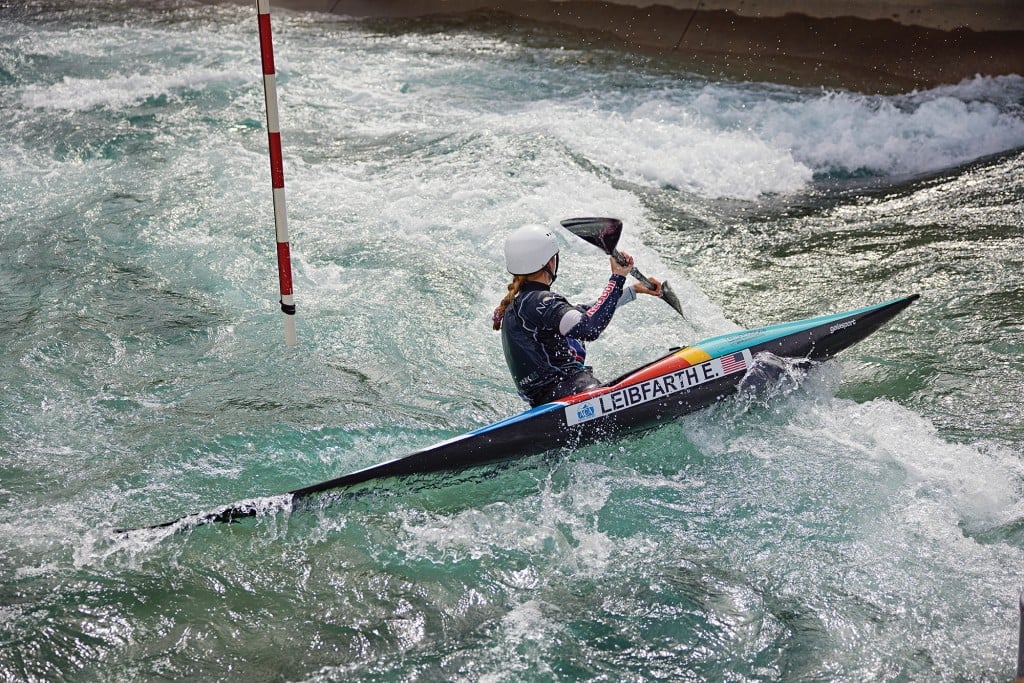 In early April 2016, whitewater kayaker Evy Leibfarth woke up on the morning of a competition and ate pretzels and hummus for breakfast. "I'd never do that again," she says, adding that she now opts for pre-run meals like yogurt with fruit. "I was just so nervous that I was trying to eat something." Later that day, at the U.S. National Whitewater Center, she would compete in her first team trials, which happened to be the Olympics selection. She'd share the water with—and face off against—her idols. She was 12.
A section of the whitewater course called Big Drop loomed near the end of her run, and she flipped over. "Obviously very, very bad," she says. "There were people packed along the shore, watching, and everyone was cheering for me and kind of willing me to keep going. And I just remember feeling so motivated in that moment." After her run, she ran around with a T-shirt and Sharpie, collecting autographs from athletes she'd looked up to since she was 7. Now, just a few years later, they're watching her edge them off the podium.
The Bryson City native's stunning rise has grabbed attention in the paddle sports community and beyond. In April, five years after her team trials debut at the USNWC, she ran the same course for a chance to represent the United States in both the kayak and canoe slalom events at the 2021 Tokyo Olympics. This is the first year ever that women will be able to compete in the individual canoe slalom—and Evy, now 17, earned the sole spot to represent the U.S. in both events.
In kayak events, the paddler sits in the boat with her legs extended and uses a paddle with blades at both ends. In canoe events, she kneels and uses a single-bladed paddle. Evy does both. In 2019, at her first International Canoe Federation World Cup, she finished seventh in the women's individual canoe slalom and 10th in the individual kayak slalom. (In slalom events, competitors paddle through hanging gates, which must be approached from upstream or downstream, depending on their color.) Just a week later, she became the first woman from the United States to medal in canoe slalom at a world cup competition. She took bronze and joined a couple of world champs, Australian Jessica Fox and Austrian Viktoria Wolffhardt, on the podium. Don't cry, Evy remembers thinking. Don't cry, don't cry, don't cry.
When I ask Evy what's allowed her to achieve this much this fast, she doesn't talk about her determination or fearlessness. She talks about her parents. Her mom, Jean Folger, led whitewater rafting trips on the Chattooga and Nantahala rivers—she even plied the Nantahala when she was pregnant—so Evy knew the jostle and flow of river rapids before she was born. Her dad, Lee Leibfarth, was a competitive paddler himself and coached the U.S. junior national team for four years, beginning in 1998. Now he coaches his daughter.
Evy trains for much of the year at the USNWC, when the artificial river is turned on—and not only because it's just three hours from her home in Bryson City. The center has become a hub for whitewater athletes across the country, and Evy says it's not unusual to run into top-level competitors, not least because the center offered generous water time to Olympic hopefuls before the national team selection in April. (Since the USNWC hosted the team trials, the athletes who train there enjoyed a home-court advantage.) "It's one of my favorite courses in the world," Evy says, not just because it's some of the fastest water out there but also because visitors unfamiliar with her sports can learn and participate. When she's not at the USNWC, Evy usually trains on the nearby Nantahala. On cold, rainy mornings, Lee jokes that heading out in crummy weather isn't written into his coaching contract. Evy reminds him that it's written into his "dad contract."
"Evy makes it extremely easy to coach," Lee says. The pair communicate their limits and laugh a lot, which helps ease the tension that may arise from having a dad who doubles as a coach. During a recent workout, Evy and Lee alternated her weightlifting sets with quick rounds of charades. His coaching experience means he knows how to push for results, but, he says, "there are other times when you realize, Gosh, I need to back off a little bit and just be a dad." As he juggles the dual roles, he also helps Evy find balance between her intense competition schedule and a normal teenage life.
"I definitely feel like I missed out on the high school experience," Evy reflects. She graduated from an online high school in December, and while she'll never get to go to a prom, she says traveling and making friends with paddlers all over the world more than make up for it. She plans to pursue a pre-med degree in biology and wants to eventually apply her interest in science to sports. While the pandemic didn't upset her school routine, it brought global competitions to a standstill and postponed the 2020 Summer Olympics.
In the unexpected time at home, where that signed T-shirt still hangs on her bedroom wall, Evy's training didn't let up. But she found more time to draw and paint, which she does in part to relieve stress. (New Zealand artist Kristina Webb's hyper-realistic drawings were an early inspiration.) She also honed her skills in the kitchen, where she regularly whips up "a whole myriad of things" for her mom and dad—falafel, wonton soup, poke bowls, and Thai coconut curry, to name a few.
The pandemic gave the young phenom a chance to reflect at a heady moment in her career. She's already proven herself on canoe and kayak runs around the world. But competing in the Tokyo Olympics will write her name in history and could vault her into stardom beyond paddle sports. Before, her hectic travel schedule didn't allow Evy much time to reflect on the path her life has taken. But as she trained alone last year, on the eve of adulthood and a chance to compete on sports' biggest stage, Evy Leibfarth paused: "I definitely had a chance to realize just how grateful I am for all the experiences I've had."
Before every event, Evy scouts the water. Her runs, which typically last about 100 seconds, don't offer much time to think. So Evy walks the course, notes how the gates are staggered, and makes a mental map. She pays attention to the water features, too. A couple of big rapids at the whitewater center require her to strategize. "Once I have a good grasp on the gates," she says, "I'll step off to the side, close my eyes, and go through the entire course in my head to make sure I've memorized it." In the minutes before her event, she floats in still water, closes her eyes again, and runs through her plan one more time. Then she's off.