Meet the New Band
Before the Avett Brothers became ubiquitous, a different pair of brothers were set to become breakout stars. But rock and roll works in mysterious ways. Now Alan and Chad Edwards are back with a new band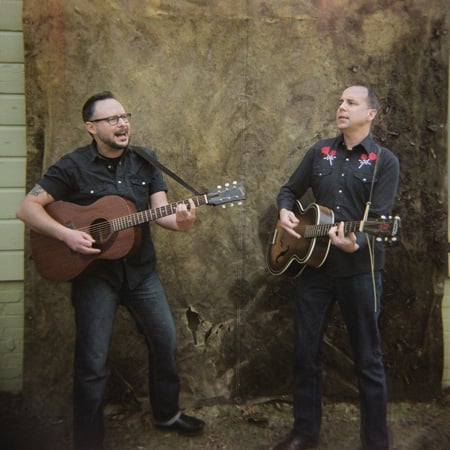 On a chilly night in December, the slightly disheveled crowd at the Plaza Midwood bar Snug Harbor looks a bit like a high school reunion, if your high school was the mid-to-late-1990s local music scene. Hairlines have moved. Pounds have been lost and gained. But the faces that were once fixtures in clubs and bars—on stages and in audiences—and are now rarely seen out past midnight could fill a yearbook.
On stage, a five-piece rock band dressed in Johnny Cash black is bathed in a haze of amber light. The haze is a lighting trick—it would have been cigarette smoke in the nineties—but the vibe is very much Double Door circa 1997. The band's name—the Loudermilks—may not be familiar. In fact this is their first show. But the crowd knows them. One of the bespectacled vocalists, whose beard reveals hints of gray and whose croon is lived-in but not worn, presses his lips up to the microphone and sings of lost dreams and missed opportunities: "the damage is done." Standing beside him, taking lead on a different song, his brother tackles similar territory.
The Loudermilks are led by brothers Alan and Chad Edwards. Back when the idea of Scott and Seth Avett working with superstar producer Rick Rubin and selling hundreds of thousands of records was as likely as a gig on Mars, this other pair of brothers seemed ready to become the area's Americana ambassadors. They fronted a band called Lou Ford, which was named after a character in a Jim Thompson novel. Upon launching in August 1996, the band received immediate critical acclaim. Adoring crowds followed, and the band became the linchpin of Charlotte's then-burgeoning alternative-country-rock scene. But the ride didn't last long. Mention Lou Ford today to folks who remember and the response is usually something like a long pause followed by sad wonderment—"Yeah, I really thought they'd go somewhere."
Looking back, it's hard to say if the Edwardses were too young, too angry, too antiestablishment, or just plain unlucky. Maybe it was a little of all of those things. Perhaps they became trapped in a provincial Charlotte music scene. Today, Alan, who once let guitar feedback ring out for six minutes after giving the crowd at a radio event a verbal middle finger, seems humbler and is admittedly less angry. The demons that were such a big part of Lou Ford's lyrics but that also may have cost the band any gold records have been exorcised (mostly) or at least put to bed. While the still-young Avett Brothers will pack 8,000-seat Bojangles' Arena in April, the Edwards brothers, having grown up as men, fathers, and business owners, are starting all over again.
"I blame us," says Chad Edwards, sipping 
a Captain and ginger beside his brother (who orders a Captain and Diet) at an upstairs 
table at the Plaza Midwood restaurant Dish. The thirty-seven-year-old waited tables here before starting a remodeling business. "We were too rock 'n' roll and I was way too high. We were waiting for someone to make it happen for us."
His older brother, Alan, forty-one, agrees. "Our egos were pretty [big] … people were telling us all these things. I think we had this punk rock ethic that making art is all there is. Anything else is selling out. You know, I go to work every day. I'd much rather sell my music than what I'm selling now." Alan owns an audiovisual installation business.
"I blame us," says Chad Edwards. "We were too rock 'n' roll and I was way too high. We were waiting for someone to make it happen for us."
Time has made them resemble each other more than they did when Lou Ford was first starting out. Both brothers wear closely cropped hair and glasses. Except for a somewhat higher hairline, Alan looks much like he did on stage in the late nineties. He's friendly yet more reserved than his younger brother, Chad, who was always the perkier of the two. Chad has always spoken openly and quickly, surprising for someone who admits to having nursed a daily marijuana habit for several years. Chad's a little thicker now, but his dark hair and scruffy beard remain. They both seem more relaxed than they did during Lou Ford's peak.
The brothers grew up in Cartersville, Georgia. After stints in Athens, Niagara Falls, and New York, Alan was on his way to Atlanta to start a band with Chad when he landed at his parents' home in Charlotte, where he dipped a toe into the local 
music scene.
A former roadie named Mark Lynch heard Alan at an open-mic night. "I said, 'Wow. This guy's really good.' I volunteered to play bass even though I never had." Lynch's slicked pompadour and lanky frame became a signature for Lou Ford. With Lynch's encouragement, Alan lured Chad to town with the promise of the band they'd longed to start. They added Shawn Lynch (no relation to Mark) on drums. The buzz started practically overnight. Lou Ford received a write-up in 
Creative Loafing before its first show. Within six months it was featured in Billboard Magazine. Other publications, including alt-country standard-bearer No Depression and notable British music magazines followed. Locally, the band regularly drew a few hundred. It was heady stuff for a brand-new band.
The buzz was warranted. Its first two 
albums, Sad, But Familiar and Alan Freed's Radio, were on par with anything coming out of the burgeoning late-nineties alternative-country movement. Both hold up as classics of that era alongside Lucinda Williams's Car Wheels on a Gravel Road and Son Volt's Trace. The Edwards brothers wrote revealing, emotional pop tunes that circled the angst-ridden territory of classic country drinking songs but with hooks that made lyrics easy to recall. Like Johnny Cash, or the Avett Brothers for that matter, Lou Ford's songs connected with crowds whose ages and backgrounds varied greatly. They resonated with preppies and punks, hipsters and rednecks.
"I thought [Alan] was a major talent," says Dolph Ramseur, the Avett Brothers' manager and owner of Ramseur Records. "[He] was one of the best songwriters around."
Maybe it was all too easy. Lou Ford declined opportunities that in hindsight it probably should have taken. It almost signed to what became Yep Roc Records, the independent label out of Haw River, North Carolina, with a history of successful releases. Instead Lou Ford went with a West Coast company that offered it twice as much to record. "[That label] had scattered distribution on the East Coast, so our audience, the people that knew us, couldn't get our record. The first record ended up outselling the second one," explains Chad.
Alan still longs for the time "before I'd ever played a song for somebody. To me that's pure. Once you present it to the world, that's gone. It's like losing your virginity or something.
But the issues went deeper than bad business decisions. Alan, the front man and chief songwriter, was also a reluctant star. Mark Williams, a Charlotte-based mixing and mastering engineer who produced Lou Ford's first two albums, recalls, "If Alan had to play a 
guitar solo he'd play with his back to the audience because he didn't want people to think he was trying to be a guitar hero."
Alan quickly became disillusioned. Songwriting had originally been a private outlet for his depression. He wasn't prepared for comments or criticism. "The songs I wrote on [Sad, But Familiar] were very autobiographical. I'd play Mark (Lynch) a song and he would say, 'Are you sure you want to say that to people?' " Alan still longs for the time "before I'd ever played a song for somebody. To me that's pure. Once you present it to the world, that's gone. It's like losing your virginity or something. I became very self-conscious of the things I was writing and also got angry and bitter about it. It was strange to have people reading your diary and commenting on it."
"To watch some guy rip his heart open and tell you all the sad things in his life—as real and compelling as those records were, it wasn't Hootie and the Blowfish. They weren't happy, sing-along, drink-a-beer songs," ventures Williams, comparing Lou Ford's live show to that of the frenetic punk energy of the Avett Brothers.
Maybe, as great as the songs are, the material was just too darn sad. There was palpable heartache in lines like "Mom you were right/This is a dead-end life/Dreams in this town don't come true," from the song "Part of You." Other songs cut to the heart of a shattered relationship and lonely recovery with lines like "I want to live inside a bottle." This was Hank Williams– or Kris Kristofferson–caliber stuff. That may have worked against them.
"Lou Ford had a lot of downers," Ramseur says. "When you get forty-five minutes in a foreign town in, say, Athens, Georgia, and you're an opening band a lot of time you've got to have a little piss and vinegar to get people fired up about you."
Criticism like that stung Alan. "I love bands like Galaxie 500 and Velvet Underground. Do people tell them they need to play faster?
"In retrospect I kind of sold myself short in that I started listening to people instead of doing what I felt like. That's when I stopped enjoying it."
He and others in the band were also frustrated that all the accolades didn't add up to dollars and cents. "I got more and more bitter that we had all these people telling us all these great things that were going to happen to us and how great we were and we were basically poor and not making money and not selling a lot of records," Alan says. "I think I took that out on the audience. There was a time when I didn't really like our audience. I was writing for myself, but I felt like I was trying to appeal to a certain demographic I decidedly didn't want to be part of."
His alcohol-fueled anger manifested 
itself on stage. After another F-U to the audience, he walked off stage at a show at Duke University. Drummer Shawn Lynch quit the band the next day. Mark Lynch soon followed.
The Edwardses scrambled to put together a band to tour behind its sophomore album. "It went as far as getting a pompadoured bass player and a drummer that was trying to learn Shawn's grooves," Chad says. By the end of its final show outside the Penguin on July 4, 2003, some members of the band were so wasted the audience almost wanted them to quit. So did Alan, who had married and wanted to focus on his family, making him an even more reluctant front man. "I found myself [thinking] can I just play guitar? It was the opposite of how Chad felt."
Lou Ford's "Get Out, Get In," of its third record, "Poor Man's Soul"
"Mark and Alan ran that show. I had a little-brother-size chip on my shoulder for a long time," says Chad, whose first marriage ended the same week Lou Ford split. "The press [for Lou Ford] was directed at Alan, and any recognition I got ricocheted off Alan. But I was stoned all the time and played the little brother and sat back and resented not being an equal partner."
He started his own band, Hard Times Family. "During the time we took off I fronted a band and gained confidence. I also learned that exponentially fewer people are interested in us on our own." Hard Times Family did not last long.
Maybe it's their demeanor on stage, but the Loudermilks
seem like they're enjoying it more now.
In the new band, which Chad calls his and Alan's "mutual baby," the Edwards brothers are surrounded by a new cast of players. Drummer Mike Kennerly, fiddler/keyboardist David Sleigh, and bassist Brent Dunn allow them to stretch outside the confines of the traditional guitar-bass-drums lineup.
"There's a lot more musical flexibility," says Chad, who has remarried and has a two-and-a-half-year-old son, Ethan. The hooks and effortlessness that made Lou Ford such a favorite remain, but there's less heartache and more Springsteen-style pop. Maybe it's their demeanor on stage, but the Loudermilks seem like they're enjoying it more now. But they aren't ignoring their past.
"Some of these songs have been around for a while. There's definitely some bitterness about where we thought we were going to be and where we are," says Alan. "One of Chad's is one of my favorite new songs. It's called 'Broken Record' and it's about that—he and I trying to decide how to move forward. If we continue what we're doing with Lou Ford or start a new band."
Alan's daughters, Zoë and Dylan, are now ten and eleven, respectively. "We're old guys with families, but we'd love to make our mark again," Chad says. "We want to more consciously capitalize on opportunities like booking a show shortly after this article comes out.
"We would've never thought to do that before."
The Loudermilks play Snug Harbor with Overmountain Men and Ken Wil Morton & the Wholly Ghosts on March 19.
Courtney Devores has been writing about the Charlotte music scene for fifteen years.
Watch Lou Ford playing a local festival in 1997:
The Loudermilks in one of their first shows, at Plaza Midwood bar Snug Harbour. The song is "Everybody Knows You":