Meet the Owners Behind My Buddy's Nuts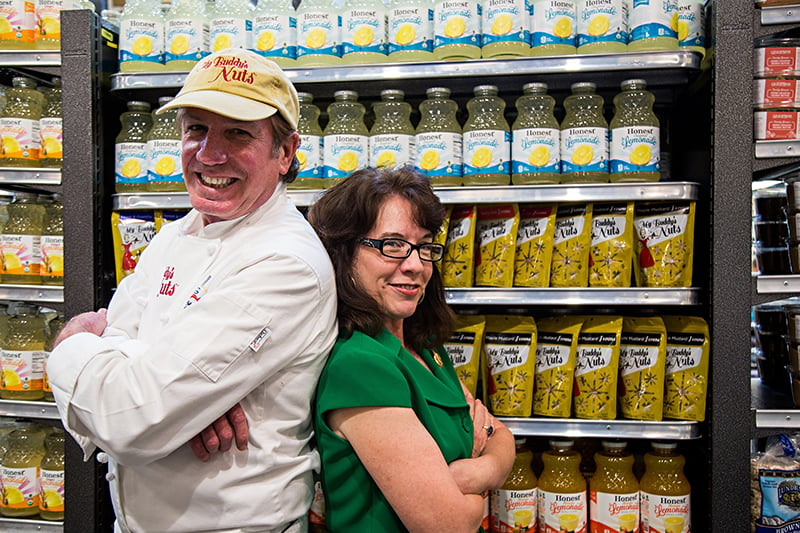 BONNIE JONES AND PHIL ANDERSON, owners of My Buddy's Nuts, start each business day with a meeting. In their pajamas. One makes coffee, and then they start writing that day's plan on a chalkboard. Jones does the business's marketing and communications, and Anderson handles the culinary side.
After 33 years together, they still have an exuberant chemistry between them, punctuating their conversations with smiles and laughter. And they still enjoy being married to each other, even after creating and running the business of My Buddy's Nuts.
Their relationship started in 1983, when Jones and Anderson worked at a hotel in Washington, D.C. He cooked, she bartended, and they both waited on customers. "Love at first sight," they say, and they've been together ever since. Several months after meeting, they hit the road in a station wagon and drove across the country to Los Angeles. Jones had been a theater major in college, and she wanted to pursue acting. Anderson wanted to support his girlfriend's dreams. "I could go anywhere," he says.
Once in Los Angeles, Jones studied acting and went to auditions. To help pay the bills, she also taught acting and bartended. Meanwhile, Anderson was starting what would be a successful career as a chef in the upscale grocery business. He worked for the high-end West Coast supermarket Gelson's, spearheading an initiative to bring more fresh foods into the market.
Along the way, he became a certified executive chef, continued his culinary training, and he and Jones moved to several states over the years as career opportunities presented themselves. In 2002, they relocated to Charlotte, when Anderson joined Harris Teeter as the supermarket chain's director of fresh foods.
Each holiday season, he cooked spiced pecans and gave them out as gifts, and people loved them. One day in 2014, after he retired from Harris Teeter, Anderson came home with an idea. "I know what we're going to do," he told Jones. "We're going to make the nuts."
This duo shares a great sense of humor, which is evident in the name of the company. "When Phil and I met, my sister and I used to watch Father Knows Best reruns. One of the kids' names was Bud Anderson," Jones says. "The good-looking kid," Anderson finishes. Given Phil's last name and their love for the show, Jones and her whole family called Phil "Bud" or "Buddy."
Of course, that means My Buddy's Nuts also has another, more risqué meaning. Although a few people they encounter don't appreciate the joke, the overall response has been positive. "Most people get it. Young people love it," Jones says.
Jones dreams up the flavors, while Anderson's chef background allows him to figure out how to make them reality—though getting the flavors just right is a challenge. Anderson tweaks the recipes a few times for each flavor, and uses a unique (and secret) system to get the spices to stick to the pecans.
The pecans come from Southern Georgia Pecan Company, and the spice blends are always non-GMO and organic. The three original flavors of My Buddy's Nuts—maple mustard, sweet and crunchy, and spicy hot—are bold without being overpowering, and surprisingly light. There are now almost 10 flavors, including seasonal ones.
Anderson is developing more flavors, and each one has to be approved by his wife before hitting the market.
Now, their nuts are sold in stores such as Whole Foods and Total Wine, along with some other retailers. In total, My Buddy's Nuts are in about 50 stores, in nearly 10 states.
Anderson explains that the nuts get tossed in a bowl with the powdered seasoning, and he reveals another secret behind the business's early success. When he tosses them in that bowl, he does so with startling precision and repetition. "It has to be a total of 80 times," he says of the tosses. Exactly 80. "Bonnie insisted on my training someone as backup and he does a good job tossing them." Then, a second later, he adds, "But he loses a few."
Allison Futterman is a freelance writer based in Charlotte.