Meet the Owners: The Sporting Gent & Woo Skincare and Cosmetics
Two new Selwyn Avenue shops focus on men's clothing, hunting and fishing gear, and skin care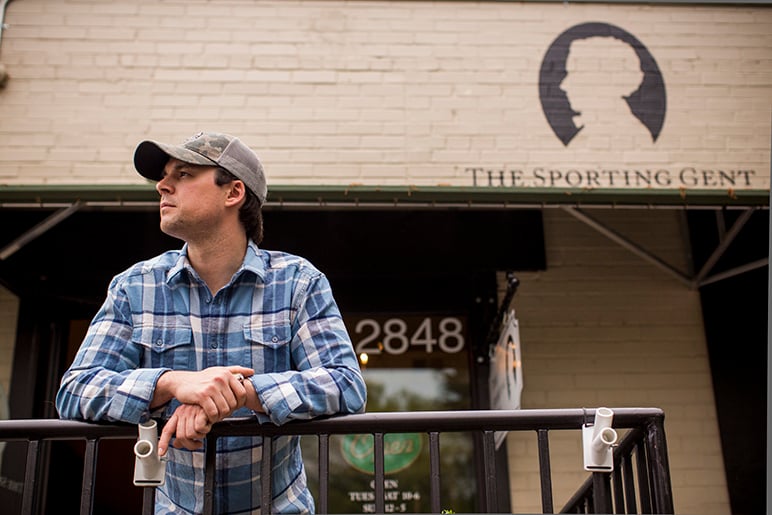 Marc Williams
Owner of The Sporting Gent, which sells everything from men's shirts to bow ties, fishing gear, and hunting equipment
2848 Selwyn Ave., 704-896-5600, thesportinggent.com
Why did you enter the retail world?
It's less about retail. If you asked me if I had a passion for retail, I would say no. For me it was about opening a clubhouse, a store for guys to come hang out.
I see you worked for NASCAR. Why did you leave?
Yes, I was in sports marketing at NASCAR before I opened the shop. I think I've seen enough cars driving around in a circle to last me a lifetime.
Why is it important for your shop to be in Myers Park?
This is a neighborhood store; I live 100 yards away. Last weekend we broiled 90 pounds of crawfish in our parking lot for the neighborhood. I try to feed Myers Park at least once a month. We don't take it too seriously—we just want to have fun.
What does it take to get a product on your shelves?
I'm a big fan of things designed and made in North Carolina. The easiest way to get your product on our shelves is to say, "Hey, we are from North Carolina."
---
Kara Campbell
Owner of Woo Skincare and Cosmetics
2900-A Selwyn Ave., 704-333-0443, wooskincareandcosmetics.com
Why did you decide to open a skin care shop?
I think sometimes people get tired of going to the mall. We opened Woo so people feel pampered, and it offers a break from their busy lives. It's easier to get in and out of here than a mall.
There are two other Woo locations, in Atlanta and Nashville. Why did you choose to open in Charlotte?
I was born in Charlotte and lived here through the seventh grade, and then I went to New York City for 19 years. After coming from a cosmetics background, I knew Charlotte was the perfect place for this kind of shop.
What did you do before opening Woo?
I was the executive director of marketing for Clinique and Clinique International for 12 years total. I was also the executive director of marketing for the cosmetics division of Chanel from 1996 to 2003.
What products are always in your purse?
Inside my favorite makeup bag by MZ Wallace, I have Bobbi Brown lip glosses in ultraviolet and hot, Chantecaille Faux Cils mascara, Laura Mercier blush in rosebud, Trish McEvoy line refiner, Supersmile chewing gum, and JAMP hand sanitizer.