Meet the Veterans Behind Old Armor Beer Company
Trio finds new mission in Kannapolis brewery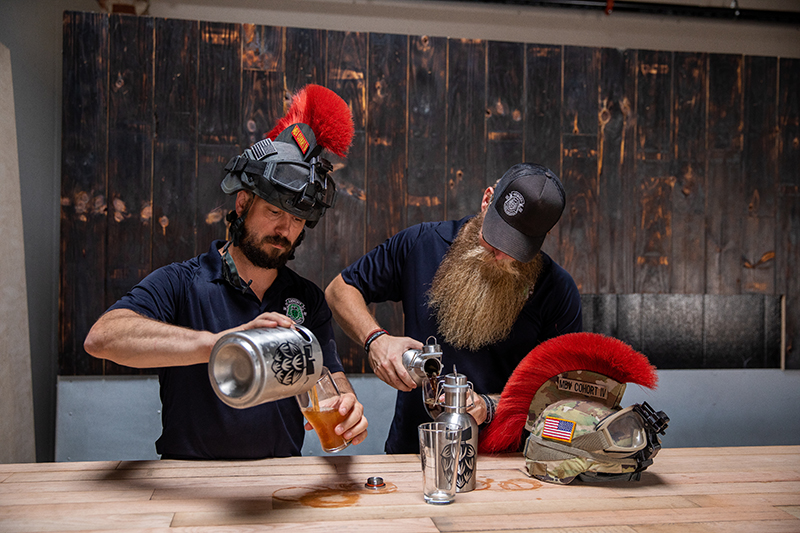 The construction sites on West Avenue in downtown Kannapolis are stacked up one after another as workers pound away at the dry red clay. Machines grumble and beep their way into the stillness of a small-town Saturday morning.
At one end of the road is the half-finished Sports and Entertainment Venue, which will be a baseball stadium for the single-A Kannapolis Intimidators and host concerts and events. Nearby, site work is underway for a downtown hotel. A little further down the block, concrete and steel give shape to a $61 million mixed-use apartment and retail complex.
So when I go to meet the owners of Old Armor Beer Company, set to open by November, in a 1930s-era brick building that was home to the local Rotary Club, I have trouble figuring out which construction site to visit. Head brewer Stefan Perrine and co-owner Kyle Lingafelt stick their heads out of a doorway and flag me down.
They point out the locations of their three beer gardens—more than 7,000 square feet of outdoor space—and explain how they'll fit into Kannapolis' revitalization project. They want to be at the center of a thriving neighborhood, partners with other businesses, and a gathering place for all kinds of people.
"It's about way more than the beer," Lingafelt says.
I understand why he, Perrine, and third co-owner Dick Bradley have such high aspirations: All three are veterans. Each knows what it means to commit to something greater than himself.
Old Armor Beer Company will have a military theme, with a World War I-inspired aesthetic and beer named after jargon familiar to grunts: a chocolate-vanilla stout dubbed Oh Dark Thirty, a hazy IPA called Dustoff, and a surprisingly strong Belgian tripel called Blue Falcon. "It looks very non-menacing. It's light colored, it's sweet when you drink it, and then you realize it's 9.1 percent," Perrine says. (In the military, a blue falcon makes his buddies' lives miserable, Perrine explains with a laugh, and B.F. also stands for more colorful words.)
***
The trio met three years ago in Los Angeles, in an accelerated MBA program at the University of Southern California. Bradley, who still lives in L.A., had finished his service in the Marine Corps about 15 years earlier; Perrine was fresh out of the Army; and Lingafelt was still serving in the Marines. They bonded over their shared military backgrounds—and their collective love of beer.
They started brewing beer for fun; a high-ABV chocolate-vanilla stout became a favorite. "We'd take it to tailgates," Lingafelt says. "People would wipe out our keg, and they'd ask us what we called it. Us being military, we were like, 'Oh Dark Thirty.'"
The name, and the joy of brewing beer together, stuck. When an entrepreneurship class required a group project, the men created a business plan for a brewing company. They explored potential customers, conducted strategic analyses, and brewed a lot more beer. Their project seemed increasingly viable, and they were able to raise capital to start the business by the time they graduated in 2017.
Lingafelt's career in cybersecurity for Bank of America brought him back home to Cabarrus County, where the region's thirst for beer was growing, but the market was not hypercompetitive. "The craft beer scene here isn't saturated like in San Diego or L.A., where you have 300 breweries," he says. "We have like 30. We don't even come close to those big city numbers."
Lingafelt searched for a space for their brewery with support from the others, who would fly out from the West Coast. "I think I looked at a thousand buildings. Legitimately. I don't think that's an exaggeration."
By early 2019, they settled on a site, signed a lease, and Perrine moved to Charlotte full-time. "Since then it's just been nonstop."
***
Lingafelt and Perrine walk me through the top floor of the brewery and point out spaces that have yet to be built out: three garage doors facing the beer garden here, bathrooms there, booths off to this side. Down the middle of the taproom, they'll embed a 24-foot-long Huey helicopter blade in a glass-topped community table.
When I ask where they found the piece of surplus equipment, Perrine offers a wry smile. "We have a guy."
The first phase of their build-out focuses on the 6,000-square-foot street-level floor and the beer gardens. Perrine's brewing setup will be at the back of the taproom. The owners have plans to turn a cavernous basement into a speakeasy-style barrel room and private event space in a later phase. As they gutted the interior to prep for construction, they discovered that the basement was designated an official Department of Defense nuclear fallout shelter during the Cold War.
Lingafelt fetches a dusty, black-and-yellow metal sign. "We're gonna hang this right above the stairs. It even has the old DOD markings on it. I mean, can you believe that?"
Old Armor will also brew special beers in collaboration with local veterans groups and first responders to raise money for their causes. That, Lingafelt says, is more important than just slinging pints, and it explains why he and his partners feel so at home here, at the center of what will become a bustling neighborhood.
"There's a lot of giving back that's going to happen here. We want people to come in and be a part of that," he says. "A brewery is a community center. That's what we want to be—not just a bar."