Meet the Woman Behind Custom Finishing Shop Fine Grit
Katie Schindler works with some of the city's biggest players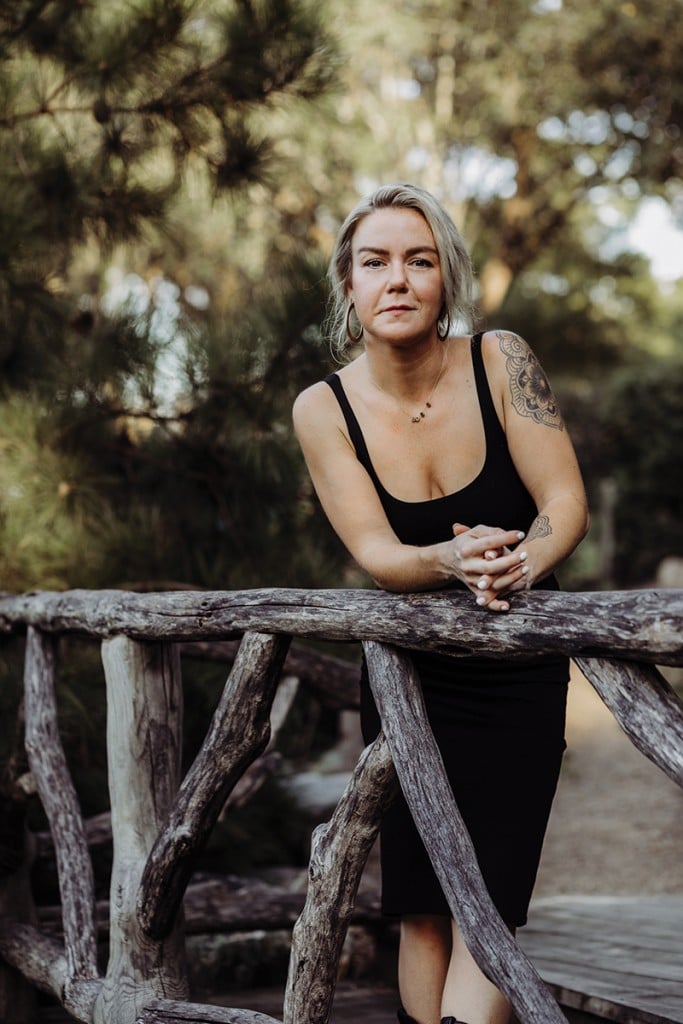 For someone who spends her life getting dirty, Katie Schindler's nails are surprisingly flawless. They're painted in OPI's Cloud White, and she's very glad you noticed.
Then again, she spends her days in a paint shop; taking pride in her own 10 tiny palettes isn't all too shocking. As she stands in her studio, all five-feet-and-three-quarters-of-an-inch of her, fanning out her cloud-colored nails, it's hard to picture her commanding job sites dominated by burly, hard hat-wearing men. But that's exactly what she does.
Schindler, 37, owns and runs the custom finishing company Fine Grit out of a cavernous blue warehouse on the northern fringes of NoDa. This is where Schindler will pointedly remind you in her Tennessee twang that she gets her jobs—which have included commercial projects at The Waterman, Resident Culture Brewing, and The Golden Carrot—because of her talent, not her gender.
Not that the role is easy for a woman. Misogyny on a construction or repair site is often implied rather than overt, she says. "I have had to earn my respect. So, I walk in and I'm like, 'No, this is not how we do it.' And they're like, 'Who are you?' And I'm like, 'Who are you, because you're on my job site!'"
That attitude endears her to some of her clients.
"I was jazzed that I was getting to work with such a badass chick," says Nicole Corriher, owner of The Golden Carrot in Atherton Mill. She hired Schindler to design, build, and finish her display cases last year after she moved her upscale jewelry store from New Jersey to Charlotte. "I loved the fact that Katie was so willing to explore ideas that were out of the box," she says. "She's thirsty for creativity."
Custom finishing is a labor-intensive, detail-oriented method of spraying lacquer paint on a surface (often cabinets, countertops, or other large wooden surfaces) to "finish" it or, as Schindler would say, perfect it.
In addition to the smooth, modern, slim-legged jewelry display cases at The Golden Carrot, her finishing resume includes the rustic, nautical woodwork at The Waterman that makes diners in the middle of Charlotte feel like they're at a seafood shack on the coast. When the team at Undercurrent Coffee designed the Plaza Midwood location, it hired Schindler to create the custom tabletops and shelving units to complement the cool tones and extensive tile work in the cafe.
Schindler's thirst for creativity and love of paint began in her childhood bedroom in East Tennessee. Like many children, she wanted to paint her walls—but in a custom color. "I liked taking something and something else and making them into something that I wanted to see," she says. So she combined red, yellow, and purple to
create her first custom color. After college, she shopped thrift stores for old pieces of cheap furniture, reinvigorated them with paint, and resold them at flea markets.
Schindler later worked as a sales representative for Axalta, the coatings company she still relies on for lacquer. Clients and industry types began to ask her why she was selling paint instead of working with it. One day, a customer offered to sell her the full-service paint shop he planned to shut down. Three days later, the NoDa warehouse was hers, and she was her own boss. "I had no LLC, no plan on, like, how to start a business, no idea," she says. "That was five years ago."
In her first year, she managed with just herself and some part-time workers. A client hired her to refinish cabinets in 15 rooms of his home, which she completed within one month. "I don't know how I did it," she says with a laugh.
But she still does.