Meet Tom Hanchett: Charlotte's Dr. History
Tom Hanchett, staff historian at Levine Museum of the New South and interpreter of Charlotte's last 100 years, says the city's history "is begging to be told." Got time for a story?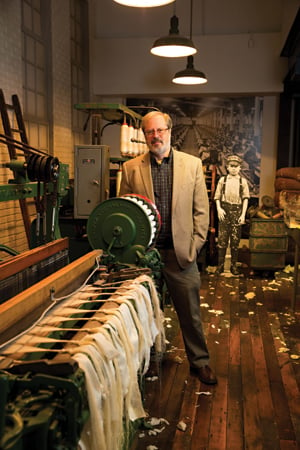 On a sunny weekday morning in December, Tom Hanchett, bespectacled, bearded, and blazered, is doing something that comes naturally to him: standing backward in a moving bus.
"Look historic?" he asks the rapt audience of 40, craning their necks to see the nearly six-year-old Mecklenburg County courthouse on their right. We're on a tour of Charlotte's racial history. Outside, men and women wearing badges and suits, cellphones at their ears, walk past. "We're in the heart, right now, of Brooklyn."
You know the deal. Many buildings in uptown Charlotte of yesteryear were bulldozed to make way for our theme park of a center city. You may not know about Brooklyn, which was a mini-city itself, home to more than a hundred black businesses and thousands of residents.
This is the part of the tour where one might expect Hanchett, staff historian at Levine Museum of the New South and one of the more visible authorities on all things 20th-century Charlotte, to sigh, perhaps give his head a small shake. He doesn't. For Hanchett, this is where he gets to dig into the good stuff.
Hanchett knows the power of story, and every storyteller knows that what's left out from a tale can be as illuminating as what's there. As the bus rumbles down South McDowell Street, Hanchett sets the tone for what's to come.
"In the 1960s, urban renewal money was used to wipe out black neighborhoods," he says in his characteristic upbeat tone, microphone in hand. "Why the buildings aren't here is an important part of this tour. The story of why they're gone is still with us."
As the bus turns right toward the plaque marking Second Ward High School—you can probably guess why a plaque is needed to find the spot—Hanchett talks about the promises made to the African American community to replace the demolished school.
"That promise was never kept," he says, as the bus passengers fall silent. "Those are the kinds of stories that are here. They're stories under the ground."
The bus pulls away from the plaque and starts heading toward Biddleville, a west-side neighborhood that's seen recent, dramatic gentrification.
"I called him once with a question," the woman next to me whispers. "And he called me back and left this long answer in my voice mail."
People told him to go to Charleston or Charlottesville instead.
"Charlotte has no 'history,' quote unquote," Hanchett remembers being told in 1981, when he was a 25-year-old graduate student. He was living in Chicago at the time, working on a master's degree in urban studies at the University of Chicago and exploring a city with no shortage of history, visible or otherwise. Hanchett was interested in how neighborhoods take shape, and he has a lifelong sweet tooth. So he spent weekends in search of ethnic bakeries, riding his bike beyond Hyde Park's gorgeous gothic mansions through all sorts of South Side neighborhoods.
Raised mostly in Virginia and upstate New York, Hanchett, 57, had never been to Charlotte until that year, when UNC Charlotte history professor Dan Morrill got a 14-month grant, including funds for a graduate student, to study older historic neighborhoods for the local Historic Landmarks Commission.
"I was used to a world of late 19th-century buildings," Hanchett says. "None of that was here! It was almost physically scary, like when you go to the deserts of Utah for the first time and it feels like entering another climate, another planet. That was a negative."
But if Hanchett is anything besides a historian, he is an optimist. "The positive was the trees. The longer you live here, the more you forget that other cities are not filled with trees like this."
He rented a place in Elizabeth—30 years ago the neighborhood was not yet, well, as adorable—and placed an old car seat on the front porch so the place wouldn't look worth breaking into. Working on the grant project, Hanchett delved into Myers Park, Center City, Fourth Ward, and Biddleville.
"I didn't have a car so I biked everywhere, which people in Charlotte thought was very weird. But it allowed me to see the city close-up," he says, sitting in his office at the Levine. It's the classic fire hazard academic's space, filled floor to ceiling (and tabletop and cabinet top) with books, and nary a blank spot on the wall, either. A handwritten recipe for fellow North Carolina historian David Cecelski's grandma's sweet potato biscuits takes up prime wall space by his desk. There's room for one visitor to sit—in a rocking chair.
What was supposed to be a 14-month stint in 1981 stretched until 1987. Morrill and Hanchett studied more neighborhoods, then went deep into Charlotte's gospel and bluegrass history from the 1930s. After later earning his PhD in history, Hanchett taught at UNC Chapel Hill, Youngstown State, and Cornell. He enjoyed teaching but found himself craving a broader audience than undergraduates. "I found myself wanting to be outside the classroom, reaching a wider swath of people," he says. "Part of my soul wanted to be in the community instead of in the academy."
He returned to Charlotte in 1999 for the staff historian spot at Levine, calling it his "dream job." By then, Elizabeth had become expensive, and his family settled in Plaza Midwood.
"Charlotte does have a history," Hanchett says. "It's just mostly in the 20th century, and it's begging to be told. For me that's been exciting. It appears not to have history because some people define history as at least 100 years old, and in 1900 there were only 20,000 people living here. But if you define history as remaking itself—if you think of history as living—the city is making history right now."
Hanchett won't force history on anyone. But he's certainly issued an intriguing, open-ended invitation. The guy (Hanchett favors words like "guys," "snazzy," and "neat") is everywhere. Giving lectures. Writing text for exhibits. Tours on race. Tours on immigrant-community restaurants. A food column in the Observer. Fielding calls from the press. Posting to his personal website. Playing fiddle with the Charlotte Folk Society. He'll introduce you to everybody, and suggest organizations for you to join.
The hipster public relations lab that gave us words like "synergy" and "hack" would call Hanchett a "connector." But neither attention-seeking nor blind Charlotte boosterism is Hanchett's brand. Concerned this piece would focus too much on him, he suggested running it with a box with upcoming events at the Levine. When complimented on his writing, he described himself as "competent." A question about that sweet potato biscuit recipe was answered with an excited reminder that Cecelski will be at the Levine talking about his new book right after this article comes out—a perfect thing to focus on, he suggested. Asked if he's become the city's de facto press contact for Charlotte history, he immediately lists seven—yes, seven—other area historians, including their titles, who appear regularly in the press.
"In every city, there are people willing to talk to reporters, and Dan [Morrill] taught me to be one," Hanchett says. "He taught me that when a reporter calls, that's your most important call of the day. Our museum mission is to engage a broad audience in the history of the South, and the media reaches a broad audience. I'm part of this entity that's trying to make history relevant."
When asked whether he gets calls from out-of-town media who may have, ahem, misconceptions about the South, he's polite and sidesteps.
"Some people define history as at least 100 years old. … But if you define history as remaking itself—if you think of history as living—the city is making history right now."
"It's not misconceptions as much as gaps in people's knowledge. People think the city became wealthy because of the gold rush. But cotton was always more important to the local economy," he says, pausing. "History is a great way to build community. My job expands to whatever people are looking for."
Back on the bus, John Howard, who works in the city's Neighborhood and Business Services department and is tour co-leader with Hanchett, is talking about Biddleville's single-family housing, a mix of small, unassuming houses next to hyper-renovated eye-poppers, before handing the mic back to Hanchett.
"Pinewood Cemetery and Elmwood Cemetery are a great example of the absolute ridiculousness of segregation," Hanchett says cheerfully as we pass the old cemeteries, a swath of green space on the edge of uptown. We're in Third Ward, passing another site that's marked by the memory of what used to be there. This time, it's a long-gone chain-link fence, and it offers a glimpse of a time before the civil rights movement. It's the exact sort of what's-missing-is-our-story, folks, moment that Hanchett loves to emphasize.
"No one has explained to me yet," Hanchett says, "why those dead black people and dead white people needed a fence to separate them."
The Charlotte-Mecklenburg Historic Landmarks Commission's report on Pinewood and Elmwood cemeteries cites Hanchett's work twice. The report also notes that "mundane details are the most vivid reminders of a community's culture and the values and beliefs of the people who lived and died there." And it goes on to mention something else:
Because many African Americans could not afford stone markers and used wooden markers instead, many of the old graves in Pinewood "cannot be seen or identified by the average observer."
Hanchett sees them. And he wants you to see them, too.