Megan & Neal
October 5, 2013: Groom's Parents' House, Mooresville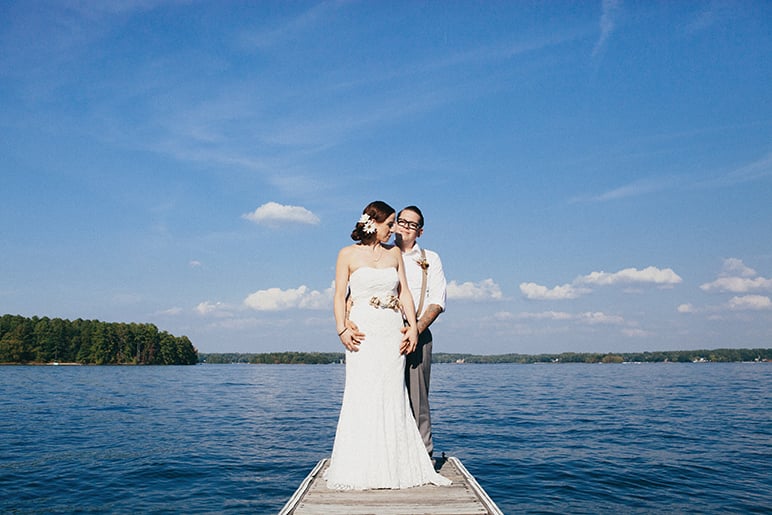 Photographs by Alex Gibbs Photography
Megan Johnson, who works in property management, and Neal Mims, who works in shipping for Keystone Automotive Operations, met at church camp when they were 16 and have been friends ever since. Neal proposed on his parents' dock at Lake Norman, where the couple also held their do-it-yourself wedding.
Megan looked angelic on her mother's arm, wearing a strapless Galina lace gown with a sweetheart neckline from David's Bridal. She added a sash of twisted-fabric flowers and wore her hair in a side-swept chignon. Neal's dad officiated; he always knew the two would end up together, he said. The pair recited their vows under a muscadine arbor fashioned by Megan's uncle. Neal's mother created a welcome table from an antique vanity and studded the aisle with shepherd's hooks filled with colorful dahlias and globe amaranth.
The wedding party dug into barbecue smoked by Neal's dad and brother-in-law, as well as macaroni and cheese, baked beans, coleslaw, and salad prepared by Neal's mom and sister. Megan's sisters presented the cake with Sun Drop and mocha layers and a crafty topper that included tiny replicas of the bride and groom. After beer, moonshine, and a dip in the lake, friends from near and far waved sparklers as the pair set off for their honeymoon in Daytona, Florida.