Melissa & Diego
November 7, 2009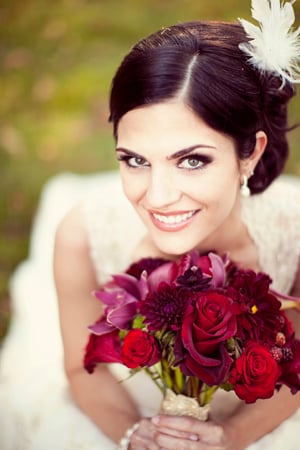 The Palmer Building
It might have taken Diego Morales, thirty-seven, a financial adviser, five years to ask out Melissa Scruggs, but when it came time to planning their wedding, the couple didn't waste a second.
They looked to wedding planner Alyse Woodward to help with the details.
In lieu of a traditional Mass, a prayer service was held at St. Gabriel Catholic Church. "The wall behind the altar is designed to look like a cross, which was very cool for pictures," says the bride, thirty, who walked down the aisle in an ivory Anjolique gown. The wedding party's attire was equally classic: the bridesmaids donning Bill Levkoff gowns; the groomsmen in tuxes and matching vests. For some Latin flair, Spanish musician Peppie Calvar serenaded.
The 130-guest party then moved to the reception at the Palmer Building. "That night, it felt like our own little castle," she says. Woodward added autumnal elements like hurricane glasses filled with acorns and branches set against burlap linens. Best Impressions Catering incorporated Latin and American dishes like empanadas, pork rubbed with Cuban spices, and meat-carving stations. For something sweet, Decadent Designs Bakery set up a four-tiered cake. After toasts, the dance floor got hot with the help of DJ All the Right Grooves. But things got even hotter when Fernando, Diego's cousin, brought out shots of aguardiente (fire water) — a Colombian sugar cane liquor that got everyone in the party spirit. —Tara Bradley