Members of Junior Astronomers, Hopesfall Share Memories of Tremont Music Hall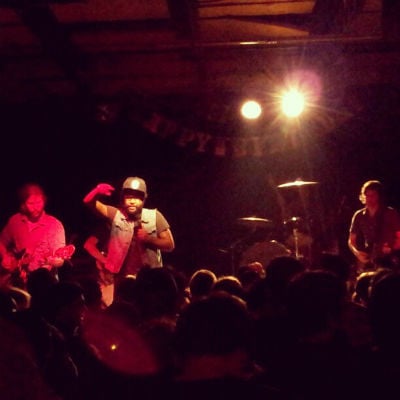 TREMONT MUSIC HALL is one of the last all-ages music venues in town. It's a place that's hosted anyone from David Allan Coe to Fall Out Boy. It's where many moshed for the first time—and where others decided to start their first bands. And on Dec. 19, it'll host its final show. The news arrived on Monday afternoon, via a Facebook message from owner John Hayes. "Unfortunately, our building has been sold and we will be closing our doors on December 19th," Hayes writes. "We have a very special show planned on our final day to say thank you to some of the local bands that have supported us through the years."
The venue's 20-year history has given show-goers plenty of stories to share. In light of that, we're going talk to Charlotte musicians over the next couple weeks about their most memorable shows at Tremont Music Hall, whether they were playing or not, through brief stories. Today's contributors are the singers of two bands that have impacted the music scene in Charlotte: Junior Astronomers and Hopesfall. The former is a young and active part of what's still happening in Charlotte; the latter was a band that directly influenced hardcore acts that now play Tremont Music Hall. Hopesfall's one-time guitarist-vocalist, Ryan Parrish, needed a few extra sentences to get his point across.
---
Terrance Richard, singer of Junior Astronomers and Charlotte native:
My favorite show at Tremont was actually our 4th-annual Birthday Show. HRVRD, Yardwork, Oddczar, and It Looks Sad played, and it was our first time playing on the main stage there. It meant so much to me, because I had been coming there for like about 10 years by then, so it felt great to finally play on the big stage. That was one of the rowdiest shows we've ever played. We had most likely 50 people dancing on stage with us. Without Tremont Music Hall, I'd probably have never fell in love with music like I have
---
On the other side of Tremont's history was a band called Hopesfall. The Charlotte-born post-hardcore act is both a revered part of the city's music history and an influence on bands across the world. (An August Burns Red members recently cited the band's "No Wings to Speak Of" as vital to his career.) Below, Ryan Parrish writes on how the band's identity hinged on the venues it played:
"From 1995 to '96 me and my friends listened to HUM's album You'd Prefer an Astronaut on repeat. We couldn't get enough of the massive guitar sounds paired with the lyrical themes of space and loneliness. So when the band announced their tour was coming to Charlotte and it was at Tremont Music Hall, there was a collective response of, 'Where is Tremont Music Hall?'
"The majority of us were teenagers from the suburbs and the idea that a band on major radio would play a smaller club was unimaginable. Regardless, our excitement outweighed our skepticism, and we bought tickets to the show. When we pulled into the parking lot I remember thinking, "This can't be the right place." But the energy forced me up the ramp and towards the door.
"HUM took the stage, and if memory serves me correctly, they opened with 'Why I Like the Robins.' I was immediately transported to another place. They sounded beautiful, massive. The fact that one of my favorite bands was playing ten feet from me on a stage— that I could reach out and touch— blew my teenage mind. It totally subverted everything I'd ever thought about playing music. Before that show, being in band and playing shows seemed —something only rock stars achieved. That show changed our lives and made us realize we could be in a band that played real shows.
"Fast forward a few years to 1998. Josh Brigham, Doug Venable, Adam Morgan, Chris Kincaid, Pat Aldrich, and I would form a band and call it Hopesfall. Deeply influenced by the band HUM (but with a hardcore twist), we set out to write a few songs and possibly play our favorite venue, Tremont. Little did we know, that tiny dream would become a reality. Tremont gave us and our friends' bands a platform when we were just scrappy kids with no experience. Tremont always treated us with respect and fostered the local and national music scene in Charlotte. There was no other.
"Fast-forward a few more years to 2002. Hopesfall was offered the opportunity to record with none other than Matt Talbott, the lead singer of HUM. Our story had come full circle to that first show at Tremont. The recording session would produce our album The Satellite Years, which would take the band to a whole new level.
"The inspiration to start a band began that night at my very first show at Tremont. I often think about what those years would have been like had Tremont not existed. Where would me and so many other kids in Charlotte have ended up? Would we have met and become friends? Would we have formed bands and created music?
"I'm deeply grateful for the opportunities Tremont provided us and countless others. We all owe you so much. Charlotte owes you so much. Thank you, Tremont. There is no other."
---
Soon, you'll hear others sharing their memories of Tremont. For now, here's one of my own: In January of 2014, the snow was coming down before the You Blew It show at the South End venue. We had planned to shoot an outdoors acoustic video of the band as The Front Bottoms were sound-checking on the main stage. But the harsh weather persisted, and there came a point in which we weren't sure this thing was going to happen. But then photographer Logan Cyrus had an idea, and in a van parked in the Tremont Music Hall lot, we improvised.