Memorial Day Booze Cruises, All-American Barkini Contest, Speedway All-American Beerfest and More, May 21 – May 24
Heat up your Memorial Day weekend with these events, including a few booze cruises and an All-American barkini contest.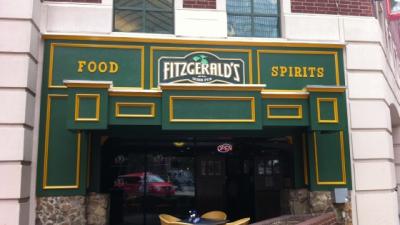 The name of the game this weekend is summer. It's Memorial Day weekend, and it's time to break out the tank-top tans and flip-flops and crank up the air conditioning. It's going to be a hot, hot, hot one out there this weekend, Charlotte. Luckily, we've found a few booze cruises (and other ways!) for you to cool down with this weekend. See y'all out there.
P.S. You may have heard of a little thing called the Coca-Cola 600. Yeah, that's this weekend, too.
Thursday, May 21
Business After Hours
Join the Charlotte Chamber for its monthly happy hour and networking event tonight. Jazzology will also be on hand providing live music. The networking starts at 5:30 at the Hampton Inn, 6700 Phillips Place Court. The event is free, but attendees are asked to register. Do that here and get your networking on.
Third Thursday Networking
If networking is your thing, this Thursday is for you. Join the United Way Young Leaders for its monthly networking happy hour at Draught. There are drink specials, free parking and, of course, other young professionals hoping to network. The event is from 6 p.m. until 8 p.m. at 601 S. Cedar St. Free admission.
Friday, May 22
Muddle
Mojitos, anyone? If the mint-muddled drink is your cup of tea, you should head on over to Bubble tonight where the EpiCentre spot is sampling five different selections of Bacardi rums in these drinks tonight. A ticket to the tasting party is $25. The party starts at 8:30 p.m. Bubble is at 210 E. Trade St. Buy tickets here.
The All-American Barkini Contest
Because this is America, BAR Charlotte is remembering all our fallen veterans with its own salute: an American flag "barkini" contest. With the winner taking home $300 and all participants getting the Stars and Stripes swimwear, is there a more patriotic way to spend Memorial Day weekend? Doors open at 9 p.m., and there's free admission before 11 p.m. with an RSVP. The barkini contest is at 300 N. College St. RSVP here.
Memorial Day Weekend Kickoff
As the event description lauds, this kickoff event brings three of North Carolina's best DJs to one stage to help send off your weekend in style. Featuring music makers from Greensboro and Raleigh and a local Charlotte DJ, this kickoff also features free admission before 11:30 p.m. with an RSVP. The party is at Suite, 210 E. Trade St. Doors open at 10 p.m. Tickets are $10 after 11:30 or without an RSVP. Buy tickets or RSVP here.
Yard Sale at Prohibition
Prohibition wants to unload its liquor on you, and we definitely don't think that's a bad thing. Both premium liquor drinks and shots are only $1 tonight and Red Bull and vodkas will only cost you $3.50. There's free admission before 9 p.m., and a $5 cover after that. The liquor-laced yard sale is at 200 N. Tryon St.
Saturday, May 23
Anchor Island
This is the first of many Saturday booze cruises Kiss 95.1, Ragin' Uptown and LYC host from Memorial Day until the end of September, so get your lifejackets ready. Registration starts at 8:30 a.m. (you read that correctly), and the cruise is from 10 a.m. until 2 p.m. The boat has a second-story water slide, and you'll be joined by some of the radio station's hosts each Saturday. The booze cruise leaves from Mojo's, 19901 Holiday Lane in Cornelius. Tickets are $20 and include the shuttle to the marina. Buy them here.
Boats and Woes
Can you tell we're trying to kick off summer in full swing? Another cruise around Lake Norman is leaving from Mojo's Grill, 19901 Holiday Lane in Cornelius, today, but this one's a full-on yacht party. The last shuttle leaves for the marina at 2:45, so, in theory, you could go to the earlier booze cruise, return and hop right on this one. Take that, Memorial Day weekend! This cruise is from 3 p.m. until 7 p.m. Tickets are $40 and include transportation, the yacht party and a dessert bar. Buy them here.
Speedway All-American Beer Festival
This beer festival is back for laps two and three this weekend. Charlotte hosts this eight-city tour that features five dozen breweries for three days, and Sunday is the last day of the tour's stop here. Tickets start at $39 and include unlimited beer samplings from 1 p.m. until 4 p.m. The festival is in Concord at the Charlotte Motor Speedway, 5555 Concord Parkway S. Buy tickets here.
Lake Norman BeerFest
For the fifth year, Lake Norman is rocking it out for Memorial Day weekend with its annual Beerfest. This year's festival includes more than 75 craft beers and two bands. General admission tickets start at $45 and include unlimited beer samplings from 5 p.m. until 9 p.m. Tickets at the door rise to $55. The beer starts pouring at the Galway Hooker in Cornelius, 17044 Kenton Drive. Buy tickets here.
Treehouse Vineyards Spring Festival
With a final chance to call this a spring festival, this Monroe beauty is inviting you to an all-day music fest with its in-house wine and food trucks. The music starts at noon and doesn't stop until 10 p.m. Admission is $10 at the door. The vineyard is at 301 Bay Street in Monroe.
Sunday, May 24
Cruisin' For A Cause
Keep your Memorial Day Weekend afloat with this booze cruise on Lake Norman. For three hours, you'll cruise along under the sunshine, and, oh, there's an open bar for an hour. Appetizers and transportation to the boat are provided. All sailors should meet at Fitzgerald's, 201 E. Fifth St., at 1 p.m. Tickets are $60. Buy them here.
Memorial Day Weekend Day Party
Join Moxie Society and Eddietainment at Bubble for their annual Memorial Day Weekend Day Party. The day party is from 4 p.m. until 8 p.m. at 210 E. Trade St. Tickets are $10. Buy them here.
Memorial Summer Kick-Off Party
You'll feel like you're at the beach at Howl at The Moon's summer sendoff. With $3 Bud Lights and $20 sunset punch buckets, you might even forget about the holiday the next day. There's a free appetizer buffet and free admission. The party is from 7 p.m. until 9 p.m. at 210 E. Trade St.
Verify dates, times, prices, and other info at the web addresses listed for each event.
Be sure to bookmark www.charlottemagazine.com/Blogs/Dusk-Till-Dawn to stay plugged into Charlotte's nightlife and social scene. Click here to sign up to receive the weekly Dusk Till Dawn e-newsletter.
Want your event featured in Dusk Till Dawn? Follow me on Twitter @Jared_misner and let me know about your event, or send me an email at dusktilldawnblog@gmail.com.