Memorial Day Weekend 2016 Social Events in Charlotte
The unofficial start to the summer season brings with it a host of annual parties you don't want to miss.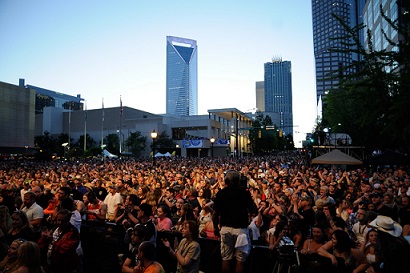 Memorial Day weekend is here, and with it comes a whole host of annual joys we welcome year after year. It's the unofficial start to the summer season, and it sure feels like it this weekend, Charlotte. Get your engines started. See y'all out there!
Thursday, May 26
Speed Street
The annual festival that culminates with the Coca-Cola 600 at the Charlotte Motor Speedway on Sunday, goes into "full speed" tonight. Tonight begins with the LiftMaster Pole Night to set the stage for the NASCAR night on Sunday. Events, including a Kellie Pickler and a Montgomery Gentry concert are all weekend. Visit here for more information on the schedule and the location. Start your engines, Charlotte.
#InstabeerupCLT
The monthly networking event is back. This month's location is Three Spirits Brewery, 5046 Ole Pineville Road. Bring your business cards and get ready to mingle with a few strangers and make some new friends. The event is free and starts at 6 p.m.
Friday, May 27
Mint Hill Madness
The annual three-day festival is back, and it always has something for everyone. The "madness" features an enormous carnival and fair, live music, a parade, a car show, fireworks and more. The festival runs from 4 p.m. today until 6 p.m. Sunday. Go here for more information on the schedule of events and pricing.
Finish Line Friday
Whisky River is throwing a NASCAR fan appreciation party, and you're invited. While the EpiCentre bar is offering free race simulator games all day and a silent auction from 7 p.m. until 9 p.m., the real crown jewel of the evening is a Dale Earnhardt Jr. lookalike contest at 9:15. Those interested should email Ashley at Awarlick@whiskyrivercharlotte.com. The party at 210 E. Trade St. is free.
Memorial Day weekend CLT Kickoff
Columbia's 100.1 FM's DJ Loui Vee makes the trip north to Charlotte tonight to kick off your Memorial Day weekend. Listen to DJ Loui Vee's beats at Suite, 210 E. Trade St., from 10 p.m. until 2 a.m. There's free admission with an RSVP until 11 p.m. After that, entry costs $10. RSVP here.
Saturday, May 28
HousingFest
It's a concert for a cause. The Fillmore gets rockin' today to support the Urban Ministry Center's goal to end chronic homelessness in Charlotte. A host of musical acts will take the stage today, and tickets start at $39. The event rocks out from 4 p.m. until 11 p.m. today at 1000 NC Music Factory Blvd. Buy tickets here.
Shadow Warriors Project Fundraiser
This fundraiser benefits "private military security contractors conducting paramilitary security operations in some of the world's most dangerous areas." Congressman Robert Pittenger will be on hand to give opening remarks along with two live musical acts. A $32 ticket gets you two beer tickets, a T-shirt and access to a silent auction. The event is at Triple C Brewery, 2900 Griffith St., from 2 p.m. until 5 p.m. Buy tickets here.
King Day Part – Memorial Weekend Edition
The tagline for this group of socialites says it all: "We didn't invent the day party…We just perfected it!" A holiday weekend is always the best excuse to day drink, and Vault is your party central today. DJ Shaun Nyce is your beat-spinning emcee for this party that runs from 4 p.m. until 8:30 p.m. at 210 E. Trade St. Tickets start at about $17. Buy them here.
JoyFest
The annual gospel music festival makes its return to Carowinds today with a long list of musical acts. Carowinds opens at 10 a.m., and Joyfest music begins at 3 p.m. The music lasts until the park closes at 10 p.m. General admission individual tickets start at about $48 and include access to the amusement park and concerts. Buy them here.
Sunday, May 29
Cruisin' for a Cause
The annual Memorial Day cruise is back. This year, funds go to benefit the Charlotte Bilingual Preschool. For $75, you'll get a three-hour cruise around Lake Norman, two hours of free beer and wine and free food. The day of fun starts with free transportation to the boat from Fitzgerald's, 201 E. Fifth St., at 1 p.m. The after party starts back at Fitzgerald's at 5 p.m. after the bus drops you back off. Buy your ticket here.
Memorial DayParty
We hope you don't have work Monday because this day party isn't to be missed. Greensboro's 102 Jamz FM's DJ MC has your music on lock today. Early admission with RSVPs are already sold out, so entry costs about $12. Doors open at 5 p.m. Buy tickets here.
Verify dates, times, prices, and other info at the web addresses listed for each event.
Be sure to bookmark www.charlottemagazine.com/Blogs/Dusk-Till-Dawn to stay plugged into Charlotte's nightlife and social scene. Click here to sign up to receive the weekly Dusk Till Dawn e-newsletter.
Want your event featured in Dusk Till Dawn? Follow me on Twitter @Jared_misner and let me know about your event, or send me an email at dusktilldawnblog@gmail.com.
Send Jared an email at DuskTillDawnblog@gmail.com, or send him a tweet @Jared_Misner.

Also by Jared Misner:

→This Weekend's Social Events
→Bowling For Books, First Friday Fort Mill, Electric Luau Party, Soulmatic Carolina Music Fest and More, Aug. 6 to Aug. 9
→The Moon Walk, Candy Fest, Silly String Party, Booze Cruise and More, July 30 to Aug. 2
→Christmas in July, More Christmas in July, National Dance Day, National Tequila Day and More, July 23 to July 26