Men's Style Evolving With Jonathan Mustich's Help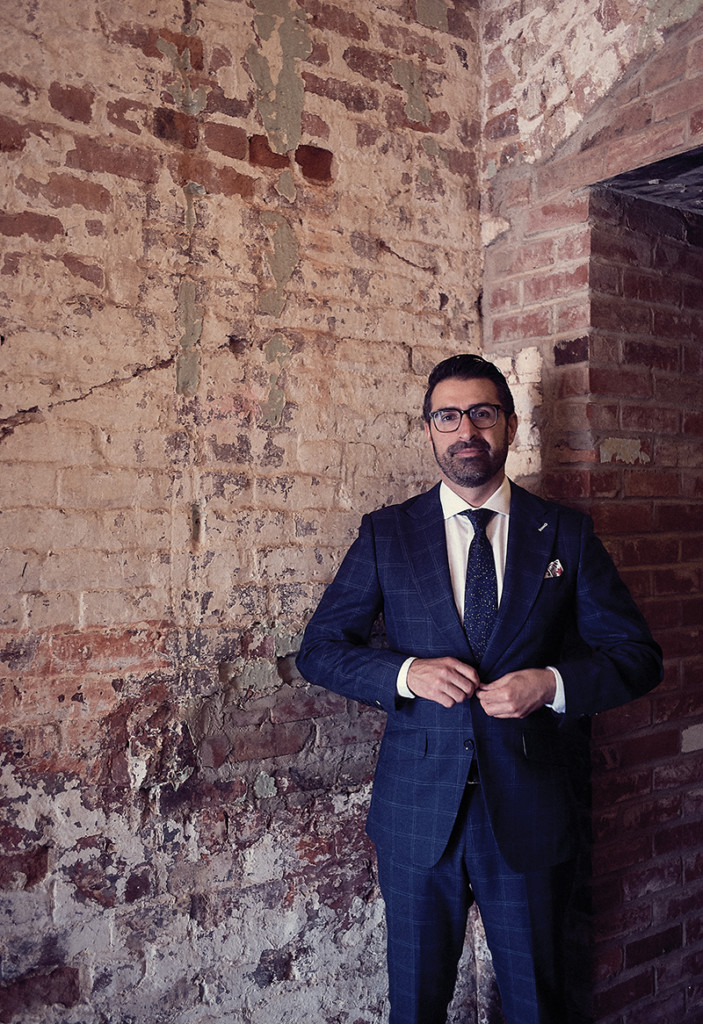 IT'S EASY to spot Jonathan Mustich from the front steps of Trade and Lore, a second-floor coffee shop in NoDa. He's seated in a dark wood booth, wearing a navy suit with a subtle windowpane pattern, white shirt, and tie—far more formal than the shorts-and-tees crowd throughout the rest of the room.
When we meet in early April, the 39-year-old menswear designer has been a Charlotte resident for only four months, but he's already settled into a routine, familiar enough to the coffee shop staff that he has a running tab for weeks at a time.
He's just back from Oaxaca, Mexico, where he sourced fabrics, bow ties, and pocket squares for his custom suiting company, Evolution of Style. "It's amazing how much—when the plane was coming in—how much landing in Charlotte felt like coming home," he says.
Mustich and his girlfriend, Kim, moved here from Los Angeles. They had grown tired of the city's sprawl and traffic, and decided to move elsewhere. Mustich had been to Charlotte to visit a friend who works for the Carolina Panthers, and when he brought Kim on a visit last Thanksgiving, they saw a future here. "We want to be involved in the community, and that's what we really felt was lacking in L.A.," he says. "Plus, Charlotte is still right on the edge of something special."
After he graduated from the University of Maryland, Mustich took a finance job at Macy's, and eventually shifted to a newly created retail planning team. That led to a job at menswear designer Joseph Abboud—and his introduction to suiting.
"I always thought I was well-dressed," he recalls, "but my first day, the head tailor yells at me, 'Jonathan, welcome to Joseph Abboud. I can't have you dressing like that. You look like a slob.'"
The pair bonded, and Mustich began to pop by the tailor's workshop three or four days a week to learn how suits are made. He launched his own line in 2008 after moving to L.A. to live closer to his brother. "Everyone thought I was nuts," he recalls, for starting a business during a recession and for trying to sell suits in casual southern California.
He worked a day job while building his client base. One afternoon in 2012, Mustich heard from four existing customers and five potential ones—all wanted to book fittings that day or the following one. "Damn, I could have made two weeks' worth of salary in a day and a half," he thought at the time. "The next day, I handed in my resignation."
Evolution of Style was a quick success, but the business dramatically expanded its reach a few years later, when some of Mustich's clients wore his suits to a Fox Sports holiday party in Los Angeles. The network's head stylist noticed their threads, and asked who designed them. "Nothing came of it right away," Mustich says. "A year and a half later, she called and asked if I could come in and do two test suits."
Now, if you tune into a Fox Sports broadcast—including its powerhouse NFL and MLB programming—there's a good chance the announcers are clad in Evolution of Style suits. (His business partner still lives in L.A., where Fox Sports is headquartered, and Mustich travels there frequently.)
Made from any one of thousands of fabrics by Italian mills Vitale Barberis Canonico and Reda 1865, the custom suits start at $650 and run up to $2,000. They take between five and six weeks to produce, and can include custom linings—the one sewn into the suit Mustich wears on the day we meet is from a NASA document that belonged to his grandfather, who worked on the Apollo missions. Earlier that day, Mustich delivered a suit to NASCAR driver Kevin Harvick that included a lining printed with old Talladega race program covers.
Mustich hopes to open a store here this fall. "I want to give people that feeling of walking down the street in a nice suit," he says, "and the way people look at you and react to you."