Merry Christmas, Tarheel Fans!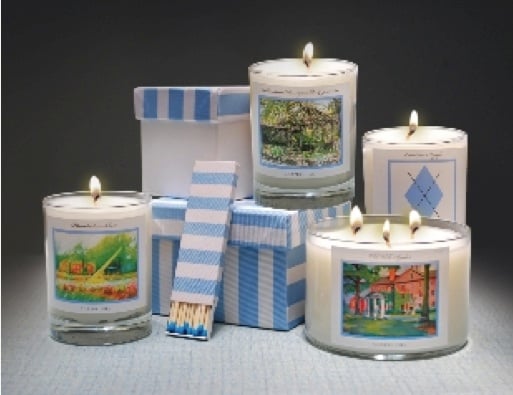 There's something new flying out the doors at Jeffre Scott, and it's not a miracle eye cream or perfect shade of pink lip gloss (though he stocks plenty of fab gifts fitting those descriptions).
What is it you ask?
Scented candles inspired by the sights and smells of Chapel Hill, North Carolina.
Now, I went to Wake Forest. We don't have any hard feelings or rivalries with UNC Chapel Hill, but we are a little bit bitter about their "great college town". (As in, I highly doubt that candles that smell like Winston-Salem would really be big sellers. Unless "Lingering scent of shame and tobacco wafting from the RJ Reynolds plant" or "Hey is that a Bojangles I smell?" tickle your olfactory fancy.) Chapel Hill, by all accounts, is a great town. A town that intoxicates its residents and imbues them with a special kind of loyalty and devotion that other people who went to school in other towns find incredibly annoying.
Nevertheless, Charlotte is full of people who left their heart in Chapel Hill, which explains why these soy wax candles from Foxglow are selling like hot cakes! Get yours while the getting is good. They come smelling like "Old Well Azalea," "Carolina Argyle," "Planetarium Rose," and "Arboretum Honeysuckle & Jasmine." Prices range from $12-$65. Available at Jeffre Scott.