Michael Graff Stepping Down as Editor of Charlotte Magazine
He'll stay on as a monthly columnist, though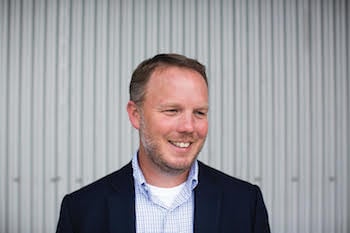 In the spring of 2013, I wrote a feature story for this magazine about the latest wave of growth in uptown. During the editing process, then-editor Rick Thurmond handed the story—and me—to his replacement as editor: a soft-spoken guy named Michael Graff.
Michael was tough and I didn't understand what he wanted from me. We finished the story, but it was the most painful editing process I've ever been through. This wasn't what I signed up for, I told friends. Maybe I can't work with this new guy.
From that feature, Michael started to shape the magazine, and he's done that for the nearly four and a half years since. He brought on new writers, nurtured existing ones, and spent countless hours developing the skills of young, eager reporters. Last year, he led a redesign that gave Charlotte magazine a new look. Weeks later, he steered our coverage of the Keith Scott shooting and unrest.
Michael's vision for the magazine is pretty simple: Tell powerful stories with nuance, be compassionate, always think about the reader.
National journalism organizations such as Longreads, Longform, and Nieman Storyboard have taken note. Earlier this year, we were nominated for a City and Regional Magazine Association General Excellence Award, in the company of some of America's best magazines. And Michael won a CRMA feature writing prize for his three-part series about the Myers Park High School football team.
So, given all that, it's bittersweet to announce that Michael will leave Charlotte magazine August 18 to pursue his freelance writing career. It's a great move for Michael (and his fiancée, Laura) but a tremendous loss for us. The tough editor—the guy I couldn't work with—has elevated this publication to one of the best city magazines in the country. We're gonna miss the hell out of him. Our publisher, Garrett Heaberlin, hopes to announce Michael's successor soon.
Here's the fun part: Michael isn't going very far.
Our back page columnist, Ron Stodghill, has taken a job at Mizzou, one of the best journalism schools in the country and his alma mater. It's a great gig for Ron, a New York Times contributor, but it left us with an empty space in the back of the magazine.
So we've hired Michael—we'd like to think we're jumpstarting his freelance career—as our new back page columnist. Ron's last piece will run in the September issue; Michael's first one will appear a month later.
I'm writing this from Dallas, where Michael and I are attending a journalism conference with hundreds of writers from across the country. It's a weekend all about narrative nonfiction—the kind of stories you read in this magazine every month.
Last night, over a few beers, we talked about the stories and the friendships—including ours—that grew out of his time as editor. "I came to Charlotte," he said, "with the belief that you could tell truly deep, meaningful stories and an audience would rally around them."
That philosophy isn't going anywhere—and, thankfully, neither is Michael.
ADAM RHEW is the associate editor of this magazine. Reach him at adam.rhew@charlottemagazine.com or on Twitter: @AdamRhew.