Mike Cranston, The Sportswriter Who Had It All
He had a great job, great condo, and a great girl. He also had demons. And when he laid them bare in a blog post that went viral and shocked his friends and family, it was the start of his comeback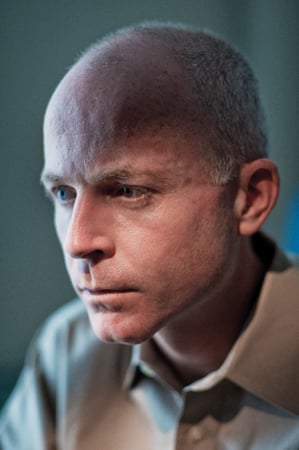 Last July, Mike Cranston stood on the other side of a forty-third-floor balcony at the Cosmopolitan in Las Vegas, ready to end his life. Finally, he would stop the pain that permeated his every day and caused him to quit his job, ruin a five-year relationship with his girlfriend, and shut out the outside world.
But something told him not to jump.
Six months later, Cranston sat in the bedroom of his uptown condominium with a loaded .357 Magnum to his head. All he had to do was pull the trigger to permanently stop the suicidal thoughts that first began at the age of sixteen.
But something told him to put down the gun.
As the former local Associated Press sportswriter reflects on his two near-suicide attempts, Cranston still is unable to explain why he didn't follow through on either occasion. What he does know is that for the first time in his thirty-nine years, he's finally ready to give life a chance.
On a warmer-than-usual April evening, Cranston walks into Stool Pigeons, located a short distance from his condo. Two servers and a bartender warmly greet him. That's not surprising, as Cranston has spent hundreds of hours in the uptown restaurant, sometimes drinking up to twenty-four beers and several shots in an eight-hour sitting. He wouldn't eat until late in order to keep his buzz going as long as possible.
"This," says Cranston, now sober (and drinking a soda), "is where my self-destruction started every night."
It's the first time Cranston has visited Stool Pigeons since checking himself into a behavioral health facility on Randolph Road in January. Sliding into a booth, he's in good physical shape thanks to a renewed love of running, which has helped in his battle with alcoholism. But it's also clear that stress and inner demons have taken a toll. He's balding (and what little hair left is gray) and seems nervous at times, fidgeting with his straw and often looking out the window when speaking. Alcohol always helped serve as a masking agent for Cranston, who suffers from social anxiety and describes himself at an early age as "an odd kid."
"For my fourth birthday, I asked for a watch," he says. "I never had a ton of friends."
"Mike struggled a bit [growing up], not because he acted random or strange, but because he was uncomfortable," says Beth Sinkus, Cranston's younger sister, who lives in Pennsylvania. "He didn't like making friends, or really hanging out. If he ever went anywhere, he would always drag me along."
During his high school sophomore year, Cranston's dark thoughts began to spin uncontrollably, to the point where he began contemplating suicide.
"It was really hard to control my emotions and take everything in," he says. "It was more of an anger thing; I felt slighted if something happened to me. If I felt that something was unfair, it was almost as if I couldn't function. It would take over me."
Cranston spent hundreds of hours in the uptown restaurant, sometimes drinking up to twenty-four beers and several shots in an eight-hour sitting.
While attending Syracuse University, Cranston began drinking on a regular basis in order to help him get through social interactions. Upon graduating in 1995, he worked in radio for a couple years in his home state of Massachusetts before moving to Charlotte, where he took a job in radio giving sports updates, and was also the play-by-play announcer for Winthrop basketball. By 2000, Cranston began freelancing for the Associated Press, covering the Panthers, Hornets, ACC schools, and other teams in the region.
In 2006, Cranston was hired as the full-time area beat writer for the AP. He had a gig most could only dream of, getting paid to go to games and write about them while interviewing some of the biggest superstars in sports. It was also around that time when he bought his place uptown and began dating a woman he calls "the greatest thing that ever happened to me."
On the outside, Cranston had what looked to be a good life: a job many would covet, a great girlfriend, and a new home at the stylish Fifth and Poplar condominiums in uptown. Internally, though, Cranston's suicidal thoughts grew, and the alcohol abuse was getting worse.
"I had everything I could ever want but could barely get through the day," he says. "In any social situation non-work related, I'd always have to drink beforehand to feel like normal. It was drinks five through ten where I'd feel normal, but I'd never stop at ten. And it would lead to bad things. … Looking at it now through therapy, the only way I could get satisfaction was from doing something outrageous."
That included cheating on his girlfriend (who works as a therapist dealing in anxiety, among other things) and getting into numerous unprovoked arguments with people, to the point where it began to affect his job.
"There was an edge of bitterness to him," says Jenna Fryer, who worked with Cranston and primarily covers NASCAR for the AP. "Work things would bother him so quickly. He'd get so frustrated at things that are out of our control. He had a low tolerance for subpar thinking and passive-aggressiveness."
Finally, Cranston went too far. He was waiting on a quote from an NBA agent (whom he would rather not name) for a story. After a long night at Stool Pigeons, Cranston sent the agent a number of angry text messages. It was the latest in a string of what he calls "stupid risks" involving his job.
Subconsciously, Cranston says, the incident may have been part of a master plan.
"It was almost like I wanted it to happen in some way," he says. "I wanted to be forced into a way where I had no other choice but to kill myself. And if I didn't have a job, I would run out of money.
"My job was so much of my identity, but I just didn't care about the consequences. I would fire off angry e-mails to my superiors … you would never do what I did if you were in your right mind, but at times I barely thought past getting through each day."
The agent later threatened to contact Cranston's boss at the AP to file a complaint. Fryer got wind of the situation and told Cranston to get ahead of the incident and fix it, since he was about to be appointed to the AP's Olympic team to cover soccer, one of his favorite sports.
His response: "OK, thanks for calling."
There would be no apology, as Cranston had another plan—he would quit his job. Given his social anxiety, he arrived in the morning when the office was nearly empty. He turned in his work phone, so by the time Fryer and other coworkers found out, they were unable to call.
Fryer tried to e-mail Cranston, and even contacted his girlfriend on Facebook, only to find out they had broken up a few months before. In this day and age of instant messaging, e-mail, Twitter, Facebook, and other constant social media that makes it nearly impossible to go off the grid, Cranston did just that.
While concerned friends and family tried to get in touch with him, Cranston was at the sheriff's office applying for a gun permit. In his mind, it was time: after years of thinking about it, he would finally kill himself.
There was one problem, though—it takes thirty days for gun permits to process. So Cranston holed himself up in his condo, waiting. After several days with no response and heightened worries, Sinkus got on the phone with Fryer, whom she knew from prior visits and Facebook, and they were able to contact the building manager, who went with another acquaintance and neighbor of Cranston's to open the door. Cranston was inside and assured the two that he was fine. But when they left, he knew that he couldn't wait for the gun permit.
The next day, Cranston climbed into his car and began driving. No destination, no plan. He stopped in Memphis and later went through Arkansas and Oklahoma before eventually ending up in Las Vegas.
"All I wanted to do at that point was die," says Cranston.
He used travel points to reserve a room at the Cosmopolitan. While a pool party was going on below, all he could think about as he climbed over the balcony was how far out he would have to jump in order to clear the celebration.
But the thought of messing it up crept into his mind. He didn't want to end up in a coma or become paralyzed and put a burden on his family. So he eventually headed back to Charlotte, knowing the gun permit would be waiting for him in the mail.
Something else was also awaiting Cranston when he returned home. Cranston would occasionally referee college soccer matches, and he had an e-mail asking about his availability for the upcoming season. Refereeing soccer was one of the few things Cranston had always enjoyed doing.
"It was something I could do and be worthwhile," he says. "So it clicked right then thinking that, 'Hey, maybe I can try this and feel some satisfaction, something that had been missing for so long. But I knew then I would have to change everything."
Cranston began to get back in shape (heavy drinking had caused him to put on fifty pounds), which included eating healthfully, cutting back on drinking, and running five to seven miles a day. He also decided to delay purchasing a gun.
After the soccer season ended, however, Cranston fell back into his old habits—drinking daily, gaining weight, closing off nearly all contact from friends and family, and once again planning his suicide. During the holiday season, he researched guns and ammunition for hours to ensure he'd get the right caliber to get the job done.
"When I went into the gun shop, the person working at the store said, '.357 Magnum, you're not messing around,'" Cranston says. "And I thought to myself, 'You have no idea.'"
But while sitting on the floor in his condo with a loaded gun to his head, Cranston couldn't bring himself to pull the trigger. His first thought was, "I'm such a p—-. I can't even do this right." He eventually put the gun down and, a day later, responded to one of the numerous e-mails Sinkus, his younger sister, had sent him: Little Mikey (her nickname for him), what are you up to? Why aren't you writing me back?
Cranston's response: "It's weird that you sent this. I've decided to not be a drunk anymore."
Cranston researched guns and ammunition for hours to ensure he had the right caliber to get the job done.
A few days later, Sinkus flew down to Charlotte. When she arrived, her brother suggested they should go to Stool Pigeons and drink one last time.
"It was against my better judgment, but that's what he wanted to do," says Sinkus with a halfhearted, almost embarrassed laugh. "I needed to help him. I just couldn't do this rollercoaster anymore. What went through my head was that I was determined not to leave Charlotte until I got him into the hospital.
"I figured if we drank, I might be able to get information out of him. And we talked—more than we ever did in our whole lives. He got emotional, cried when talking about leaving [his girlfriend], leaving his job, and his financial issues."
The next day, Sinkus drove Cranston to the Randolph facility, where he spent thirty-six hours. They told him first and foremost, the drinking must stop for good. And he was put on medication to combat his clinical depression—a diagnosis Cranston had never received.
"Never in a million years could you have told me that I could actually be a normal person just by taking antidepressants and stopping drinking," he says. "I had a different outlook on life."
Nicole Saunders, a Charlotte-based social worker and therapist who specializes in clinical depression, says many people who have suicidal thoughts don't even realize they're depressed.
"Depression is so gradual, it's not like one day you're happy and the next day suicidal," she adds. "We really take for granted what it takes to get through the day. On a daily basis, we are processing stress all the time. But when the scale tips to one side for far too long, that's when it begins to shift the mindset and you begin filtering out positive aspects in your life."
Once on medication, Cranston began to think about the bridges he had burned and his behavior over the last few years. He also wondered if there were others out there like him, suffering from the same diseases, but fearful of doing anything about it—or worse, potentially going through with suicide.
So he did what he knew best: he wrote. He crafted a long blog post that laid bare his entire life, from his battles with depression at a young age to his failed suicide attempts to his "ruined professional career," as he put it.
After pressing the publish button and tweeting the link out, the next forty-eight hours were, he says, "overwhelming." He heard from people he hadn't spoken with in years. His link got hundreds of retweets and mentions on Facebook. Bobby Lutz, the former Charlotte 49ers basketball coach whom Cranston covered during his time at the AP, reached out to offer encouragement.
Then there were the stories that floored him. A former coworker who suffered from depression and put a gun in her mouth at one point but, like Cranston, didn't pull the trigger. Other people who had gone through rehab and therapy, ones who Cranston would have never guessed. Some wrote him saying they could identify with his story, and he made sure to respond to each one, offering hope and help where he could.
Fryer was at work when she clicked on the link, and her immediate response was one of amazement.
"I saw it pop up and read it and thought, 'Holy s—, Mike,'" she says. "While on one hand, it made a lot of sense, on the other hand I was annoyed because he describes his life and all the things he went through, but he could have had help from friends that he kept at arm's length. I guess that's part of the illness, but he had people calling [after he quit his job], calling the police, and really freaking out about where he was.
"But I thought his piece was brave, heartfelt, and a monstrous, massive step for him."
Even with medication, regular AA meetings, and replacing alcohol with what he calls a "runner's high," Cranston is the first to tell you he's still a work in progress. With no full-time job, his bills are piling up. He would like to return to writing or reporting, but also knows when potential employers do a Web search for his name, a detailed blog post titled "Living With Depression" is one of the first things that will come up.
But, he adds, no matter what, tomorrow will still happen. A year ago, that kind of thought would have never passed through his mind.
"In the past, I was always looking for the negative in what I was doing every day," he says. "But a lot of it is mindset; you have to be strong. I'm an alcoholic as well, so the worst thing I could ever do is start drinking because everything would domino and go back to the way it was. So it's a daily struggle, I think.
"But the fact is, I want to do it. And I never wanted to do it before."
Matt McKenzie is a writer in Charlotte.