Millennial Classic: Carey Leigh Evans
She mixes a Texas spirit with creative style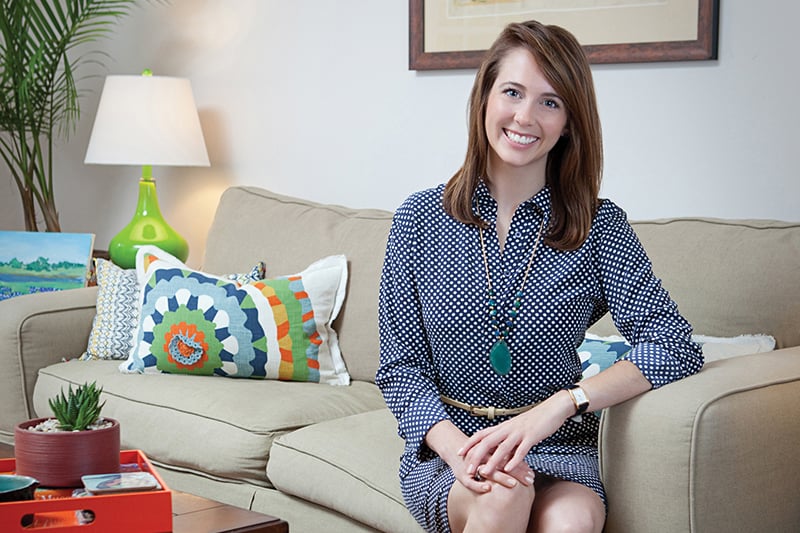 CAREY LEIGH EVANS IS FULL OF SURPRISES. Take that nylon lump on the floor. "Oh, that's my hammock," she says. The little bag holds a portable, swinging seat for two. Evans may be elegantly dressed in a classic French shirt-dress and vintage Ferragamo shoes, but underneath that chic exterior is a 25-year-old ready for adventure.
Evans came to Charlotte from Texas, earning an art history degree with a minor in economics at Davidson College. Recruited by Teach For America, she taught second grade at Rama Road Elementary School. Thinking an MBA was next—she had once dreamed of working on Wall Street—she applied to the University of Virginia's Darden School of Business and was accepted. But she decided to put school on hold in favor of real-world experience. Teach For America offered her a job managing recruitment strategy, and nine months later she was promoted to director of research and strategy.
Funny thing: She ended up on Wall Street. "Teach For America recently moved its headquarters to Broadway, right in front of the Charging Bull," she says with a smile. Her job is based in New York, although she lives in Elizabeth.
Digging through data and asking good questions is a key aspect of her work. She favors a nonlinear methodology, one that is creative and intuitive. But she's not opposed to linear problem solving. In fact, she uses it on Wednesday nights playing trivia with friends at Heist Brewery. The faster you find an answer, the better.
---
CAMEO // Carved by Evans' great-grandfather, an eye doctor and artist, this stone medallion was a Christmas gift to his wife in 1937. The cameo was originally worn as a choker; Evans updated it with a modern gold chain with turquoise beads.
---
COWBOY BOOTS // Evans is from Dallas, Texas, where even city slickers are cowgirls. These were originally gray; her sister dyed them red, and they took Evans from freshman year to graduation day at Davidson.
---
ENO HAMMOCK // The double-nest nylon hammock by Eagles Nest Outfitters of Asheville is compact and affordable. It comes with two straps that wrap around trees; carabiners connect the hammock to the straps.
---
DADDY'S WATCH // A wedding gift from her mother to her father, this vintage Baume et Mercier Swiss watch is a classic. Evans' father died of cancer several years ago, so the timepiece is a treasured keepsake.
---
SCHOOL SPIRIT // Evans received her acceptance letter to Davidson the same day the Wildcat basketball team won its Sweet Sixteen game in 2008. She arrived as a freshman during Steph Curry's final year and witnessed history in the making: Curry became the nation's leading scorer and entered the NBA in 2009.