Minted: Allison Purmort
As president of the Young Affiliates of the Mint, she mixes high and low fashion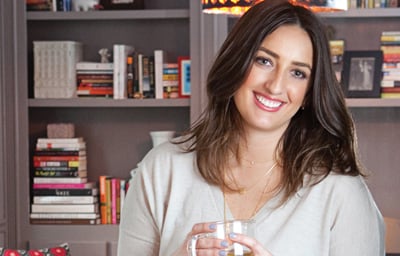 ALLISON PURMORT, 30, hasn't decided on her derby hat. You'd think the attorney who writes contracts for people who lease Time Warner Cable Arena—people like Taylor Swift—would default to something boring. Something without fluff or flourish.
Hardly.
The president of the Young Affiliates of the Mint is considering crafting a romantic flower crown for the Kentucky Derby lawn party at the museum on May 2. Today, the tall, dark-haired beauty is wearing Valentino Rockstud heels and a Chopard watch—a 21st-birthday gift from her mother, who has one just like it. But she's toned down the glitz by mixing high with low—an old Coco Chanel trick—pairing a cashmere J. Crew sweater with 7 for All Mankind white jeans.
Purmort came to Charlotte in 2008 as a manager with Intermix, a New York-based luxury boutique. The store closed a year later when the recession hit. With a bachelor's degree from American University—she majored in international finance, specializing in Asian markets—Purmort enrolled at Charlotte School of Law. Now she's director of legal affairs for Hornets Sports and Entertainment, which manages all shows at the arena. And she couldn't be happier. "I'm doing what I should be doing now."
Between NBA games, concerts, and travel, she's working on the 25th Derby Days: checking with girlfriends, getting out her mint julep recipe, and gearing up for lots of shouting during "the greatest two minutes in sports." And what about her hat? Well, the winning horse receives a garland of roses, so a flower crown ought to be just the right thing.
---
EVIL EYE // Ancient cultures used talismans to ward off evil spirits, especially the evil eye. Purmort has one stationed by the front door and more throughout her home, a nod to her Serbian heritage. This one is from Turkey and includes a stylized hand, or "hamsa."
---
MINT JULEP // This concoction made of fresh mint, sugar, and Kentucky whiskey is the traditional drink of the Kentucky Derby. Served in a sterling or pewter cup like this one, the chilled liquid frosts the sides, which is why imbibers hold the cup by the rim or the bottom.
---
HERMÈS BRACELETS // After studying in Paris when she was 16, Purmort began collecting Hermès enameled bracelets. Colorful and striking, they work well alone or stacked. They're released in limited editions.
---
VINTAGE FURNITURE // Purmort's Myers Park residence has a mix of vintage furniture and newer pieces. Midcentury leather chairs purchased in South End add a pop of color against walls painted in Sherwin Williams Essential Gray.
---
ART // Growing up, Purmort watched her parents collect art, and she's followed their example. But she does more than collect—she also paints watercolors of friends and favorite objects on small squares of thick paper. The size travels well.