Miss Coco Peru Tells All
Queen City Theatre Company brings the divine drag queen back to town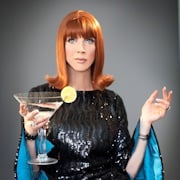 And here I had been thinking the summer was going to be a cultural dry spell.
Queen City Theatre Company comes to the rescue with the Queen's Fab Fest — five glorious nights of entertainment. It begins with Falsettos on Saturday, June 23 at 8 p.m. The Tony-winning musical comedy explores life, love, sex, and loss. The story revolves around Marvin; his ex-wife, Trina; his psychiatrist Mendel; his son, Jason; and his gay lover, Whizzer Brown. We also meet Marvin's lesbian neighbors, Dr. Charlotte, an internist and Cordelia, a kosher caterer. Marvin leaves his wife and young son to live with another man. His ex-wife marries his psychiatrist, and Marvin ends up alone. Two years later, Marvin is reunited with his lover on the eve of his son's Bar Mitzvah, just as AIDS is beginning its deadly spread.
For my money, the most fabulous event of all is the return of Miss Coco Peru on Wednesday, June 27. Known for her appearances in the movies Trick and Girls Will Be Girls and on the small screen in Will and Grace, How I Met Your Mother, and Boy Meets Boy, among many others, Miss Coco Peru is a damn good time. She's the better-known alter ego and drag queen persona of actor Clinton Leupp. And a famous fairy godmother.
Coco, perhaps with drink in hand, will be doing her stand-up cabaret act, "There Comes A Time." In an interview, she described this show like this: "It's like a group therapy session, but it's my turn to talk." She talked to me recently.
Revue: I loved the piece in The Huffington Post I just read about your being a magical fairy godmother.
Miss Coco Peru: Oh, thank you. My friend, William Lucas Walker, who wrote that piece is from North Carolina, and he intentionally waited until after the vote on Amendment One to publish it. He didn't want anyone to point to it and use it as reason to vote against the amendment.
Revue: Since you brought that up, many of us in North Carolina are ashamed of the passage of Amendment One. Will you address it in your show?
Miss Coco: I'm not sure. Maybe a little. A lot of people have written me to say, "I can't beeee-lieve you're going to North Carolina." But Charlotte is a terrific city. The gay community down there has always been very kind to me. I think the Amendment One vote is an even better reason to come to North Carolina. I have two nieces who live in North Carolina, and they're coming to my Charlotte show …
You know, fear is such a wonderfully effective tool. People have really harnessed it. But the gay community is not about fear. Most gay people my age grew up with fear, and it would feel so unnatural to us to use it as one of our tactics. It's such a strong tool, but it's not one we're going to use …
I'm fascinated by my nieces' and nephews' attitudes. They're growing up without any prejudice. It doesn't exist for them. It would never occur to them. I have a grand-niece — my parents had me later in their lives, so I have nieces and nephews who are closer to me in age than my siblings — who, in first grade, was telling a friend, "My uncle dresses like a girl." My nieces and nephews know I'm gay. They know and accept my partner, Rafael. So, things are changing. We may not see the totality of the change in my lifetime, but things are getting better.
Revue: How long have you and Rafael been together?
Miss Coco: Seventeen years.
Revue: Wow, congratulations. Is he a drag queen, too?
Miss Coco: No, he's a college professor. He's originally from Spain.
Revue: You mentioned change, and I know that's one of the themes of the new show. In fact, I saw an interview where you said something like, "Change: We had better embrace it because, really, there is no other option." How do you embrace change?
Miss Coco: Well, I have a new look, for one thing. It surprises people. So, my show is partly about physical change.
Revue: You still have red hair, I hope?
Miss Coco: Reddish. I talk about AIDS and our changing attitudes towards the disease. It was the early AIDS activists that really inspired Coco. I also reflect on my early career. That resonates with older people, but it's also sort of a history lesson for younger people. I'm really blessed to be able to do this.
My show is autobiographical. Every story I tell is true. There's not much difference between Coco and Clinton. Coco is not a completely different person. The stories I tell actually happened to me.
Revue: How long does it take for Clinton to become Coco?
Miss Coco: Two hours from the time I start shaving.
Revue: And do you do your own hair and make-up?
Miss Coco: I do. I've been doing this for twenty years, so I know how to do it. Besides, I couldn't afford to have a make-up artist do me.
Revue: You read a tribute at Bea Arthur's memorial service on Broadway that you reference in your show. Can you tell me about it?
Miss Coco: I was so honored to be asked to speak at her funeral. I read something hilarious Bea had read at her best friend, Charles Pierce's, funeral … he was a drag queen. I show a clip from her funeral during my show.
Revue: You also talk about bullying in your show. What do you say about it?
Miss Coco: I've been talking about bullying for twenty years. I'm so glad it's finally part of the national conversation. I grew up being bullied. I know about the psychological damage it can do. I was robbed of my education because of it. I was a good student when I first started school. Then, from fourth grade through high school, I just couldn't concentrate. I was so focused on just protecting myself. I don't know how I did it, but I did get into college. I was studying theater, so I guess they were willing to overlook my grades. (Laughs.) But in college, I became a student again. I graduated with honors, and I know it's because I was finally in a place where I wasn't being made fun of.
Revue: Did your parents know you were bullied?
Miss Coco: No, I think I was protecting them, too. I was living in total fear. I finally had my first boyfriend at twenty-three. So I was going through what most kids go through at fifteen. One day I went to a Gay Pride parade in New York and felt so free. On the train back home to the Bronx, I started to feel fear again. And I thought, "No. I'm supposed to always feel like I just felt at the parade." So I bought books on how to come out to your family. I rehearsed. I told my mom first.
Revue: And did she say, "I already knew"?
Miss Coco: Yes! She said, "I always knew." And then she called my dad into the room, and I told him. And he said, "I always knew." And then they marveled that they had both always known but had never discussed it …
I don't hold it against them. They are a product of their generation. And since I came out to them, they've been nothing but supportive. They were in the audience at my first drag show.
Revue: I read that there's going to be a sequel to Girls Will Be Girls.
Miss Coco: Yes. We've already filmed it. We used a Kickstarter campaign to fund it, so it was just the director and us. And fans holding up the lights — for free. It was truly a labor of love. Because it's all fan-funded, it will take longer to get it out. The original plan was to release it this summer, but I think it will be more like January 2013.
Revue: Fabu! Now, if you're willing, I'd like to do a little free association. I'll say a name, and you tell me the first word that pops into your head. Ready?
Miss Coco: I'll try.
Revue: Marcus Bachmann.
Miss Coco: Queen.
Revue: RuPaul.
Miss Coco: Butchier than Marcus Bachmann.
Revue: Mel Gibson.
Miss Coco: Sad.
Revue: Levi Johnson.
Miss Coco: Hot, but I say that with a pang of guilt.
Revue: You're good at this! John Travolta.
Miss Coco: Closet case.
Revue: John Waters.
Miss Coco: Hero.
Revue: Tom Cruise.
Miss Coco: Didn't we cover that already with John Travolta?
Revue: Mitt Romney.
Miss Coco: Mormon. Need I say more?
Revue: Thank you for playing. I can't wait to see you again!
Miss Coco: Oh, thank you! Be sure to say hello.
Proceeds from all Queen's Fab Fest events, including Miss Coco's show, benefit Campus Pride, the Charlotte-based national organization for student leaders and campus groups working to create a safer college environment for LGBT youth. It's an especially opportune time to support this cause. "Recent shocking examples of anti-LGBT hatred, like that of Maiden, N.C., Pastor Charles Worley, are reminders that LGBT families and young people still live in a hostile world," said Kristian Wedolowski, QCTC's managing director. "Queen City Theatre is proud to support the important work of Campus Pride and the role it has in shaping the leadership skills of LGBT and straight ally students, who will become future leaders and the backbones of their communities, locally, statewide, and nationally."
Tickets for Coco and all the Fab Fest events are on sale at www.queencitytheatre.com, by phone at 704-372-1000, or at the Blumenthal Performing Arts Center box office.
The Fab Fest kicks off with Falsettos. Winner of two Tony Awards for Best Book and Best Original Score, Falsettos features music and lyrics by William Finn (25th Annual Putnam County Spelling Bee, A New Brain) and book by James Lapine (Into The Woods, Sunday In The Park With George). The musical premiered on Broadway in 1992 and was dubbed "one of the best musicals of the year" by The New York Times. The QCTC production features an ensemble of award-winning performers including Brianna Smith as Trina, Ashby Blakely as Mendel, Steven Martin as Whizzer, Caroline Bower as Dr. Charlotte, Kara Martin as Cordelia, Alex Gagne as Jason, and Glenn T. Griffin, who also directs, as Marvin.
Queen's Fab Fest runs June 27-30. Tickets range from $15 to $44, and student discounts are available. In addition to Falsettos and Miss Coco Peru, there is Out of the Boxx: An Evening With Pandora Boxx on June 28, Twisted Broadway on June 29, and Wizard of Oz Sing-A-Long with Buff Faye on June 30.