Mitchell Kearney Rocks
The Charlotte-based photographer (and part-time drummer) has been shooting stars for more than two decades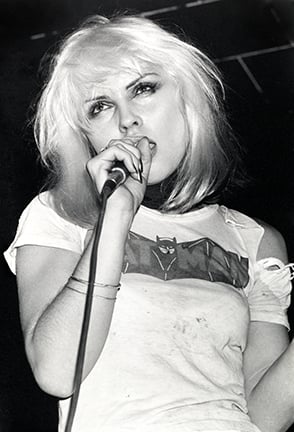 The Light Factory's The Night Time is the Right Time: Photographs by Mitchell Kearney (through January 8, 2012) is like a drug for those of us who are star hounds. (Guilty!) I can't resist People and Us magazines, but I try to limit my intake to grocery store aisles, airplanes, and vacations.
But, Mitchell Kearney sees something in famous people that a paparazzo would never see. In fact, he sees star quality in all of us. His current exhibition places stars and "regular folk" on the same plane.
This show is the third in The Light Factory's series titled In Our Own Backyard, which celebrates artists who live in or have a connection to Charlotte. Kearney grew up in New Jersey, began his career in New York City, and eventually moved to Charlotte and found success as a commercial photographer. We chatted by phone recently about his music, celebrities, and being in the right place at the right time. Excerpts are below.
Charlotte magazine: So, I've seen the show, and I have to say the image of [local sculptor and former co-owner of NoDa's Center of the Earth Gallery] Paul Sires is my favorite. He could be a movie star.
Mitchell Kearney: Well, some call him a rock star. He just shows up somewhere in a leather jacket, and people's heads turn. We're actually in a band together. I've been playing with these guys for more than twenty years. Paul joined us about ten years ago.
CM: Let me guess. Paul's the drummer.
MK: No, I am. I play a Ludwig kit from the 1970s. Scott Swimmer is on percussion … Andreas Bechtler [whose family's art collection comprises the museum of the same name] plays keyboard. Andreas is self-taught. He has some classical training, but he learned to play the keyboard based on Miles Davis's trumpet … Paul taught himself the guitar. He first showed up with an upright bass, but has practiced hard over the years and is now an exceptional guitar player. His influence is mainly Spanish guitar music. Michael Gallis [local city planner] was our vocalist for a while … then, [real estate developer] Michael Verruto stepped in. We don't play for an audience. We're just making music. It's mostly spontaneous.
CM: Does your band have a name?
MK: Yes. It's NuZuLu.
CM: Does that mean anything?
MK: It does. Those are the first two letters of the three companies Andreas's family started in Charlotte.
CM: This is incredible. You all do need to play for an audience.
MK: We've only played for an audience on three occasions. One of those times was at The Mint Museum years ago. It was at a family fun fest, and they were showing an Earthworks-inspired multi-media presentation I had done. It was a series of photos I had taken of construction around Charlotte …
CM: I had no idea about your band. I love it. But, tell me about your first love — photography. I mean, I assume photography was your first love.
MK: Actually, music was my first love. I came to photography after I was an accomplished drummer in a garage band. Well, really, it was a basement band. This was New Jersey, and basements were too cold there. I was in my first rock and roll band in grammar school. [My first teacher] studied with [jazz and big band drummer] Gene Krupa, who was sort of the first super drummer before Bonham and Ginger Baker and those guys … So, [Krupa and] all these guys had retired and left New York when Swing went away, so they wound up teaching in New Jersey. I took lessons at the local music store but had an incredible teacher. Music formed the foundation of my creative bent. It helped me deal with … adolescence.
When I was in high school, I picked up my dad's camera. He was a hobbyist photographer. Pretty soon, I realized taking pictures was a lot more interesting than studying to be an architectural draftsman, which was the course I was on at the time. I finished that program but was involved in taking pictures for the yearbook and all that stuff. I applied and got accepted to the School of Visual Arts in New York and got a bachelor's of fine arts there.
During my second year at SVA, a student in class asked if I'd been to CBGB. That stood for Country, Bluegrass and Blues, but CBGB became associated with punk. This student was asking if I knew of the club and knew about Patti Smith. I didn't. So, I went and saw The Ramones for the first time in my life. It was intimate and amazing. I had never seen anything like it in my life. It was loud and fast and hard, and The Ramones looked as good as they sounded.
I was working for a weekly newspaper — The Aquarian Weekly. Other newspapers heard about it and would say, "Hey, while you're there …" and then buy my photographs. In those days, photographers got in free to the clubs, because everyone wanted publicity. I became a working photographer, although not a very commercial one because I had very, very low rates. You had to when you starting out. It was a great way to get assignments … There would usually be four or five or six of us [photographers] at these little, intimate clubs. We'd be jockeying for position and would be shoulder-to-shoulder with some big-time people. But, it was a low-key environment in those days. It was like Tremont is today …
CM: Did you have the sense that you were witnessing something big, even though The Ramones and Blondie and the others were not yet what they would become?
MK: Oh, we knew. We knew this was big. We all kinda looked at each other like, "This is amazing." We missed Woodstock by just a few years but knew what that meant to people. The early '70s were about corporate rock. It was fussy, bubblegum stuff, and what came along later was a reaction to it. By then, the wave of original rock that was The Stones and others was about fifteen years old. The Stones were elder statesmen at that point. There was a lull before there was an explosion, and it all happened at The Bowery in New York City …
CBGB was an incubator. It changed everything. Eventually, all these artists would be signed and move on. But, we saw them all — Patti Smith, Debbie Harry, The Talking Heads — when they were still experimenting …
CBGB's owner, Hilly Kristal, had one rule: You couldn't play covers. So, CBGB ended up being the best basement in the world. A basement with beer where people actually showed up …
[Being a musician] helped my photography. I had a sense of timing. I could anticipate what was coming next. I would see something and think, "I better back up and get ready." That shot of Debbie [Harry, taken at CBGB] was just such a shot.
People ask why her shirt is ripped. Well, she ripped it herself about ten seconds before the shot. She told me later there had been something inside the shirt scratching her. She kept pulling at a loose thread while she was playing. She finally yanked it, and the shirt ripped. Back stage, I found her crying. She said, "I tore my favorite Batman shirt, and I can never wear it again."
CM: How could you leave that excitement behind and move to Charlotte?
MK: The excitement left New York before I did. The artists got signed and went on tour. There was just a level of originality in that time and place that couldn't be duplicated. New York changed and evolved. Connie [Kearney's wife] and I changed and evolved. We wanted to start a family. The rock business is a nighttime business, and that wasn't right for where we were then. New York wasn't what it was any more. The excitement was in other places. REM was playing The Milestone then! We moved to Charlotte at the moment of REM's second album. It was a city on the rise.
CM: You've gotten to shoot so many famous people. Is there a difference between shooting celebrities and "regular" people?
MK: There's no difference. Everyone's the same. We all put our pants on one leg at a time; no one's a superstar unless it's in their own mind. Everybody asks the same question: "What do you want me to do?" It's that simple. When I photograph an individual, it's about capturing their spirit, their enthusiasm for life, or lack thereof.
CM: In a show like the one at The Light Factory, do people ever tell you they were just as drawn — or more drawn — to a photo of someone who's not famous? Can a photo of a regular person be as compelling as one of someone we all recognize?
MK: I've had people tell me their favorite image in the current show is the one of [local artist/jewelry designer] Day Hixson. The image is so engaging — the look, the pose, the mood. It's riveting, whether people know her or not.
CM: Yes, I loved that image. Who is she?
MK: She's the daughter of our dear friend and a local treasure, Gary Hixson. Gary's a graphic designer, and he has two beautiful daughters. When Day was in high school, she wanted to learn about photography, so she worked at my studio. One day, the light was just right, and we took those shots. That studio, by the way, is now known as Dixie's Tavern …
That image is the last one in the show, and it's kind of a bookend with the first image of Dee Dee Ramone. Dee Dee is in full motion, and Day is still and quiet. They make a strange diptych.
CM: As a photographer, do you feel an obligation to show people the way they want to be presented? And, do you sometimes see beauty in people they don't see themselves?
MK: People look in the mirror, after the shaving is done or the make-up is done and the hair is just right, and they make a pact with that view. They feel good about how they're presenting themselves to the world. It's my job to use that — to get them back to that. People don't know what they look like without a mirror. I try to engage the subject and bring them to a place where they are confident about how they look … as confident as they would be in what I call the "Monday morning mirror" look …
But, I'm pragmatic. I'm hired to create a portrait. Today, in a post-Oprah world — where everyone knows what it takes to make her look like she does on her magazine cover — we can enhance a picture without changing the individual.
CM: You've been very generous with your time. I just have one last question. You've had a front-row seat to our celebrity culture. What do you have to say about it?
MK: It's a way for people who are interested in what's going on around them to engage in one aspect of our world. The phenomenon of the paparazzi, though … it's the issue of access. It's all so readily available, that it drives an entire industry.
It's entertainment. But, it shouldn't be a driving force. Everyone needs to express themselves in a way that has some meaning. We've only got today. We have to live in the now. To replace our "now" with someone else's is a bit less than fulfilling.
One of the photographs from Kearney's exhibit will be available in The Light Factory's 30th annual auction on Nov 19.
Editor's Note: Celebrity magazines have always been my guilty pleasure, but after talking to the delightful, philosophical, and unfazed-by-celebrity Kearney, I feel even guiltier about replacing my "now" with, say, Madonna's. In my defense, I have never watched an episode of "Keeping Up With The Kardashians."