Mixing It Up: Jameka Whitten
Marketing executive Jameka Whitten has a confident, eclectic style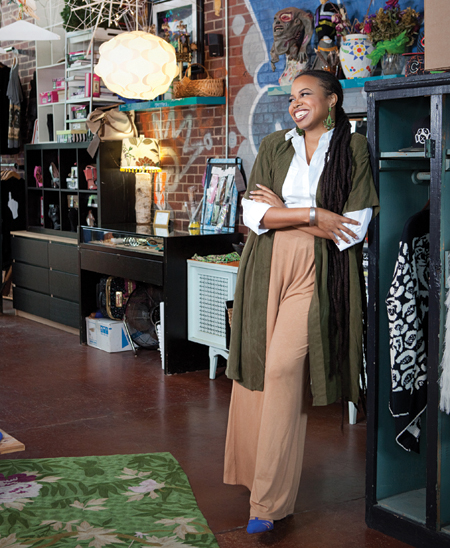 JAMEKA WHITTEN relaxes in a crisp white shirt and wide-leg trousers. A silky green jacket falls past her knees, almost to the last coil of her long hair. Radiant at 39, the busy owner of JSW Media Group has been on Twitter and Instagram since early this morning. Her clients, including the black theater company On Q Performing Arts and Los Angeles chef Ayinde Howell, demand plenty from the Charlotte public relations and marketing executive.
Her calm demeanor is an asset in a profession in which pressure and expectations run high. "My mom created this sanctuary for me," she says. Growing up in the Cherry neighborhood, she would come home to the sounds of her mother's band rehearsing or to a dinner table set with cloth napkins. This upbringing gave her a sense of place and self that served her well—through high school at St. Catherine's School in Richmond, college at Northwestern University, and back to Charlotte, where she did digital marketing for ESPN.
Now she's putting the final touches on a new project: Coffee Talk with JSW Media. Many nonprofits have told her they need PR and marketing services but can't afford them; now they can pay a small fee to meet her in a coffee shop and ask questions. She also serves as an ambassador for The Red Pump Project—which promotes HIV prevention for women and girls—and as a cofounder of Amped-4-A-Cure, which uses music to raise funds for cancer research.
"Every single day is crazy," she says. It may look like a hurricane, but she's living in the eye, cool and calm. —Laurie Prince
LIPSTICK // Angel Cherry, one of Whitten's clients and a New York makeup artist, developed the formula for VOID lipstick in her kitchen. One of Whitten's favorite shades is Lust.
---
CAP // The "Inspire" cap by Power in One speaks to Whitten's style and mission. It's from dupp&swat, a NoDa creative agency and studio run by brother-and-sister team Dion and Davita Galloway.
---
JEWELRY // Whitten met Charlotte-based jewelry maker Darrell Roach in 2005 while working on a story for SOTAC ("State of the Arts and Culture"), a magazine she cofounded. She became a fan of his work, which has been worn by Beyoncé and Rihanna. These glass-bead earrings and beaten metal ring are an integral part of her wardrobe.
---
FRAGRANCE // Fragrances are Whitten's guilty pleasure. While shopping in New York City with her boyfriend, she tried Carven, a French perfume. The light, citrus scent is perfect for daywear. "I want people to remember me when I leave a room," she says.