Mocktail Party
Festive fall drinks sans alcohol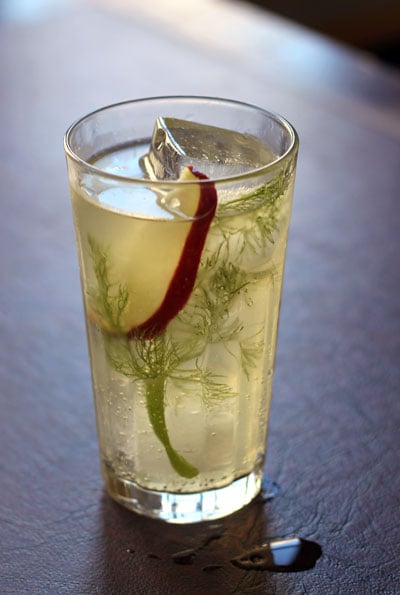 Dry wedding on the books? Low key shower to plan? Or maybe simply looking to cut costs during cocktail hour? Either way a festive fall cocktail feels equally cozy and refreshing sans spirits. Keep in mind that, even if you're on a seriously tight budget for cocktail hour, so long as you provide some sort of refreshment for guests, no alcohol is necessary. An autumn-inspired creation is the perfect way to incorporate colors and flavors of the season, and add just a bit more interest to the hour. So here they are: five refreshing mocktails, from spiced hot chocolate to ginger-infuzed concoctions, you're bound to be head over heels for one.
1. Mexican Hot Chocolate
1 cup whole milk
2 oz. chocolate chips
1/2 tbsp sugar
1/2 tsp vanilla extract
Dash of cinnamon
Dash of salt
In large saucepan, add 1/4 cup of water and all ingredients. Heat over medium, stirring with whisk until hot and smooth, not boiling. About 4 minutes. (Makes 1 serving)
2. Autumn Chiller
1 oz. freshly squeezed orange juice
1 oz. chilled ginger beer
3 oz. chilled sparkling apple cider
3 frozen cranberries
Combine all liquid ingredients and pour over ice. Garnish with frozen cranberries. (Makes 1 serving)
3. Fennel Apple Spritzer
For the syrup:
1.5 tbsp fennel seeds
1 cup granulated sugar
1 cup water
For the spritzer
2 oz. unfiltered apple juice
1 tbsp fresh lemon juice
10 oz. seltzer or sparkling water
Apple slices and fennel fronds for garnish
Grind fennel seeds and add to sugar and water in small sauce pan. Heat over medium, stirring occasionally, until boiling. Remove from heat, cover and let stand for 20 minutes. Pour through strainer and let cool for 30 minutes or until room temperature. Then stir 2 tbsp of fennel syrup with apple and lemon juices in glass filled with ice. Garnish with apple slices and fennel fronds. (Makes 1 serving)
4. Sparkling Cider and Cara Cara Orange Punch
1/4 cup crystalized ginger
1/4 cup sugar
1 lemon wedge
6 cups freshly squeezed Cara Cara oranges (or regular oranges)
2 bottles sparkling cider
1 cup calvados
Candied citrus peels for garnish
Grind ginger to fine powder and mix with sugar in small bowl. Rub lemon wedge on rim of 12 glasses and then dip rims in ginger-sguar mixture. Combine juices and calvados in large bowl. Serve with ice and garnish with candied citrus peels. (Makes 12 servings)
5. Cranberry Mint Tea
4 cups water
12 oz package of fresh or frozen cranberries
1 cup fresh mint leaves
1/2 cup sugar
fresh mint sprigs
Combine water and cranberries in saucepan and heat over medium until boiling. When cramberries begin to pop, reduce heat, cover and simmer until cranberries are very soft. Place mint leaves in heat-proof pitcher or coffeepot. Place a fine strainer on top of pitcher and pour in cranberry mixture. Press sides to extract all the juice. Add sugar and stir until dissolved. Refrigerate until cold, serve over ice and garnish with mint sprigs. (Makes 4 servings).
Photo Credit: Anna Stockwell via Saveur