Modern at the Met
A Midtown condo goes from cold to contemporary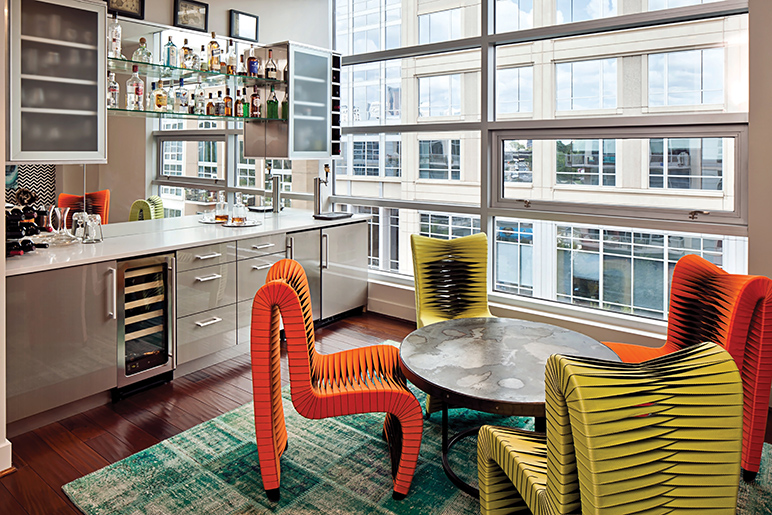 Brian Palank toured the condos at The Metropolitan when he moved to Charlotte in 2011, but the lure of local nightlife led him to rent an apartment that was closer to bars and restaurants. When his infatuation with uptown ended, Palank resumed his real estate search. His agent took him back to the Midtown condo development, and it was love at second sight.
Homeowner Brian Palank worked with designer Tom Holley of Crazy Jane's to create a contemporary feel for his condo at The Metropolitan. Holley used a few of the pieces Palank already owned, like this white leather sectional, pairing them with neutrals and adding colorful touches through overdyed rugs, accent walls, and textural elements.
"It's ironic that I ended up buying a condo in the first building I looked at when I moved to Charlotte, but the modern feel and the location were exactly what I wanted," he explains.
Palank purchased a 2,500-square-foot, two-bedroom unit on the top floor with peekaboo views of uptown. While he loved the building and floor plan, the space still didn't feel like home.
"I wanted a modern feel, but I had no idea what I was doing, and it ended up looking like Manhattan in the 1980s," he jokes.
Palank asked his coworkers at Southeast Anesthesiology Consultants for a referral and partnered with Tom Holley, owner of residential and commercial design firm Crazy Jane's, to take the space from cold and cavernous to chic and contemporary.
"To give him the contemporary feel he wanted but keep it from being too cold, we mixed modern and organic elements," explains Holley. "It looks great, but it's comfortable too."
Holley paired modern finishes like chrome and glass with natural materials like wood and metal, creating a space that feels luxe but lived in.
Palank, pictured above, loves that his open-concept condo is great for entertaining. Holley's design unifies the look of the kitchen with the feel of the living and dining spaces. A slab-wood table is the centerpiece in the dining room, which is paired with slither chairs upholstered in red linen and set beneath a chrome chandelier.
In the living room, a white leather sectional (one of the few pieces Palank kept from his previous apartment) is paired with a smoked-glass entertainment center and side chairs with angular chrome arms. In the center of the room, an imposing coffee table made from a chunk of rock with a polished surface reflects the light shining through the floor-to-ceiling windows. To juxtapose the hard surfaces and neutral colors, Holley anchored the room with an overdyed patchwork rug in shades of red that adds warm color to the space.
"It's an old rug, but it's done in a new way, and that makes it feel more modern," he explains.
A slab-wood table is the centerpiece of the dining room. To keep the table from feeling too rustic, it's paired with slither chairs upholstered in red linen and set beneath a chrome kidney-bean-shaped chandelier. A Jonathan Adler burled wood and Lucite console sits against a Curaçao-blue feature wall. Holley chose the color to create cohesion between the dining room and the hall, where an abstract painting by artist Hans Petersen hangs on the wall.
Although the open-concept condo offers plenty of room for entertaining, Palank wanted a space that would wow guests and opted to turn the den into a bar.
"This was my last chance to have a bachelor pad," he says, "and I wanted to do it right."
The bar has a high-gloss laminate finish and a built-in wine fridge and beer tap. Furnishings, which include colorful chairs made from interwoven seat-belt straps and a one-of-a-kind acid-washed zinc table, are both functional and decorative. A pair of plexiglass art pieces with bright turquoise abstract images stands out against the black-and-white chevron design on the upholstered wall.
Palank lived uptown when he first moved to Charlotte in 2011, but moved to The Metropolitan after realizing he preferred the building's modern feel and the convenient location.
"I love entertaining here," Palank says. "I get nonstop compliments."
In contrast to the bar, the master bedroom is subdued and serene. But it didn't start out that way.
For months after he bought the condo, Palank slept in the guest room on furniture from his old apartment, admitting that his indecisiveness held up the design process.
"I'm hard to please," he confesses. "I didn't know what I wanted, [so] we tried different pieces, and I lived with them for a while and sent them back. It took a lot longer than I expected."
Palank is glad he waited for the right pieces, because the master bedroom is now his favorite room in the house. In it, a feature wall is upholstered in a graphic navy and white print. A custom canopy bed with a brushed-nickel finish and faux python fabric on the headboard is the focal point in the room. Chic and simple linens—a white duvet with navy trim and a handful of pillows in various shades of blue—complement the other colors and patterns in the room.
"We were going for the look of an upscale modern hotel room," Holley says.
Neutral colors dominate; a Hans Petersen abstract painting in vibrant shades of orange and blue is the only contrast.
The other furnishings in the room—hair-on-hide nightstands, a reclaimed wood bench at the foot of the bed, leather club chairs, a snakeskin-and-chrome TV console, and a silver resin side table designed to look like a tree trunk—are a mix of natural and contemporary finishes. While the pieces might seem disparate, Holley points to their unifying elements.
The master bedroom is Palank's favorite room in the condo, from the upholstered feature wall to the custom canopy bed and the subtle, faux python fabric on the headboard. The color palette, while neutral, is still bold, while simple touches, like layering a navy overdyed rug over a natural fiber rug, give the space a luxious feel.
"All of the colors and materials are connected, not just in the bedroom but throughout the house," he explains. "It feels cohesive."
To Palank, it also feels like home.
"It's modern but still warm and comfortable," he says. "It turned out better than I expected."
Throughout Palank's contemporary space, Holley mixed modern and organic elements like wood, steel, and overdyed vintage rugs. The result is a home that feels bold and masculine but also comfortable and lived-in.
A Jonathan Adler burled wood and Lucite console sits against a Curaçao-blue feature wall in the living room.