Money Ball: CIAA Week
Analyzing the tournament—and everything that comes with it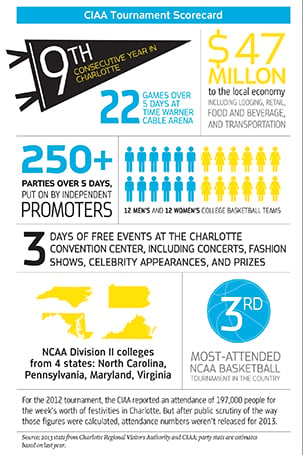 If you've attended CIAA Week in Charlotte before, you know it's not really about basketball. The week of festivities—from February 24 through March 1 this year—is anchored by an NCAA Division II tournament but attracts tens of thousands of visitors because of the parties, celebrities, and the desire to see and be seen.
>> Go to ciaatournament.org for basketball ticket prices.
Follow the money
In a few short days, a lot of money is spent in pursuit of a good time. Meet Tony, a fictional fan who will lead you through a typical CIAA Week experience—and help explain where that money is going.
THURSDAY: After driving down from his home in Washington, D.C., Tony arrives in Charlotte. He gets off at I-77 Exit 5 to gas up and goes inside the station to buy gum and a couple of 5-Hour Energy drinks. Total spent: $70.
5:15 p.m.: Tony checks into the room at the uptown hotel he reserved with a friend in November. Most uptown hotels require a three-night minimum stay for bookings during CIAA weekend. Prices are not cheap. Three-night rate: $987.
7:30 p.m.: Tony makes his way to Mert's Heart & Soul for dinner, where he's meeting up with some old college classmates. His bill: $18. Rests up for a bit, then heads to the annual Pink Groove party put on by Alpha Kappa Alpha Sorority alumni. Advance ticket: $35. Drinks: $30.
3 a.m.: Falls into bed at the hotel.
FRIDAY, 2:15 p.m.: After sleeping in, Tony grabs lunch at Five Guys for $12. Next stop is one of the famous "day parties" that take place on Fridays and Saturdays during CIAA weekend. These gatherings have all the trappings of a nightclub party—DJ, drinks, dancing, celebrity appearances—except the sun is shining through the windows. Door charge: $25. Drinks: $25.
6:30 p.m.: Tony goes to the CIAA Fan Experience at the Charlotte Convention Center to catch the fashion show and the concerts by R&B singers. Price: Free. Then it's back to the hotel to change and head to a reality-TV-star-hosted party at an NC Music Factory nightclub, where he's meeting his cousins from Atlanta. Valet parking: $25. Advance ticket: $40. Drinks: $42.
SATURDAY, 5 p.m.: After recovering from a full day and night of partying, Tony decides to go to an actual CIAA Tournament basketball game. The men's and women's championships at Time Warner Cable Arena—typically the only games that draw a sizable crowd—have attracted several celebrities to courtside seats. He buys a ticket from a guy selling them out front. Bill: $50.
10:30 p.m.: It's time for the biggest party night of the week, with at least 75 parties getting under way, mostly throughout uptown. Tony foolishly didn't buy his ticket to the party hosted by rapper T.I. in advance (when tickets were cheaper), so he stands in a long line at an EpiCentre nightclub. Door charge: $80. Drinks: $45. At the end of the night, he winds up at Midnight Diner for a late-night breakfast. Bill: $14.
SUNDAY, noon: Leaving Charlotte $1,498 poorer, Tony vows to return to CIAA next year.

Visit www.charlottemagazine.com/ciaa for our comprehensive coverage of the events, parties, and celebrities surrounding the 2014 CIAA Tournament.