Monroe's Treehouse Vineyards a Sweet Escape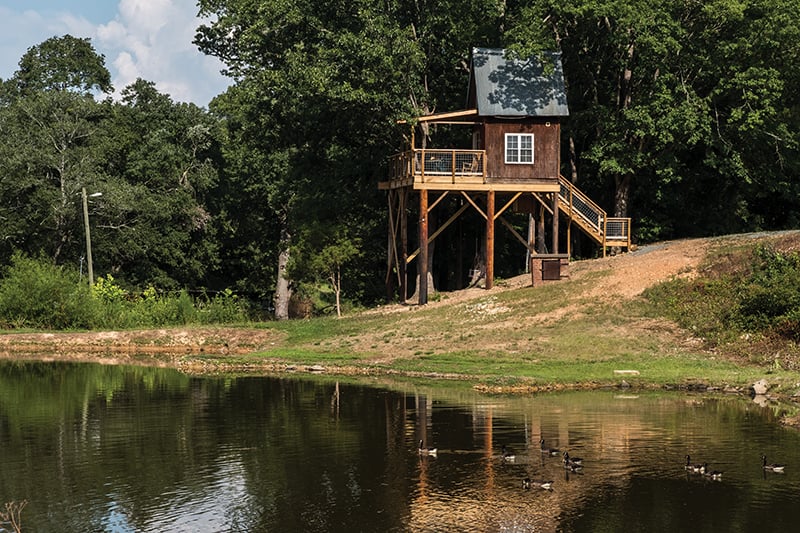 ON THE THIRD DATE with the man I'll one day marry, he asked me if we were lost.
We'd been driving for 45 minutes, southeast on Independence Boulevard nearly the whole way. The 25 miles of car dealerships, fast-food restaurants, and everything unromantic about that long stretch of asphalt between Charlotte and Monroe suddenly gave way to a two-lane, tree-lined road bordered with Southern homes so old, so beautiful, with porches so big, you wonder what movie they're from.
"Are you sure we're going to the right place?" Nate asked me, as he drove down Parker Street, a quiet neighborhood lane with a basketball hoop outside one house and speed humps down the way.
We weren't lost, of course. I had planned the whole day just so, and as quickly as Parker Street turned to Bay Street, this Monroe neighborhood opened into a 35-acre, family-owned vineyard that makes some of the sweetest, most crisp muscadine wine you'll ever taste. Nate smiled, and right there on that afternoon in May 2015, I knew there'd be a fourth date.
But I had always planned on that. You don't take just anyone to Treehouse Vineyards.
***
NOW, TWO YEARS LATER, on an afternoon this past June, Nate and I are inside the home we just bought in Charlotte, wondering where all this rain we were supposed to get today is. The forecast called for rain all weekend, in fact.
But the skies are clear and we have a whole afternoon to spare. So we drive to Treehouse Vineyards again, to spend the day drinking a bottle of wine on the same tree swing we sat in two years ago on that third date, when we talked for hours about our first bee stings and these incredible Indian sandwiches in Rhode Island, where Nate went to college, called naaninis.
We've come back to this place often. We sat in that same tree swing just a month before this trip, in May, for our two-year anniversary. It was unseasonably cold that evening, so we didn't stay long. But we sipped for a bit before driving around the lake to Papa's Dreamhouse, one of Treehouse Vineyard's three overnight treehouse rental options.
Papa's Dream Treehouse, a 100-square-foot treehouse, is popular and booked months in advance. I reserved our room in late 2015, nearly 18 months before our trip. I had never planned a date a year and a half in advance, but Treehouse Vineyards isn't any old date spot.
Monroe is somewhere between too close and too far: near enough for a day trip on a whim but far enough that we feel like we're actually getting away.
On this afternoon in June, we take a different route, because I tell Nate I want to drive through downtown Monroe. At 5 p.m. on a Saturday in June, there are five cars on Main Street and not a person in sight. But a little outside of town, a dozen people follow us into Treehouse Vineyards' tasting room after we open the door, and suddenly I realize where everyone is. They're here, with the same idea: to drink wine from these family-grown vines with the ones they love most.
One of the vineyard's resident dogs, Dallas, an old black lab mix with a graying snout, nudges into the crowd as Nate and I sample a few of the dozen wines the vineyard makes. We decide on Bailey's Blend, a semisweet red, and we take the bottle on ice in a purple sandcastle bucket before we head to our favorite swing under the tree.
As the sun pulls downward, Nate points across the pond in front of us. There's Papa's Dreamhouse, where we had just stayed a month before.
I think back to that night, just the two of us sitting on Papa's Dream Treehouse's porch, wrapped in blankets and drinking a bottle of Treehouse Vineyard's Date Nite wine. He told me that tree swing is the spot two years ago where he fell in love with me.
I smiled, took another sip, and knew we were in the right place.
Treehouse Vineyards
301 Bay St., Monroe
704-283-4208
Stay
Papa's Dream Treehouse has 100 square feet of living space, including a queen bed, kitchenette, bathroom, air-conditioning/heat, and a grill. The weekend rate is $150 and the weeknight rate is $125. Plan ahead: The room is booked months in advance.
Horsefeathers Hideaway, which sleeps up to eight people, costs $250 per night Monday through Thursday, $350 per night Saturday and Sunday, and $275 on Sunday. This treehouse includes a master bedroom, 1.5 bathrooms, a living area, heating and air-conditioning, a grill, and an efficiency-style kitchen.
Drink
Muscadines are the focus, but the tasting room's wines range from semidry whites to sweet reds and a merlot. Don't miss the Tack Shack Red, Date Nite, or the Bailey's Blend. Tastings, which run about a half-hour and cost $8 per person.