Moo and Brew Fest preview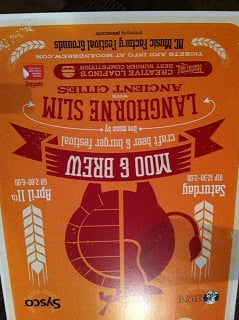 Craft beer.
Burgers.
Live music.
Any one of those makes for an enticing weekend day. Put them all together, though, and you have the makings of what's shaping up to be a fantastic festival. The first Moo and Brew Fest is set for this Saturday at 2 p.m. at the N.C. Music Factory grounds.
Unlimited craft beer samples will be offered from more than 40 breweries and bottle shops, many of which hail from the Charlotte area, including Barking Duck, The Beer Growler, Birdsong, Carolina Beer Temple, Craft, D9, Good Bottle, Heist, Lenny Boy, NoDa, Olde Mecklenburg, Rhino Market, Salud, Sugar Creek and Unknown.
Stone Brewing, the festival's national beer sponsor, will be pouring as well. The beer list is being updated daily; follow the Moo & Brew Fest on its social media channels, where announcements are taking place.
As far as the "Moo" part, some of Charlotte's top restaurants will be cooking up their best burger. Among the participants are Bang Bang, Elwoods, Heist, Mattie's Diner, Pint Central, and Vinyl Pie.
"We thought, trying to judge all the amazing beers would be extremely difficult, but having a food-related contest would be perfect," says Corri Smith, who handles marketing and social media for the N.C. Music Factory and is the "social media cowgirl" for Moo & Brew Fest.
"What better food to go with beer than a hot and juicy burger? The winner is going to get the most handsome burger trophy ever. Literally, it's a burger on a trophy."
Aside from the trophy, whoever wins the best burger will be honored as such by Creative Loafing, one of the festival's main sponsors.
Festivalgoers will also be treated to live entertainment the entire day, starting with local act Ancient Cities from 2 p.m. to 3:30 p.m. DJ Overcash then steps in from 3:30 p.m. to 5 p.m., and the festival culminates with national recording artist Langhorne Slim, who closes it all out from 5 p.m. to 6:15 p.m.
VIP tickets are sold out, but there still are general admission tickets remaining. Those tickets, which are $45, can be purchased via this link.
Smith sums the event up nicely.
"I'm looking forward to a day of fun among friends in celebration of craft beer, local food, live music with Langhorne Slim and the beginning of spring in North Carolina," she says. "It's going to be a blast!"