Moo & Brew Festival set for April 11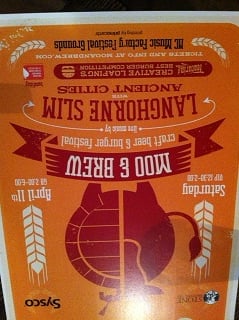 The idea of pairing burgers and craft beer for a festival is so great that it's a wonder it has taken this long for someone to do so. After all, what's better than tasting a delicious burger, followed by washing it down with a terrific local craft beer?
Wonder no more, as the first annual Moo and Brew Fest is set to both whet and feed your appetite. Charlotte's newest craft beer festival will take place Saturday, April 11 from 2 p.m. to 6 p.m. at the N.C. Music Factory festival grounds (where Charlotte Oktoberfest is also held, for a point of reference).
"Craft beer is exploding in Charlotte, with all of the breweries and now cideries as well," says Corri Smith, the marketing and social media manager for N.C. Music Factory (and for this festival, gets to hold the ultimately cool title of "social media cowgirl"). "We wanted to do a craft beer event here but also tie in food because burgers and craft beer go hand in hand."
Moo & Brew is presented by Creative Loafing, and Stone has signed on to be the national beer sponsor. The brewery list has yet to be announced, but at a kickoff event held Monday, it was announced that more than 40 breweries would be represented, with a heavy emphasis on local ones.
Moo and Brew will also boast impressive entertainment, with popular local band Ancient Cities opening the festival followed by Langhorne Slim, who played to a packed crowd at The Fillmore last May.
As far as the food aspect goes, look for a number of local vendors to be serving up delicious burger samples as they vie for the title of best burger (given the plethora of outstanding burger places in Charlotte, this should be a heated competition).
Proceeds from the festival will be supporting Second Harvest Food Bank of Metrolina, a nonprofit organization that supplies food items to agencies that assist people in need.
Tickets for Moo & Brew will go on sale this Monday (Jan. 26) at 9 a.m. and can be purchased here. There are two tiers, VIP ($65, which gets you in an hour and a half early at 12:30 and also comes with three slider tickets and the chance to sample special releases from the breweries) and general admission ($45).
"You can expect a really special experience at this festival," Smith says. "Whether you go with VIP tickets … or general admission tickets, you're going to get hours of sampling from more than 40 breweries, vote for Charlotte's best burger and then you have Langhorne Slim. We really want people to stay the whole day and participate in all the interactive stuff we'll have, and just have fun."