Moo & Brew: Two Dudes And A Burger Joint
Burgers and beer aren't the only items on the menu at this Plaza Midwood spot—positive vibes are a daily special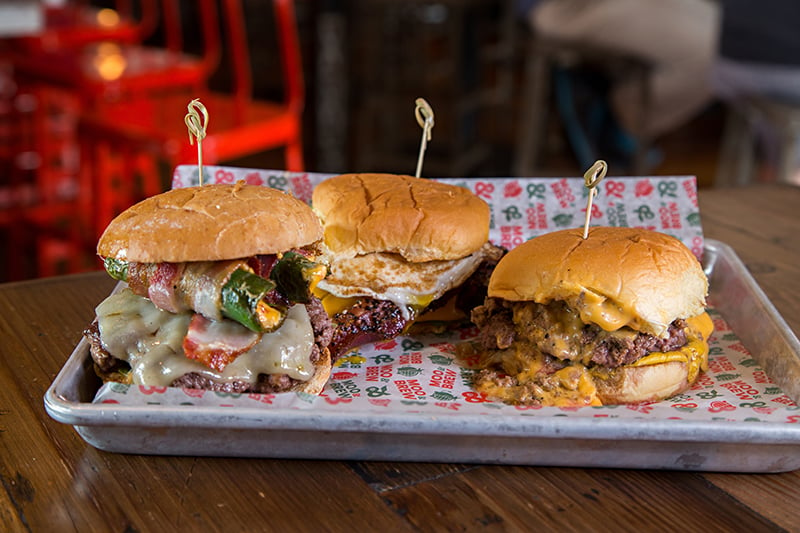 IN LATE 2014, Ken Thomas came up with a new way to kick off summer: a festival of some sort. Thomas is in a band and works as vice president of entertainment for the group that owns and operates the AxidXchange Music Factory, so music was a must. And with the bubbling microbrewery scene, it was a no-brainer that beer would be involved. But what kind of food? Burgers are classic and go great with beer, Thomas decided. He called Creative Loafing owner Charles Womack. They added a burger competition to complete the festival and called it Moo & Brew.
In its first two years, the festival raised more than $15,000 to benefit the Second Harvest Food Bank of Metrolina, but, as Thomas says, "Burgers and beer are too good for just once a year."
That's how the idea for a brick-and-mortar Moo & Brew was born.
Thomas had long known Zach Current through mutual contacts. Current is a former senior operating partner at Fuel Pizza, where he oversaw the growth of the chain. When Thomas reached out to him about a burger and beer joint, he'd already been formulating a similar idea for the Plaza Midwood area. Once he heard Thomas's take, the Moo & Brew restaurant plan was set in motion.
The two men make a good team. Thomas has a clean haircut and a stoic calmness about him; he's the guy who will answer your emails. Current has a ponytail, says "dude" a lot, and rides his bike to the bar on most days. He's often the first person to greet you when you walk in the door.
After they closed on the space at 1300 Central Avenue, formerly home to Joe Hoopers, on October 28, 2015, an ambiguous sign shot up in the front window. It read: "itsnotacondo.com." The sign prompted passersby to stop in, and sometimes they'd find a sort of speakeasy, where neighborhood patrons hung out. Current and Thomas opened the doors on Sundays for Panthers games and on a few other occasions, including the Fillmore Charlotte's Christmas party, whipping up bar bites and beer. As the Panthers kept winning into December and January, The Neighborhood Pub, as they called it at the time, became a neighborhood hot spot in a building that for years has struggled to keep business.
"We had to do some voodoo," Current jokes about lifting the "curse" of the place.
Whenever people came into the restaurant during those first few months, Current asked them questions about their burger and beverage preferences.
He has a passion for taking food that never goes out of style and making it better. Burgers and beer are not foodie fare, but they're not fads, either. They're familiar, and here they're served to a superior standard.
Moo & Brew's mission is to create a high-quality burger and have the best beers on tap, all in a comfortable setting. It's a place where the staff high-fives—a bar that attracts "cool people," as Current puts it. Current and Thomas aim to draw in down-to-earth people like themselves.
"If we were going out, we'd want to go there," Current says. They like to say that the menu isn't chef-driven; it's community-driven. Current created many of the burgers, inspired by those conversations he had with friends and guests. "We like that burgers are a very individualized product," he says.
"We're creative dudes. We want to explore it."
"Our goal is to spread the burger and beer love as far and wide as we can," Thomas says.
Touches of Plaza Midwood are found throughout the restaurant's rustic, industrial interior. Paintings by local artist Scott Partridge color the restroom doors to commemorate two of the area's changes. One depicts a rose garden in Independence Park that's now a small portion of its original size, the other shows Reflection Sound Studios, where R.E.M. and many others recorded albums before it closed two years ago. Reclaimed wood from the recording studio forms a Moo & Brew logo.
A collection of old beer cans lines a divider wall in the restaurant. On a Tuesday in June, patrons study the labels as if they're artifacts from an ancient ruin. Red barstools invite you to belly up on their steel, no-frill frames, and plenty of natural light overflows the once-dim building. The interior and the patio each seat 49 guests, and construction plans are in place for a "funky biergarten" with tap takeovers.
Among the restaurant's 36 beer taps, patrons will find a wild ale from Asheville's Wicked Weed Brewing alongside NoDa Brewing's award-winning Hop, Drop 'N Roll and a full-bodied Guinness. There's also a full bar, wine on tap, and cocktails, including a specially formulated "Midwood Mule" (a twist on the popular ginger beer, lime, and vodka drink, the Moscow Mule). And don't forget the Large Marge—a weekend- and holiday-only, $18 Bloody Mary clocking in at 20 ounces, stacked with two grilled cheese sandwiches, an Angus burger, bacon, fried pickled green tomatoes, a jalapeño firecracker, and Wisconsin cheese curds towering on skewers above the rim of a souvenir glass.
The burger list includes beef, bison, salmon, turkey, and black bean patties. Also on the menu are salads and a weekly sandwich creation.
Moo & Brew aims to be the kind of place you could enjoy almost every day. After all, with burgers and beer as menu staples, it's hard not to feel at home in this unapologetically American establishment.
"We're all blessed to be Americans," Current says. "We want to get the most out of life while we're alive, and that's what Moo & Brew is."
Alyssa Ruane is a freelance writer and the editor of Charlotte Wedding + Events. She contributes to this magazine and Charlotte Home + Garden. Find her on Twitter @alyssaruane.
Moo & Brew
1300 Central Ave.
980-585-4148
Entrées: $7-$12
---
This article appears in the August 2016 issue of Charlotte Magazine
Did you like what you read here? Subscribe to Charlotte Magazine »
---